The property owned by Metalline Mining (NYSEMKT:MMG) is located in Coahuila, Mexico in the Sierra Mojada Mining District. The district has high voltage electric power and is accessible by rail lines, a well-maintained gravel airstrip, and 250 kilometers of paved road.
Since its discovery in 1879, the Mojada district is estimated to have produced over 10 million tons of high-grade ore from its northern polymetallic zone. The grades of this ore were extremely high-grade, sometimes in excess of 30% lead, 20% zinc, 1% copper, and 31 ounces of silver per metric ton, and it was all selectively mined. Because the ore was so rich, no mill was ever needed to concentrate it. Instead, the ore was shipped directly to the smelters. To this day it remains somewhat of a mystery why no mill was ever constructed. The prevailing thought is that a mill was never seriously considered because the economics were already robust enough without one. This is tremendous information for investors in Metalline, because the company owns in title 100% of 38,662 acres in and surrounding this district, has already defined a gigantic zinc resource in the southern manto, and is currently busy drilling in the northern polymetallic manto in order to define a significant silver-copper-lead-zinc resource there as well.
Since 1999, management at Metalline has focused their attention on the Southern Sierra Mojada Fault, largely as a result of the positive feasibility concerning the now operating Skorpion Mine in Nambia, Africa. Metalline's mine will be modeled after Skorpion, an ultra-low cost project that was ramped up to full production in 2004. Currently, Skorpion is producing about 150,000 metric tons of SHG (Super High Grade) zinc per year at about $0.25/pound, making it one of the lowest cost zinc mines in the world. By comparison, the Century Mine in Australia, even while it is one of the largest and highest grade zinc mines in the world, still has a cash cost of over $0.37/pound. If the comparison is extended to a more average group of zinc miners, it can be shown that Skorpion's total cost to produce refined zinc is often lower than just the smelting costs that other projects must incur when they sell their concentrates.
Metalline Mining is currently conducting their feasibility study through Green Team International [GTI], the same group who prepared the feasibility study for the immensely profitable Skorpion mine referenced above.
The Skorpion Mine was built between 2001 and 2003 for a cost of about $450 million. While oil, labor, and equipment costs will likely be much higher for Metalline, this may be offset partly by the fact that the Skorpion mine was constructed in a much more remote location. As concerns production costs, Metalline had a bit of a breakthrough in terms of metallurgy in 2006 when they discovered how to reduce acid costs by about 1/3 (a very significant cost in ore processing), and produce a shippable zinc concentrate on site. Additionally, it is thought that Metalline's mine will be constructed to produce 180,000 tonnes of zinc per year (this production rate could vary significantly depending on what the final mine plan calls for. This would affect the results of the calculations we have performed below), or about 25% more than the Skorpion mine is currently producing. Both deposit would have a similar mine life using these production rates.
A yearly production rate of 180,000 tonnes zinc translates into 397 million lbs zinc, allowing for a mine life of probably at least 10 years. Currently, the Skorpion mine is producing zinc for about $650/tonne. Meanwhile, zinc is selling in the marketplace for well over $2,500/tonne. This equates to a profit margin of about 4 to 1, possibly making Skorpion one of the most profitable mines in the world. Assuming that Metalline's costs are the same as Skorpion's, this would work out to over $330M in yearly operating revenues, or well over 3x the current market capitalization of the company. From these rudimentary calculations, it is easy to see how Metalline could command a market capitalization of several billion dollars once in production. Assuming 100% dilution from the current level to fund construction of the mine, we could easily be looking at a $10+ share price 3 to 4 years from now.
Furthermore, this says nothing about the northern polymetallic manto, which is similar in size and contains silver grades as high as 341 ounces per ton! This is equivalent to over 10,000 g/t. Over 5,000 samples were taken from the northern manto between 1997 and 1999. These samples graded an average of 300 g/t silver, 0.6% copper, 5.5% zinc, and 2.2% lead. Now that the oxide zinc mineralization is in the feasibility study stage, Metalline is refocusing its attention on this manto structure. This leaves room for an incredible amount of growth, possibly doubling or more the value of Metalline's resources.
Metalline vs. Skorpion
The Skorpion project that we have already briefly discussed lacked surrounding infrastructure because of its remote location, and had extreme heat, high winds, and sand storms. The project was 160km from the nearest paved road, 260km to power, and 60km from an adequate water source. Furthermore, it did not have a good labor pool to draw from. Most of the work was contracted to native Namibians, many of whom had received little education and knew still less about mining. There was no underground access, and the entire project had to be drilled from the surface. But despite all of this, the Skorpion zinc mine is world-class (8th largest), extremely low-cost, and managed to achieve profitable production at a zinc price of just $0.35/lb. Metalline's Sierra Mojada project, in contrast, has a rail line, power, water, a paved road, two local mining towns very nearby, plenty of eager, low-cost workers with mining experience to draw from, comfortable buildings, high-speed wireless internet, pleasant weather, underground access, local towns, good beer, a kitchen staff, and better metallurgy than Skorpion with very clean, environmentally friendly ore.
Three of the 45 old mine shafts are located directly over the defined zinc resource, and these have been restored for active use. It is thought that each of these would cost about $20-$30M to build today. These shafts make access to the underground very easy and facilitate drilling the ore bodies from underground rather than at surface which is much more difficult. Access to the underground is so prevalent that one can walk over 600 m directly through the proven high-grade zinc ore body. Additionally, one can walk about 6km across the Sierra Mojada district on several different levels. In contrast, Skorpion had no underground workings whatsoever, and had to prove out their similar sized ore body using only surface drills, which was very difficult to accomplish. Being able to walk through an ore body of this magnitude is extremely unusual, and it is a testimony to how impressively solid the rock structure is at the project.
Ken Hart, who had been the Project Geologist for Skorpion, and is now working with Metalline on the feasibility study's geological report, is simply amazed at everything that Metalline's project has that Skorpion did not.
Notably, Metalline not only has a large pool of skilled workers to draw from but they also have the full support of the community. The two nearby mining towns of Esmerelda and Sierra Mojada with a total combined population of 3,000 are full of families that have a long history of mining in the area. Fortunately for Metalline, recruiting is a relatively easy task, since currently many of the workers in these towns have to commute three hours every day to an iron ore mine. Most would love to give this up for a job at Metalline's zinc project, where the climate is comfortable and the location, beautiful. Indeed, Metalline is already the largest private sector employer in the area, with roughly 60 employees working at the project. At the local church in Sierra Mojada, it is reported that every week the Sunday service ends with a prayer for success at Metalline's mine site. Even local contractors are apparently inquiring as to how they can open up a brokerage account in order that they might be able to buy stock in the company. Such support obviously stands in very stark contrast to the often unending resistance received from environmental and local groups elsewhere in the world.
The President's Letter to MMG Shareholders - April 23, 2007
A very important letter from Merlin Bingham, president of Metalline, was not too long ago released to shareholders of Metalline. We will quote from significant portions of this letter and then offer our comments below the quoted passages.
A scoping study on mining methods has been performed by Pincock, Allen and Holt of Lakewood, Colorado. The result of the study is that either underground or open pit mining of the rocks is feasible.
This is potentially a very significant development. If nothing else, an open-pit operation is likely to be much less costly than going underground, the method which Metalline formally assumed would be necessary. An open pit operation may also allow for a significantly lower cut-off grade than that which is currently being used, potentially adding billions of lbs. to the zinc resource and several years to the mine life.
One other effect of using an open-pit mining method may be that both the northern and southern mantos would have to be mined in tandem, since these deposits are fairly intertwined and hard to split apart. The implication of this is that if Metalline's project were to be acquired by a major, it would most likely need to come as a package deal. As long as Metalline is able to sufficiently define the northern polymetallic zone so that it can be factored into valuation metrics, this should add significant value to the company in the event of a buy-out offer.
Mr. Ken Hart has been contracted to synthesize the geologic data, acquired by Metalline on the Iron Oxide Manto, to compile the geological report that is a requisite for a bankable feasibility study and to provide the geologic framework to constrain the resource model and to support the mine plan.

Ken was the Project Geologist for Reunion Ltd during the evaluation drilling and the feasibility study of the Skorpion deposit. He continued in this role as a contractor for Anglo American after they reacquired the property. Skorpion is operated by Skorpion Zinc, an Anglo Base Metals company, and produces about 150,000 tonnes of SHG zinc annually at an operating cost of about $660 per tonne, $0.30 per pound. Zinc is currently $3,600 per tonne; Skorpion has to be one of the most profitable mines in the world and is the low cost producer of SHG zinc.
The fact that Metalline has been able to contract Mr. Ken Hart, the former Project Geologist for Reunion Ltd is very exciting, and again emphasizes the similarities between the Skorpion deposit and Metalline's zinc-oxide deposit.
In 1999, Anglo-American (AAUK) bought out Reunion Mining's 60% share of the Skorpion zinc project for roughly $75 million. Therefore, the entire project was being valued at roughly $125 million. This was at a time when metals prices were severely depressed (zinc averaged $0.54/lb in 1999), the resource sector was out of favor, the seller (Reunion Mining) was in need of cash, and the newly discovered Zinc Solvent Extraction and Electrowinning process [SXEW] was still untested. But times have changed. Zinc is now trading significantly higher, the metals market is hot, the owner of the project is not desperate for cash, and the SXEW process has been tested and approved. Metalline's project also has the advantage of being located in a more politically stable region of the world, with lots of existing infrastructure due to the 45+ past producing mines located on the property.
Anglo American is now one of the largest natural resource companies in the world, with huge profits and tremendous cash flows (e.g. $3.9 billion from base metal operations in 2006). Given their huge success with the Skorpion mine, consequent of its current 300-400% profit margin (one of the very best in the industry), we think they'll be keeping a very close eye on Metalline as its feasibility study nears completion. This is especially true since it appears Metalline has a very real chance of being able to compete with the profoundly profitable Skorpion mine, perhaps even surpassing its greatness given the surprisingly excellent metallurgy and many other advantages that have previously been reported on. (Metallurgy was previously thought to be one of the main weaknesses of Metalline's project. Now, it has become one of MMG's greatest strengths.)
Furthermore, Green Team International [GTI], the exact same company that both carried out the feasibility study for the Skorpion mine and took it into production, is also performing the feasibility study for Metalline. The current operator of Skorpion, Anglo-American, has now been involved with the project for several years. Since Anglo now presumably knows the process very well, a deposit such as Metalline's would appear to be a relatively low risk acquisition on their part. There is also the likelihood that other companies will become involved in the bidding as well, creating a bidding war for Metalline's prized project. And of course, we are not even factoring in for the northern polymetallic manto which could double, or perhaps even treble the value of Metalline's deposit since it is similar in size and is likely to contain a significant silver resource, with lots of zinc, lead, and copper by-product resources as well.
Water development continues…Results of these tests will be released soon, as the pump testing is nearing completion.
From the most recent project status update on August 21, 2007:
Our water exploration program was successfully completed in May, 2007, after completing and testing 3 additional wells. In the opinion of management and our consulting hydrologist, we can reasonably expect completing enough water to support the anticipated requirements for a mine, concentrator, and potable water supply for workers and their families.
In November of 2006, many investors in Metalline became nervous about the potential problem of finding an adequate water source for the project. Essentially, this came to be seen as one of the biggest obstacles that could prevent Metalline's project from being economically feasible.
Fortunately, this problem now appears as if it has been resolved as can be seen by the quoted portion of the most recent August news release above. If nothing else, much of the risk has been mitigated by the discovery of what has been described as an "underground river" per the January 30, 2007 press release.
Other continuing Feasibility Study activities ongoing are: Metallurgical studies on potential by-product metals (silver, germanium, indium, etc.), refinery site location investigation and environmental studies continue.
Reserva International has completed a block model resource evaluation of Metalline's project, and has determined that there exists roughly 4.9 billion lbs of zinc (2.23M tones). Using a 5% cut-off grade there is estimated to be 3.5B lbs. of zinc (17.9M tonnes) with an average grade of 8.78% in the Iron Oxide Manto and 1.4M lbs. of zinc (5.4M tones) with an average grade of 12.08% in the Smithsonite Manto. If we were to lower the cut-off grade to the less conservative 3%, then the total jumps higher by almost 1.0B lbs zinc, to about 5.8 billion lbs.
Interestingly, this does not factor in for the silver that is present within the iron oxide manto, which reportedly ranges from 10 to 1,500 g/t. There are also small amounts of germanium, indium, and other lesser known elements found in the zinc-oxide ore that could potentially be treated as by-product credits in the feasibility study. This is, of course, why Metalline will be incorporating all of this information into the final feasibility study which is expected to be completed within the next 12-15 months. Looking at just the silver, for instance, this could add value to the deposit on the order of a minimum of 8-10 million ounces (could be many multiples higher). Though this is next to nothing compared with 4.9 billion lbs. of zinc, it will at least help to keep production costs a little lower. As noted above, all of this will be factored into the final feasibility study which Metalline is working hard on completing.
Vast Exploration Potential beyond the Current Zinc Ore Body
The property surrounding Metalline's massive, world-class zinc ore body consists of over 45 past producing mines, all of which use to be owned by a number of different owners on varied lease terms. Even though some large operators in the past such as Penoles and Asarco were involved in parts of the district, their lease terms were especially short, explaining why a mill was never built in the area. Nevertheless, the ore was so rich that much money could still be made through the direct shipping of the highest grade ores. Because much of the direct shipping was done with manual labor carrying 100kg sacks on their backs, a lot of valuable ore was left behind, because it simply wasn't high enough grade to justify the labor intensive shipments. Fortuitously, Metalline was able to unify the entire district in the depths of the bear market about 10 years ago by patiently acquiring claims from the various owners. Now, for the first time ever, modern mining methods are being applied to an exceptionally prolific region, where the current proven zinc resource covers only about 3 of the 45+ past producing mines. Metalline is currently busy drilling in the areas surrounding the old past producing mine dumps where valuable ore is known to be prevalent with several of its drills.
In the map of the property shown below (before the recent additions), one can see how close the two mining towns of La Esmerelda and Sierra Mojada (both in blue) are to Metalline's property (outlined in red). It is also clear that both the railway and paved road come right up to the property. The Penoles' dolomite open-pit mine (yellow) is also visible, and again, this is very reassuring in terms of infrastructure.
One can also see the blue fault line which separates the north side silver/copper/zinc/lead sulfide mineralization from the south side oxide zinc and oxide lead mineralization.
Between Metalline's mining concessions in the lower right which are shown in the most detail and the old Palomas Negras mine area in the upper left, there is about 14 km of virtually unexplored land that has similar geology to the previously mined areas in the district. In all, Metalline has an enormous exploration area totaling over 60 sq. miles. Therefore, it would appear very likely that the world-class zinc ore body shown in red in the lower right is only the beginning. Stretching 1.5km, one can see that this world-class zinc ore body covers only but a tiny portion of Metalline's property, even before the recent additions that more than doubled Metalline's land holdings. So it seems likely that the bulk of the iceberg has yet to be discovered by Metalline, something which bodes very well for patient investors who understand the value of this company.
Below is shown a more detailed close-up view of Metalline's focus concessions where some of the workings and stopes for the 45+ past producing mines are visible.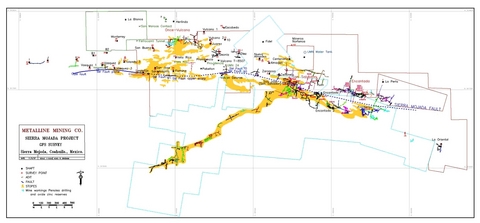 The Drilling Continues with More Rigs than Ever Before
Metalline currently has several large drill rigs turning on its northern polymetallic manto, and more drills are expected to arrive soon. Drill sites for the new "aggressive exploration program on the polymetallic (copper, silver, zinc, lead) mineral system" should now be complete or nearing completion. In the meantime, drills will continue turning on previously established areas.
Fortunately, Metalline's management team foresaw the labor shortages that have recently begun to plague the mining sector. To prepare for this they have already trained several teams of native Mexican drillers. This is incredible, since not only is it very hard to contract out drilling, but it is ridiculously expensive. The locals will work for $40 a day, as opposed to out of town contractors who probably wouldn't even bother working for $40 an hour. But not only has this lead to significant cost savings, it is also proving to be much more efficient as the local workers are highly motivated.
Because the southern zinc-oxide deposit has now been fully defined, most of the drilling efforts from here on out will be conducted on the northern polymetallic zone. This northern polymetallic region was home to over 45 mine shafts in the past. Mill grade mineralization, the leftovers of the previous miners who only selectively mined the highest grade ore, appears to extend across the entire zone in the areas surrounding these underground stopes. The goal for the current and ongoing northern manto exploration program will be to define what is there, complete a resource estimate, and as a result, maximize buyout leverage. While we are not sure of when an initial resource estimate for the northerm polymetallic manto will be announced, we imagine that it could possibly come before year's end.
Metalline is also beginning to carry out their own grinding and cleaning of drill core before sending it on through the assaying process. This saves the company a lot of time and expense, since 3rd parties seem to be perpetually backlogged. Eventually, Metalline expects to bring the entire assaying process in house, saving even more money and time as well as allowing for Metalline to have much greater control over the entire process. Thankfully, Metalline already has a very mature database of drill results, so this is not something that is crucially urgent. It also explains why Metalline issues very few press releases with regards to drilling campaigns, because a few additional drill results hold very little meaning when stacked up against Metalline's already enormous database. Nevertheless, the increased turnover of assays will be a much appreciated change as Metalline proves up a mineral resource in its polymetallic zone over the next year or so.
Upon completion of the feasibility study, Metalline will be open to consider buy-outs, joint venture, and other such offers since by that time they will know exactly what they are dealing with. Apparently there has been no shortage of deals brought to the table thus far, but none of them have yet been sweet enough to entice Merlin, who prefers to wait until the completion of the feasibility study which is expected to be very positive. Following this milestone, any number of possibilities could occur. We might see a joint venture, a full blown buyout for shares or cash, a partial buyout leaving Metalline with a minority interest, or perhaps Metalline will simply choose to move forwards towards production on its own.
From the most recent quarterly report, we know that Metalline expects to complete the final feasibility by October 2008:
The portions of the study that relate to the mine and concentrator in Mexico should be largely complete by the end of 2007, but we expect that work on the refinery and preparation of the final study documents will not be completed until October of 2008.
As far as we are aware, the company had never before estimated so precisely when they expected the feasibility to be completed. This is quite encouraging, and means that shareholders may only have to wait for about another 12 months before buy-out offers are seriously considered.
While the timeframe for completion has been a perpetual disappointment for shareholders, this is more or less the result of contractor delays. All of the feasibility work has been outsourced to contractors, and many of these individuals and/or firms have been inundated with work. It only takes one contractor to create a bottleneck in productivity since much of this information is interdependent upon one another. Nevertheless, the feasibility is progressing, and we expect the final draft to reveal a superb zinc project possessing stellar economics, even at heavily discounted zinc prices. If we have to wait two more years for a potential return of 200%-1,000%, this is okay with us.
The Advantage of a 'Detachable' Refinery
Metalline has found that it will be able to produce a rich enough zinc concentrate on site that can be shipped anywhere in the world, something that was not originally thought possible. This will allow Metalline to build their refinery anywhere in the world that offers the best synergy of low taxes, low electricity costs, low CAPEX , etc. Without this advantage, Metalline would have had to bear the burden of one of Mexico's major disadvantages, a shortage of electricity. Now, Metalline is effectively able to outsource the electricity intensive refining process to a location where electricity costs are only a fraction of what they are in Mexico. Examples of such places include Iceland, Trinidad, and many Arab Countries which possess excess natural gas. Essentially, Metalline will be trading the cost of transportation for the cost of electricity and the added benefits of lower taxes and a lower CAPEX burden to construct the plant. It is important to distinguish that the currently operating Skorpion mine does not have this advantage since it refines its zinc product on site. Needless to say, potential refinery sites are currently being investigated.
Of course, it should be noted that the ultimate advantage with regards to the refinery is not so much that Metalline can 'detach' it, but that Metalline will have one at all. Most zinc producers do not have the luxury of being able to refine their own ore and they are consequently unable to avoid the large smelting fees charged by refining companies when selling their concentrates. Metalline, on the other hand, will be fully integrated in this respect, and will be able to bypass the smelter middlemen, selling its 99.99% zinc directly to the LME exchange, for instance. In this way, Metalline will receive the full market price for its zinc, rather than one that is substantially discounted by a smelter.
Conclusions
Metalline Mining is in a truly unique situation. It is a junior company that owns 100% of a world class zinc project in a politically secure area, at a time when metals prices are near all-time highs and the major and mid-tier producers are hungry and ready to expand their reserve base through mergers and acquisitions.
Metalline's zinc-oxide project not only possesses many similar characteristics to Anglo-American's Skorpion mine in Africa, but it is being brought through feasibility by the same team, GTI. This is especially significant for at least two very important reasons. First of all, Skorpion is one of the lowest cost zinc mines in the world. Secondly, there is an important connection between Skorpion, Anglo, GTI, and Metalline that could lead to significant buyout interest immediately following the completion of the feasibility study.
The added bonus in all of this is that the 4.9+ billion lb. zinc deposit is likely only about one-half of Metalline's mineral endowment. The resource contained within the northern polymetallic manto has yet to be defined. If all of this were really just too good to be true, then it would seem very surprising to us that GTI would feature Metalline as one of their select few projects on the homepage of their website along with other projects such as Skorpion which are either already completed or are more advanced than Metalline's deposit.
Because Metalline's property was previously home to over 45 past producing silver and zinc mines, there is still access to power, roads, rail, and infrastructure that many other projects simply do not have. Furthermore, it appears as if Metalline has secured their much needed water source. For all of these reasons and more, Metalline appears to possess the potential for incredible returns with seemingly minimal risk.