The growing affluence of China has led to an 'Ag Revolution' over the last few years with an increase in the price of all things food related - seeds, fertilizer (POT), equipment (CAT) and global restaurant chains (MCD and YUM for instance). The very same argument should apply to water - after all water is a finite resource, and right after the need for good food in an affluent society comes pure water. However, the performance of water stocks if one uses the Global Water Index (PIO) as a proxy, is anything but impressive, with a net negative five-year return that lags the S&P 500 (IVV) by more than 20% in that time frame.
Well, the past is history but the following two tables from a Harvard Business Review (HBR) article in this month's issue suggest the future of the industry and its stocks might have a more positive skew. While the HBR article might be hard to access, the same information is available in the World Economic Forum Global Risks 2012 report in long form. Notice across the two that water supply (and its purity) makes the top 5 issues on the minds of global leaders in 2012, both in terms of a likelihood and impact.
(Click charts to enlarge)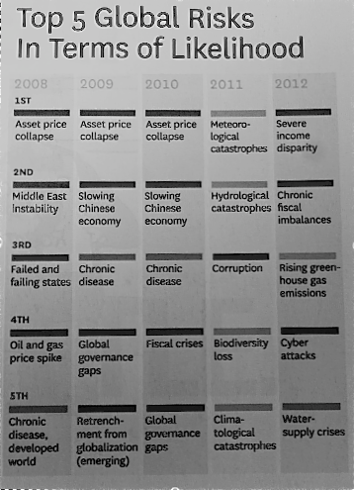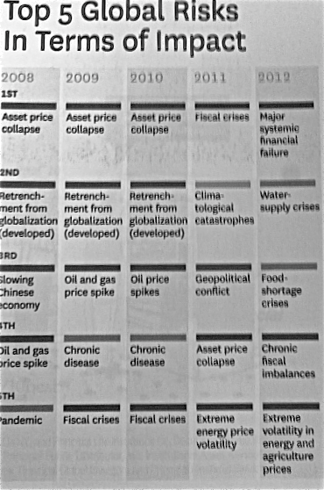 So what's the best way to play water in a global and leveraged way? Municipalities and water works companies tend to be localized, but the top 10 holdings of something like the aforementioned Powershares Global Water (NASDAQ:PIO) from Yahoo Finance, provides a starting point for stocks that are both global and leveraged to water (see below).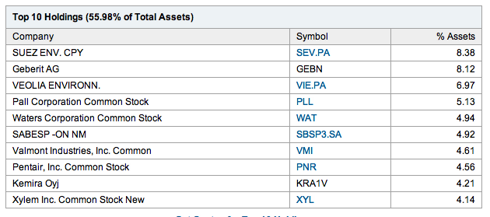 Say you eliminate diversified component and equipment plays such as Pentair, Waters and Valmont as being relevant to a water story but not with a razor focus on that market. You might also hesitate on stocks such as Kemira Oyj that trade on foreign exchanges. The two key stocks that then emerge are Xylem (XYL) and Veolia ADR (VE).
Xylem is the largest publicly traded pure play water equipment company. XYL has four business units: water solutions, flow control, analytics and residential and commercial water. The company has a fairly short operating history as a spin-off from ITT Corporation (ITT). The bad news is the short operating history, but the good news is that spin-offs from large companies do well because they have the resources of a large company and the focus of a small one.
Veolia is a larger, more established company than Xylem with both a longer and more checkered operating history. VE caught a nasty cold in the downturn of 2009 because it over-expanded and over-diversified. Since then, a new CEO and some tough decisions are well on the way to making it predominantly a water business with 36% of revenue and 53% of operating income coming from that business.
This is not an either/or choice as much as a function of your choice of investment style. Xylem is a mid-cap growth stock with a solid but not cheap P/E ratio. Veolia is a large-cap value stock with a likely smaller but meaningful dividend, some rough edges, but also an international business with upside. Depending on your risk profile, you might want (n)either or both, but the overall upside in this space seems meaningful and the catalysts accumulating.
Disclosure: I have a position in Veolia (VE).