The Bright Idea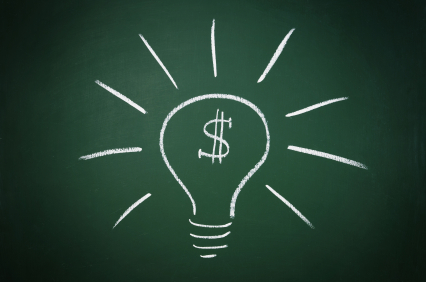 The business case for the adoption of natural gas as a primary transportation fuel.
The migration to utilize natural gas for transportation fuel is based on sound business economics. Efficiently run companies always find ways of becoming more profitable by squeezing every last drop from their cost structure. Companies routinely chase after very marginal cost savings opportunities. Moving from diesel to natural gas for a logistics fuel has the current potential to save companies 50% per gallon on their fuel costs. This equates to millions and million of dollars in benefits for shareholders in companies like FedEx (NYSE:FDX), UPS (NYSE:UPS), Wal-Mart (NYSE:WMT), Waste Management (NYSE:WM), PepsiCo (NYSE:PEP), and Coca-Cola (NYSE:KO) just to name a few. Companies will rush to implement changes when millions of dollars are on the line and a competitive cost structure advantage over peers.
The natural gas train has left the station and adoption is occurring; this can be seen by the recent articles from major corporations like GE (NYSE:GE), Blackstone Energy, Westport (NASDAQ:WPRT) and Caterpillar (NYSE:CAT) just to name a few. Some of the major factors working for and against natural gas are discussed below.
The primary factor working against natural gas adoption:
The lack of infrastructure to support exploding demand is the primary hurdle to adoption. This is however, only an issue of time and has nothing to do with the economics. This issue of "infrastructure build out" is what provides the investor with an economically resistant and decade long investment opportunity.
Factors working in favor of natural gas include:
Natural gas is abundant and inexpensive. It is available within the United States and therefore supplies are dependable. Worldwide demand for oil continues to increase resulting in upward pricing pressure. Instability within the Middle East continues to place a supply interruption premium on oil prices. Natural gas is environmentally more appealing when compared to oil, coal and nuclear energy. The pricing differential discussed below substantially favors the adoption of natural gas as a primary transportation fuel.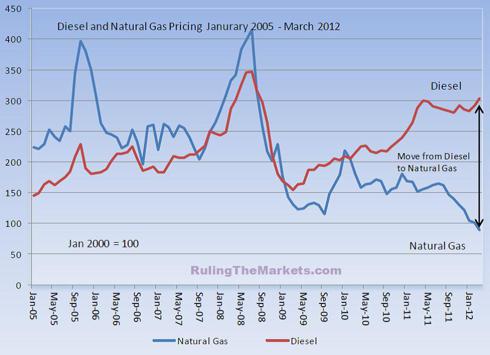 This chart graphically illustrates the pricing differential between diesel and natural gas through March 2012. This pricing differential is the single most important factor for investing in natural gas related companies. As this relative price gap widens the Return on Investment payback period shortens and the incentive to invest becomes more attractive. Note: in March of 2012 natural gas hit a 10-year low, while oil prices (and therefore diesel prices) continue to rise.
What has changed in the natural gas market that has allowed pricing to fall substantially since late 2008? And what structural changes have occurred that lead us to the conclusion that this pricing differential is here to stay and therefore will support future investments?
Technology enchantments to the way natural gas is removed from the ground have resulted in a significant production increases. Both horizontal drilling and hydraulic fracturing are major contributors to this rise in production. The use of horizontal drilling, which allows a 90 degree well to be drilled into formations that are not accessible with vertical drilling, has made horizontal drilling a very valuable technology. The use of hydraulic fracturing or fracking, a process by which pressurized fluid is pumped down a well to fracture the rock, increases the flow of natural gas and directly results in higher production rates. The 3rd factor affecting the long term price of natural gas started in about 2008 when large natural gas production zones started scaling production. A small example is illustrated below from the EIA.
Click to enlarge.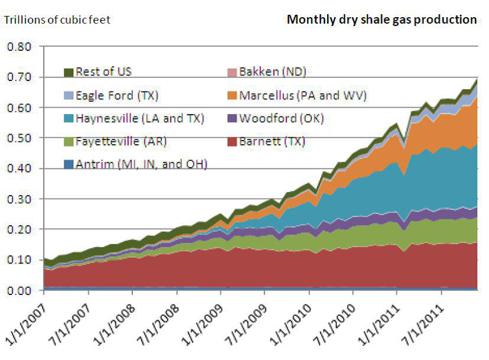 So in conclusion, the natural gas market has gone through a permanent structural change of the last five years as a result of better technology and large discoveries coming into production. This permanent change will translate into sustainable lower costs for natural gas in the long term.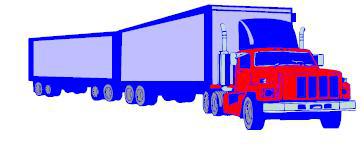 How many trucks operate in the U.S.? What is the magnitude of potential savings?
Government statistics conservatively estimate 2 million moderate to heavy duty vehicles (class 5 - 8) operate in the United States. Industry experts assume 30%-40% of the class 5-8 trucks are considered "high mileage" vehicles. A high mileage vehicle is defined as traveling more than 80,000 to 160,000 miles (or more) annually. These are the trucks that will benefit significantly by utilizing lower cost fuel.
Disclosure: I am long WPRT, GTLS, and looking to buy more of both on constructive market pull back.