Although US markets have registered single digit returns this year, there are plenty of stocks that have had stellar years and plenty that have had horrific years. Below we highlight stocks in the Russell 3,000 that have gained over 100% year to date as well as stocks that are down more than 60% year to date.
As shown, there is only one stock out of 3,000 that has returned over 300%. TBS International (NASDAQ:TBSI), an ocean transportation company, has been the best performer at 337%. TBSI is followed by ONXX (286%), BCSI (250%), FSLR (230%) and ELON (228%). The remaining are up between 100% and 200%.
By looking at the charts of these stocks, you'll get a good idea of the technical patterns that have been working this year. One way to analyze them is to look at their setups at prior dates to find where the best entry points were. Knowing these situations can help when analyzing the current chart patterns of stocks. (Another way to gauge your technical acumen is to analyze the charts of a list of stocks as they stood 3,6 or 9 months ago and code them as a buy or a sell. Then see how they performed from that date forward to see how your calls stacked up.)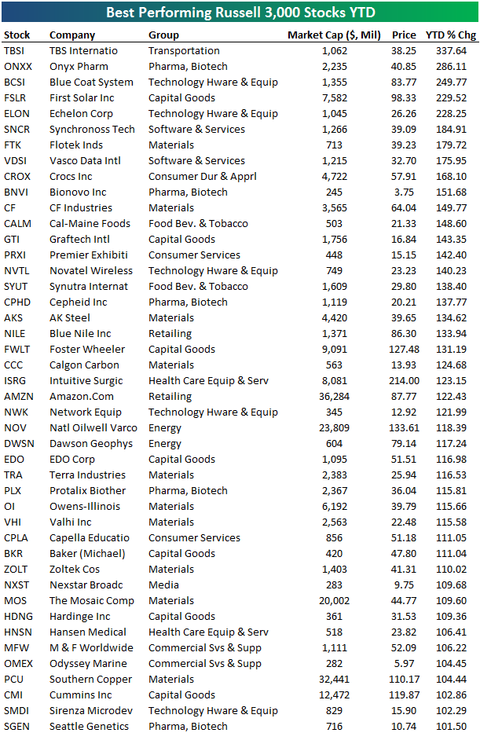 On the negative side, NovaStar Financial (NFI) has been the worst performer of companies that are still in business at -92.40% year to date. NFI is followed by LUM (-81.26%), BZH (-79.98%) and TARR (-79.21). There are bound to be some turnaround situations for a few of these stocks, but right now it doesn't look pretty.