The end of a calendar quarter often brings increased volatility to the stock market, as evidenced by Wednesday through Friday of last week. Part of the reasoning for this is that funds and institutions have to clean their books before their prospectuses are published. This means locking in gains and dumping non-performers. It could be a tumultuous time for individual investors and it is generally best to wait it out till earnings season comes around, but it also presents an opportunity to learn from the institutions on when to drop a stock.
Any number of adages is appropriate in this situation but perhaps the most on point is from Kenny Roger's The Gambler: "you gotta know when to hold 'em, know when to fold 'em, know when to walk away, and know when to run." There are many factors that may cloud an investor's mind in keeping a stock for too long - when the money could be better allocated elsewhere. I, and the majority of investors, are surely guilty of this and it is necessary to learn from past mistakes.
It is easy to become emotionally attached to a once-solid pick. You see it in your portfolio on a daily basis, right next to how much you bought it for, and it becomes a point of personal pride. To be frank, it's awesome seeing triple-digit percentage gains. But this emotional attachment could become deadly. I realize I am very behind the times with this analogy, but I am right now watching the pilot episode of The Walking Dead; and I see a man brought to tears over his inability to pull the trigger on his "zombiefied" wife. This is akin to holding on to a stock long after its growth potential has plateaued. The risks are eerily similar in letting the stock live, i.e. the stock could crash back to life, like letting a zombie live and risking future attacks.
So it is now important to distinguish factors in helping decide whether the stock is dead or not, and if relinquishing yourself of it would be prudent. Of course, the following is not all encompassing and personal preference and the particular stock will play largely in the decision.
First, I would look to greater market cycles, both short and long term. The typical market cycle involves investors buying in too late and therefore suffering losses, and selling too early, thereby missing out on future gains. Obviously, the paradigm of value investing is doing the opposite, which requires great forethought. Right now, the market is in a huge quarter-long upswing in the short term, but the economy shows promise and we are still in the early stages of recovery. Therefore, this long-term market cycle would be a factor dis-incentivizing a sale, but that does not mean that money in individual stocks could not be better allocated.
Next, it is important to check whether a stock's earnings (and expected future earnings) have kept pace with their price growth. The best example is everyone's favorite stock, Apple (AAPL). In just this quarter the stock is up 50%, becoming the largest public company in the world by leaps and bounds. This was fueled by sales of the iPad3 (which has actually knocked the stock down a bit over the last week) and the announcement that Apple will be instituting a dividend in the summer, along with share buybacks. This means that mutual funds that only invest in dividend paying stocks will now be able to purchase it, as if it's institutional ownership wasn't high enough already.
You would think that the rise in price would have blown up Apple's P/E, but it has not risen too much. As seen in the chart below, Apple's P/E, though high in the short term, is still on par with its 2011 levels. Based on this factor, the new dividend plan, Apple's brand recognition, and several other attributes, I do not plan on selling the stock anytime soon.
Click to enlarge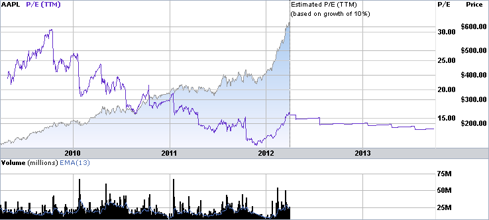 An investor should also consider if the stock has stalled in price appreciation and what type of news will be necessary in order for growth to resume. Below is a 1-year chart for Sirius (SIRI). It's safe to say that the stock was stalled from August 2011 to the start of 2012; and since Sirius does not pay a dividend, holding on to it would not have accomplished anything. A clear indicator came when the 200-day simple moving average (red) crossed over the 50-day (blue).
Sirius remained a strong investment for other reasons. For one, it has a stranglehold on its sector. Listening to terrestrial radio is painful and Sirius is the best in-car option. Secondly, as auto sales continue to improve, so too will Sirius subscriptions. But I digress, Sirius is susceptible to movement based on news. This week, hints of a potential takeover/Liberty Media increasing their stake emerged and the price jumped 10 cents. My point is that, when deciding whether to dump a stock, one should consider the impact that news could have on its price and whether the recent news has been positive.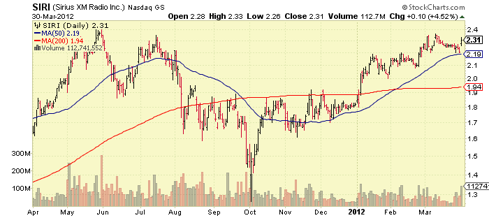 An additional factor to consider is technical analysis, coupled with your gut feeling on the prospect of future growth. As an example, see the 1-year chart of Chipotle Mexican Grill (CMG) below. The stock is technically sound based on the steady upward channel and its relatively steady distance from the 200-day simple moving average. As far as Chipotle goes, it is a bit disconcerting that the rise has not been on higher volume and the P/E has gone from 40 to 60 since the beginning of 2011, but this is where gut feeling comes into play.
It is well understood that Chipotle is a premium product compared to the traditional fast food restaurants. However, its food is much more expensive and consumers are paying for a different type of dining experience. Some say the novelty will wear off, while others are convinced that Chipotle is here to stay with room for growth. Personally, I fall into the latter category based on the prospect of store openings overseas, but at these prices I would certainly consider selling off part of an investment to lock in some gains and to hedge possible losses.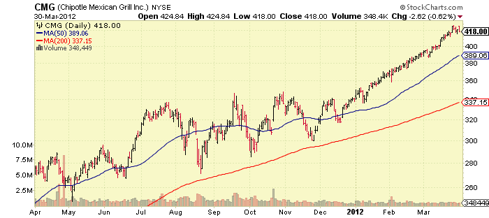 Again, there are several other factors that one should consider in deciding whether to dump a once-performing stock. For the tax-savvy, it would be prudent to check whether you've held the stock for over a year so it falls into the lesser taxed long-term capital gains category. Another factor is whether you are certain that a better investment is available, so you'd have to do your homework before selling. Most importantly, and in closing, remember that these are just stocks, and you cannot become emotionally attached to an investment - knowing when to sell is just as important as knowing what and when to buy.