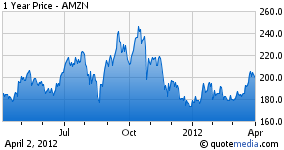 In late March, bits of information leaked from Asian suppliers resulted in potentially big news: A report that Amazon (AMZN) will release three new tablets similar to the current Kindle Fire in the near future.
Two of the tablets will feature a 7-inch screen, which is the size of the screen for the current Kindle Fire. These two tablets will be differentiated by quality. The report states that one tablet will have a resolution of 1024 x 600, which matches the current Fire, while the other will feature an improved resolution of 1280 x 800. (I would assume each tablets would have correspondingly-differentiated internals - the higher-resolution device may feature a better processor and additional memory.) The other new tablet is rumored to include a bigger, high definition (1920 x 1200) 8.9-inch screen. It also may feature upgraded insides to provide the necessary graphics processing power and provide a generally more robust user experience.
Normally electronics rumors are not incredibly reliable. This is best exemplified by plenty of far-fetched and usually incorrect Phone and iPad rumors that surface constantly between release cycles. However, I believe that this Amazon tablet rumor seems very reasonable and makes good business sense. Therefore, it's not unlikely to be true, or at least generally indicative, of future plans. Here's why it may matter for Amazon's overall business and shareholders (and shorters):
Amazon's current tablet, the Kindle Fire, has quickly become the most popular Android tablet. It entered the market at $199, significantly cheaper than many competitors, and this allowed wide adoption of a device that was technologically inferior to many Android peers and the iPad (AAPL). But also, the launch marked Amazon's establishment of its own ecosystem within Android, one that is now large and powerful and has enough momentum to help power success of future devices.
The importance of Amazon's ecosystem was quantified in a recent report discussing spend in various mobile application platforms. (The report specifically quantified spending on in-app purchases, but can probably be considered an overall representation spending on applications). Not surprisingly, Apple's iTunes app store is still leading the pack. However, it is noteworthy that Amazon's Appstore dwarfs Google Play (GOOG), which is the default application purchasing hub for non-Amazon Android devices. It's hard to draw any concrete conclusions based on the limited information available, but overall, it suggests that Amazon's app-selling efforts are very successful, probably due to both the Kindle Fire (which defaults to app purchasing through Amazon's store) and Amazon's efforts to popularize its store on cell phones and other tablets.
This seems to indicate that Amazon's overall Kindle tablet strategy is working. It is believed that the Kindle Fire is sold at break-even or at a small (~$10) loss, with the hope that media (and other Amazon) purchases will make the device profitable over its lifetime. While the app store report does not indicate the total dollar volume of purchasing, Amazon generally gets a 30% cut of the sales price of applications. This means that Amazon must sell about $30 in apps to break-even on a Kindle Fire (not counting the profit that Amazon may make from selling digital media or tangible goods, and also not counting the money that Amazon may lose from promotional pricing of applications). I think that it seems reasonable that the combination of sales of applications, pay-per-consumption media, free media (via a paid Prime membership) and an increased likelihood to buy tangible goods from Amazon is probably enough for Amazon to realize a profit from a Kindle Fire buyer in a relatively-small amount of time.
Additionally, I think that this is an indication that Amazon has started to differentiate itself as its own mobile platform. Yes, the Kindle Fire's operating system is built on top of Android, but Amazon modified the software significantly to truly create its own user experience. It also bypassed Google's store to create its own marketplace, which is now apparently more successful than Google's own app store. Efforts such as these have begun to elevate the Kindle brand to a level where consumers may stop thinking about the Kindle Fire as an Android tablet, but will start thinking about Amazon's Kindle tablets as a product line from which to choose a preferred device.
Accordingly, it makes sense for Amazon to offer multiple devices, just as it does with its traditional (e-ink) Kindle lineup. Amazon could choose to sell all three at breakeven levels and rely on additional purchases to profit from consumers (as they do with the Kindle Fire now). But higher-end devices should also provide an opportunity for Amazon to profit off of device sales, as consumers could choose to get something that's extremely affordable or something that's a bit more expensive but significantly nicer. This could be very beneficial for Amazon, which has purposefully allowed its margins to decline. If they can sell a blend of devices at just breakeven, it should provide a significant boost to the overall margin (because it is currently so low).
I still wouldn't touch Amazon shares at current prices because the valuation is pretty insane. However, if you're an Amazon bull, I think that you should welcome this potential new development. If you are short shares, I tend to agree with you - but I would be wary that developments such as this can continue to propel shares higher despite the already sky-high valuation.
Disclosure: I have no positions in any stocks mentioned, and no plans to initiate any positions within the next 72 hours.