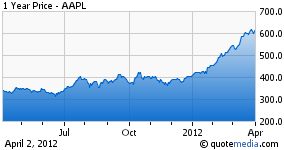 First of all, I don't have any position in Apple (AAPL) stock and neither do I plan on having a position in the future. And, up until today, I was simply neutral on its prospects while appreciating deeply the impressive quality of its products, from a consumers' perspective, as well as its impressive and sustainable margins, from an investors' perspective.
However, given what has happened lately, I must now dislike Apple. And I wish that somehow, it gets taken to the cleaners in the marketplace, if not in the stock market.
We all know that iOS follows a closed-garden approach, herding people into the Apple store to get apps and content, with Apple taking a cut. This is also the reason why it's reasonably hard (but not impossible) to get third-party content into any iOS device. Even getting your own digital photos or videos into it is needlessly complicated, involving either buying an add-on SD-card reader or uploading content and then being able to access it in the cloud or using dropbox. This is all understandable as a completely fair option by Apple, even if it should allow the competing ecosystems - such as Google's (GOOG) Android right now, Microsoft's (MSFT) Windows 8 later this year - to actually become more user-friendly in dealing with third-party content. But although this is a nuisance, this wasn't what made me hate Apple.
So why dislike the stock? It was something much simpler. My daughter has an iPad, and she naturally likes it a lot. However, today, while standing here with my laptop and having her by my side with her iPad, I told her that she should try doing something productive with it, to which she agreed. Learning to program and using the iPad to make a simple game was the obvious choice.
Certainly, among the hundreds of thousands iPad apps, there would be one that would allow her to do precisely that. And unsurprisingly, someone had already thought about that and built such an app. Indeed, it was none other than the very popular Scratch from MIT, a program with which both I and my daughter were already familiar with. It constitutes perhaps the easiest way to teach a kid how to program, in today's incredibly complex IDE and object-oriented world.
So good is Scratch that just after a single day of working with my daughter one year ago, we were already able to make a very simple game (it can be seen here). It can't get much easier than this for an 11-year old.
But guess what, Apple banned this app from the app store. This was done on the grounds that the app violated the iPhone developer agreement, clause 3.3.2:
An application may not itself install or launch other executable code by any means, including without limitation through the use of a plug-in architecture, calling other frameworks, other APIs or otherwise. No interpreted code may be downloaded or used in an application except for code that is interpreted and run by Apple's Documented APIs and built-in interpreter(s).
It's no surprise that such a clause exists in the closed-garden approach. This is to preempt alternatives to the app store, which could otherwise emerge - and here we have a huge difference to Android. Android alternative stores are not forbidden to offer these types of apps, and indeed there are several, with the most prominent being Amazon.com's (AMZN) Appstore for Android.
However, there are humans back at Apple making these decisions. Scratch is clearly a limited programming environment; it has no chance to produce full-fledged apps that could somehow rival native iOS apps. And yet, as if they were fundamentalists running down from the mountains to stop an old lady from driving her auto to get groceries, the Apple censors showed no mercy.
And this is the reason I have to dislike Apple. This is beyond unethical and displays the kind of negative attitude that's rare to find. It shows the kind of action we cannot be silent about, so that everyone we can possibly reach gets to know it and so that it leads to consequences in the marketplace and hopefully, a change in attitude by Apple.
Not the only episode
In its search for control, Apple has already found itself astray of public opinion on other occasions. Another famous episode involved cartoonist Mark Fiore, whose work was banned for a while because it contained political satire. Apple then backtracked given the public outcry, but in the meantime it was made clear that lesser authors might not have the same luck.
Consequences
Although it is impossible to quantify the kind of market impact that this attitude by Apple might have, one needs to be aware that these actions will, over time, erode Apple's market position. A parent here, a parent there, will no longer buy an Apple product if they become aware that those products actively seek to constrain a child's ability to learn and be productive, in the name of keeping a "just a little bit tighter" app market.
If you want, you can say that I'm negatively biased on Apple because as of now I really am, at least until Apple lets this kind of app into its market. And for sure I won't buy anything else from Apple until it does. This is not, however, a call to short Apple. The negative effect from this attitude is impossible to time or quantify, and meanwhile Apple remains too profitable to short.
Finally, this subject, namely regarding Scratch, went as high as Steve Jobs. Maybe now Apple will show more of a human face, and decide differently. As for those who might think "it's just an app" and that Apple is within reason to decide to ban it, I would recommend that they download the windows version, especially if they have kids or want to learn how to program. I am sure opinions will change, and they'll both see how absurd it is to ban this kind of educational software. They'll also understand that there's no security problems involved (as some might argue), as the software in question has no way of being programmed to access the device at a low level.
As an aside
Before this episode, someone asked me in the comments of a previous article why I didn't invest in Apple. The reasons I gave were the following:
I usually don't put money to work on very large capitalizations, except out of a market timing call (I bought several large capitalization stocks back in November/December, as can be seen in my articles). I wouldn't do so right now, however (due to market timing);
I cannot predict how successful the next iPhone will be, and believe AAPL to be too reliant on it (to the point where if the iPhone does badly, AAPL will do badly regardless of how everything else in its product portfolio does);
Finally, at this point I believe AAPL went too hyperbolic and there's too much speculation on it (with the massive options trading being a clue to this). I have also been getting anecdotal evidence that a lot of uninformed money has been buying AAPL with leverage, which is never a good short-term sign.
Disclosure: I am short AMZN.