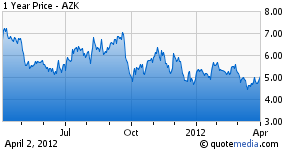 Aurizon Mines (AZK) has suffered along with other gold mining stocks of late. Slightly disappointing production guidance and flat to down gold prices since mid 2011 have taken quite a toll on the stock. Since its peak last year of $7.52 a share, Aurizon now trades at around $5.00, losing over a third of its value. Given that cash comprises a whopping 26% of its market cap, the market thinks that Aurizon's gold mines are worth 41% less than they were just last year. While some may argue that the chart looks ugly and that the gold bull market is over, my view is that with Aurizon, this stock can be a winner even in a flat gold environment.
Basics
Company: Aurizon Mines Ltd
Ticker: AZK (both TSX and NYSE)
Price: $5.00
Shares: 164mm
Market Cap: $820mm
Net Cash: $213mm
TEV: $607mm
EBITDA 2011: $125mm
Capex 2011: $47mm
EPS 2011: $0.27
FCF/share 2011: $0.27
FCF/Share 2012e: $0.39
FCF Yield on 2012e: 12.3%
(Note: The company's financials are reported in Canadian dollars, but given the near parity exchange rate, the numbers here are essentially USD equivalent.)
The Company
Aurizon owns 11 properties, all in Quebec, with one large producing property called Casa Berardi, and 10 prospective mining properties. Casa Berardi recommenced production in 2006, and has consistently produced approximately 150,000 to 160,000 ounces per year. It's comprised of three mines, the West Mine, the Principal Area and the East Mine. Management currently forecasts that Casa Berardi can produce at existing levels until 2020, but likely it will be several years longer.
In fact, in 2008, total estimated mineral reserves at Casa Berardi were 956,000 ounces (with productive life estimated until 2016). Today that number is over 1.5mm ounces, with another 1.5mm of measured and indicated resources, up 50% from its estimates just four years ago. With seven underground rigs working at CB, and three surface rigs operating there, the company is likely making progress in adding reserves and extending the life of Casa Berardi's mines.
Valuation of Casa Berardi and Cash
Before going into some of Aurizon's prospects, I thought it was worth putting some numbers around the cash flow being generated at Casa Berardi, just to illustrate that essentially you are getting all of the company's other 10 development and exploration properties for free at current stock prices.
First of all, despite gold prices of nearly $1,700 an ounce today, I assumed gold of $1,500, and used a 3% cash cost and gold price escalator to be conservative. Second, assuming the property is fully depleted in 10 years, and using a 10% discount rate, gets me a net PV of the Casa Berardi property of $6.60 per share. This also includes the $1.30 per share in cash on the company's balance sheet. I can only surmise that the collateral damage from other gold mining equities has been the cause for such a low valuation today on AZK.

Joanna Development Property
The Joanna development property, also located in Quebec, is a planned open pit project that is likely 2-3 years away from production. Initially optioned in 2006, management has moved from a preliminary feasibility study (completed in 2009) and expects to have its final feasibility study done by June this year. It's been six years in the works, and today reserves are estimated at just under 1mm ounces. It supposedly takes 1.5 to 2 years to get all the necessary permitting done in Quebec, meaning operations could commence sometime in 2014. I assume production begins in 2015.
At a rate of around 100,000-110,000 ounces per year, Joanna could show decent cash flow, but there are cost concerns. The pre-feasibility study forecast $187mm of capital expenditures (or "pre-production costs"), and while $23.5mm was spent on Joanna in the past two years, cost inflation has been a major problem.
Management stated that "costs would be significantly higher" than this 2009 pre-feasibility study. Cash production costs clearly will be higher than the originally projected $425/oz, but pre-production costs could be as high as $200-250mm now. I can see $1 per share in future value for Joanna based on these higher numbers, but the lower grade ore and cost inflation here clearly will mean lower returns than at Casa Berardi.
From a pure growth perspective, however, it could be a boon for the stock in the next couple of years to see an added 100,000-plus ounces of production from another source. At a huge 12.3% FCF yield, the market is valuing Aurizon as if production will decline rapidly and end by the year 2020, and also implies zero value on its exploration properties. Did I mention that Newmont (NEM) and Agnico-Eagle (AEM) trade at a sub 4% FCF yields?
Other Prospects
Aurizon has mining prospects covering a total of 2,000 square kilometers in Quebec. One example, the Marban Block Property, is one where the company can earn up to a 65% interest by funding $20mm of capex, delivering a feasibility study, arranging project financing, plus making a resource payment of $30 or $40 per ounce (times 50%). If cash margins are similar to Aurizon's current level of $1,000 per ounce, then $30-40 per ounce in resource payments (times 50%) isn't terribly large. 2009 estimates from resources totaled approximately 959,000 ounces at the Marban Block, which would imply total payments of approximately $40mm.
A complete list and description of all of the company's prospects can be viewed on the company's website here.
Conclusion
If the NPV of Joanna is worth $1 a share, and Casa Berardi's value plus cash on the balance sheet equal $6.60 a share, then it's quite reasonable to see a $7.60 valuation for Aurizon stock. That is 52% upside from today's prices, and does not even factor in increased margins if gold prices move up meaningfully. Nor does it factor in any of the other nine mining exploration properties the company owns. (It also happens to be pretty close to the highs last year, a level previously seen on the stock.)
The downside is probably somewhere around $4. In 2008, the stock reached lows between $1.25 and $1.50 per share, but there wasn't meaningful cash on the balance sheet. Today, assuming a distressed $2.00 in value for Casa Berardi (worth more as reserves are almost 50% higher), and $1.30 in cash per share gives me a disaster scenario of $3.30 a share, at which point I would add meaningfully to my position.
In Aurizon's case, it probably makes the most sense to value the company on a TEV/EBITDA basis. From 2007 through 2011, AZK traded between 5.2 and 15.3x EBITDA. Today, at $5.00 a share, the stock is at 4.9x EBITDA, to me a level that implies zero to negative growth. At the bottom in 2008, the stock traded just under 4.0x EBITDA, when gold and the markets were in utter chaos. But using an average 6.0x EBITDA, which is still conservative by historical measures, implies a $6 stock, what I deem minimum fair value today. That is 20% higher than where AZK currently trades.
Finally, best of all is the fact that Operating Cash Flow less Capex is hugely positive at Aurizon, and explains the mega build-up in cash since 2009. Given that history will repeat itself in 2012, Aurizon probably will do $0.39 to 0.46 in FCF per share. Look at the cash flow statements of almost any other miner, capex eats away at almost all or more than all of Operating CF.
The gold bulls should take note too. If gold does get to $2,000 an ounce this year, as Richard O'Brien (CEO of Newmont) says is "reachable," then the NPV of Aurizon stock works out to $9.50 a share, nearly a double from current prices. This is a speculative play because Aurizon is small and unhedged and in a volatile commodity business. But its cost base is low ($600 per ounce), it operates in a very safe region politically speaking, and it generates tons of free cash flow. And who knows, maybe another bigger miner will decide they want to buy them?
Disclosure: I am long AZK.