The healthcare sector primarily includes equities that provide healthcare equipment, insurance, services, biotechnology and pharmaceuticals. Over the last several decades, medical costs have increased at a rate that has outpaced inflation, and if that continues into the future it can be expected that investments in healthcare may also outpace inflation.
The healthcare sector has been a laggard over the last several years, with many of the larger-cap members within various industries being relatively flat or down over the last five and ten years. Nonetheless, since the signing of Obama's health care laws, the health insurers have performed exceedingly well.
Below is a recent performance review of the equities with the highest weightings within the healthcare sector. I have only included those equities that have more than a four percent index weighting, and have provided the index weight of each, as well as their 1-month, Q1/2012-to-date and 1-year equity performance rates. These equity performance rates do not include dividends paid.
Johnson & Johnson (NYSE:JNJ)
Weight: 12.47%

1-month: 1.35%

Q1/YTD: 0.57%

1-year: 11.83%
Pfizer (NYSE:PFE)
Weight: 11.76%

1-month: 7.20%

Q1/YTD: 4.63%

1-year: 11.27%
Merck & Co (NYSE:MRK)
Weight: 8.05%

1-month: 0.60%

Q1/YTD: 1.86%

1-year: 17.89%
Abbott Laboratories (NYSE:ABT)
Weight: 5.62%

1-month: 8.26%

Q1/YTD: 9.00%

1-year: 27.60%
UnitedHealth Group (NYSE:UNH)
Weight: 4.27%

1-month: 5.71%

Q1/YTD: 16.30%

1-year: 34.71%
And below is a recent performance chart for the SPDR Healthcare ETF (NYSEARCA:XLV):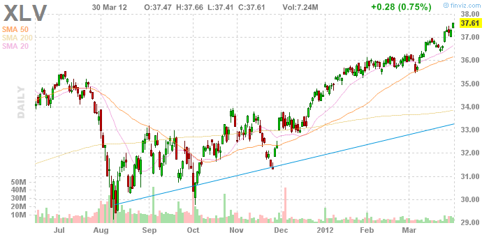 In total, the healthcare sector ended up appreciating an impressive 8.35 percent in the first quarter of 2012, but still below the broader S&P 500's 12.13 percent appreciation so far this year. The healthcare sector presently makes up about 11.4 percent of the total S&P 500's market value.
Healthcare is often highly dependent upon the economy and general employment rates. Individuals with healthcare coverage are far more likely to regularly see doctors and purchase expensive drugs, and the unemployed, especially once COBRA insurance coverage ends, are often highly reluctant to spend large sums of money on healthcare unless a true emergency presents itself.
Any substantive development in healthcare insurance nationalization could have unforeseen positive or negative impacts upon this business, its volumes and profit margins. As many are presently aware, the United States Supreme Court is currently determining the validity of President Obama's healthcare laws, with a decision expected around the end of the second quarter of 2012.
Disclosure: I have no positions in any stocks mentioned, and no plans to initiate any positions within the next 72 hours.
Disclaimer: This article is intended to be informative and should not be construed as personalized advice as it does not take into account your specific situation or objectives.