CarMax will report their fiscal (financial) second quarter earnings Wednesday morning.
Anyone trying to "play the stock" into the earnings really needs to think again, because I think most of the erratic movement with the quarterly reports out of CarMax have more to do with a "call" some brokerage firm was trying to make. Usually it comes from a new analyst in the space trying to make a name for him or herself.
They say, oh, I've done all of this research, and I know CarMax's comps are going to be really good this quarter, so you should buy the stock into the release, and then sell on the day of earnings. And sure enough in the fiscal fourth quarter (March 29, 2007), CarMax reported 12% used unit comp growth (really good comps), and the stock fell 4% in the morning.
Then another brokerage firm does a bunch of research and decides, oh, CarMax is going to have lousy comps, you should short the stock (bet it is going down). And sure enough in the fiscal first quarter of 2008 (reported June 20, 2007), CarMax reported used unit comps of only 6%, and the stock went up 10%.
Eventually, analysts learn their lesson and focus on the investment merits of the company.
So my advice is to pay less attention to how the stock reacts around the earnings release (because the media always makes up headlines instead of saying brokerage firm XYZ's trading call backfired on them). And instead pay more attention to critical metrics that help you analyze if they are continuing to build a competitive store model.
To help you with that analysis, below are some interesting metrics for CarMax going back over the last five quarters. Oh, and don't forget, CarMax's fiscal year ends in February. So we are already in fiscal (financial) 2008 for the company.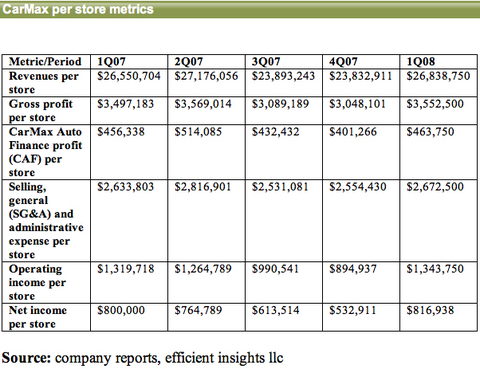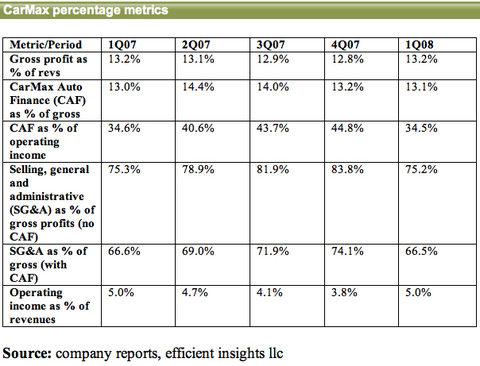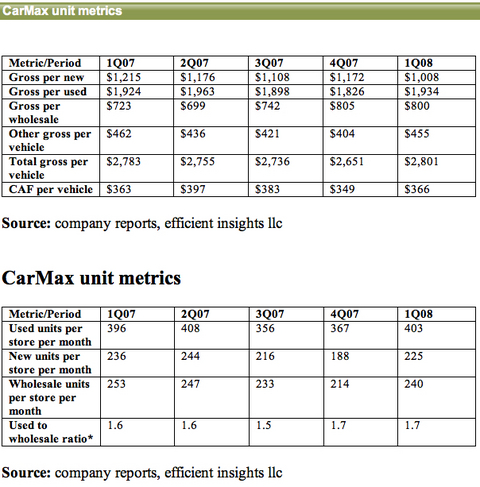 * Used to wholesale ratio simply means for every vehicle wholesaled, how many used vehicles the company sold at retail. For example, a 2.0x used to wholesale ratio would mean for every 1 vehicle they bought and had to sell out at auction, they were able to retail two used vehicles.