"Wall Street" is characterized by demographics of men who can experience difficulty seeing outside our own consumption habits. The reality is that Craigslist-savvy Street guys may not duly appreciate the tactics of a company like Angie's List (ANGI), with television commercials that target female baby boomers.
Of course, as a dime-a-dozen billion-dollar social media stock, ANGI isn't exactly screaming "buy." Here are some more affordable iterations of demographic deals:
Tesla (TSLA)
Tesla is priced for growth, but at an "unfamiliarity discount." Now, let's imagine another discount, in demographics. Tesla is not yet a household name, and has revenues nowhere near companies like Toyota (TM). But Tesla will achieve popular status soon (scale not so soon). The demographic of women will prefer Model X because (source):
It has cute doors
It holds a lot of stuff, and/or people
Easy to clean, no need to jump over back row (kid-friendly)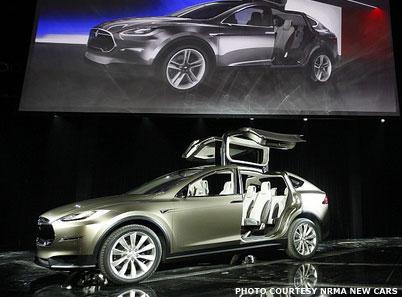 It's good to know Tesla is designing to this demographic, although as you can see above the end result is gender-neutral. As Althea Chang reminds us, women have around 80% of purchasing power in cars. Male purchasing power has been in decline for several decades, as women step into a larger portion of the affluent workforce. So picture female commuters sipping coffee with soccer moms at your local Tesla Sales Center. Model X will sell like a Prius with wings.
Another play, via Tesla's creation of demand in the new category of electric vehicle materials, is Molycorp (MCP), which mines rare high-tech components cheaper than China can, and last week started heating up in the market.
Rocco Pendola has a high-conviction thesis on Canadian media. His thesis is that Rogers and Bell dominate the space. Here in the U.S., we have powerful regulations to protect competition, and we've seen them wreak havoc on overreaching conglomerates. But Canada is different. Rogers and Bell should but don't receive a forward-looking premium for this advantage. Of course, Canada could revert to our mean, but then again, who's to say we are the mean?
The next big catalyst:
Not only does Canada allow the two companies to dominate telecom, media and major professional sports to a stunning degree, but the companies appear set to deliver Apple's (AAPL) forthcoming iTV to Canadians.
Canadians are quite fond of TV, although not quite as fond as Americans. So in this cross-border arbitrage Rocco has identified a compelling iTV play, with lower-than-Apple price tags (sub-14 P/E). Although some claim "convergence" sacrifices innovation by alienating potential partners, I imagine Rocco would likely have uncovered any substantial innovation problems if they existed. Rocco is constantly sniffing for stagnant leadership, going to such extremes of vigilance as to call out conformity by innovation king Apple. So take a serious look at Rogers and Bell.
Gamestop (GME)
Vince Martin digs into fundamentals for this elusive retailer of video games and deems it a worthy gamble. It's hedgeable, too. And a Gamestop advantage that some older Street guys might not have appreciated yet is demographics.
I don't play video games. To me, if I'm going to stare at a screen and repetitively push buttons, I should get paid to do it. But I appreciate the addictive appeal of games and I understand that games are unquestionably replacing television in younger generations. And, like text, audio and video do today, games may soon provide utility to large elements of society. My point is, games are definitively muscling into a primary position in media market share. Digital Domain (DDMG) is one interesting play on this, as they are developing visuals for consumer video games and for military/surgical training simulations.
Your demographic probably has a bank account, but many kids don't have debit/credit cards. Gamestop makes it easier for kids to circumvent this barrier to buying games, both physically and online. I should also mention that there's something to be said for the community aspect of brick and mortar. Being a gamer, like being a drinker, is more acceptable if done socially. Hence the desire for a social space, such as a Gamestop storefront or online community.
Another company normalizing games by making them social is Zynga (ZNGA). The more social games become, the more this demographic moves mainstream.
Click to enlarge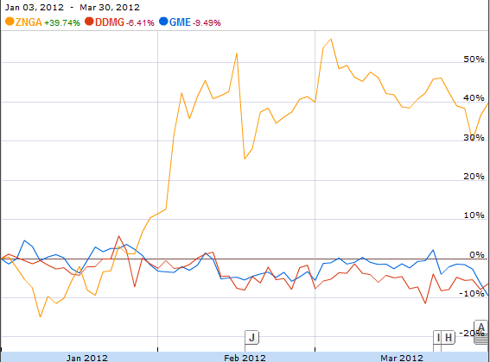 (From Google)
Whether you're an accountant in your 60s who hasn't played a game since Pong, a soccer mom who likes cute car doors, or an iTV true-believer who has never been to Canada, it pays to think outside your demographic.
Disclosure: I have no positions in any stocks mentioned, and no plans to initiate any positions within the next 72 hours.