In its annual survey of the asset management industry last year, McKinsey proclaimed that there was a gap opening up between the winners in the asset management industry and the "also-rans". The report went on to articulate five "major pressure points" in the asset management business":

1. A dwindling ability to gather assets
2. Rapid polarization of flows resulting from alpha-beta separation
3. Pricing under pressure
4. Productivity stalling
5. Persistently high outflows
This year's survey (conducted jointly with Institutional Investor's "U.S. Institute") reveals that traditional asset managers are responding to these threats - particularly those resulting from the separation of alpha and beta. Says the recently released 2007 edition:
Traditional asset managers are not only taking the threat seriously, they are striking back with a vengeance. For example, the results of the most recent benchmarking study by McKinsey and Institutional Investor's U.S. Institute reveal that a full two-thirds of all traditional asset managers operating in the institutional market now offer alternative products, in the form of hedge funds, private equity, structured products and real estate. Moreover, an astonishing proportion of these firms' institutional revenues – more than a third – is now coming from alternatives. Just five years ago, that proportion would have been close to nil.
The report says the growth of traditional investment products is stalling since these funds are "trapped in a vise-like squeeze" between higher-growth true-alpha and cheap-beta products.
While McKinsey acknowledges that 2006 was a good year for the asset management industry with an average pre-tax profit margin of 31% and AUM growth of 17%, it warns that "2006 was hardly a case of prosperity-as-usual. On the contrary, the underlying drivers of industry growth and profitability shifted significantly."
Here's the "squeeze" they're talking about: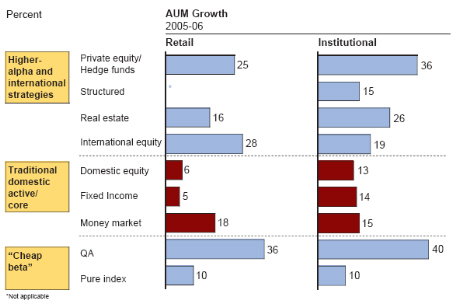 One of the reasons for the squeeze facing traditional active management might be that institutions, in particular,
…demonstrated an unwillingness to pay for 'beta masquerading as alpha'.
Indeed, defined benefits pension plans actually pulled money out of equity strategies last year and added significantly to their alpha, beta, and fixed income allocations. (read: portable alpha and LDI?)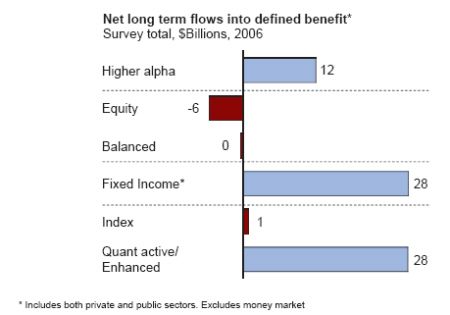 The shift to toward higher-margin alpha products has apparently juiced asset managers' overall margins since last year. At the same time, retail margins continue to fall due in part to "heightened regulatory scrutiny" and "the growth of wrap products".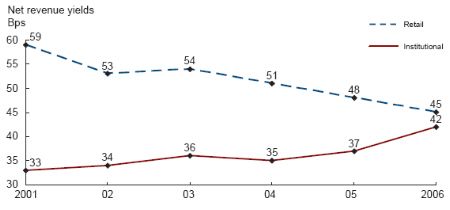 The consulting firm says the bad news for institutional managers is that costs are rising faster than assets (although with margins increasing, we wonder if that might not matter too much). The culprit, apparently, is compensation. It seems that alpha-centric investing has sparked a bit of a war for talent.
McKinsey is bullish on 130/30 and quite appropriately ties the concept into the broader migration to alpha-centric investing:
130/30 funds…have exploded in popularity over the past year. As the separation of alpha and beta continues, we expect the use of such strategies to accelerate, due primarily to the increasing appetite among institutional investors for such strategies.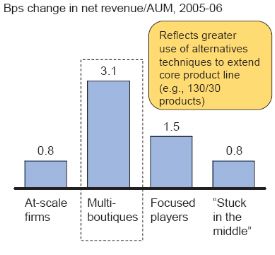 In fact, 130/30 has already begun to make a mark on the dynamics of the asset management industry. Asset management firms that McKinsey calls "multi-boutiques" (parent companies to collections of smaller independent money managers) enjoyed impressive asset and margin gains in 2006. And much of these margin gains is chalked up to the higher likelihood for these firms to adopt 130/30 strategies.
There's plenty more to this 24 page report. So if you're looking for the latest research on the asset management industry and can't afford to pay McKinsey's rates (or compete in the aforementioned alpha-centric talent wars), then you should read this report.
If there's one message that comes out loud and clear, it's that traditional asset managers have thrown down the gauntlet in hedge funds. No more messing around. It's now all about alpha.
Sort of reminds us of when George Costanza's maligned and impertinent father in TV's Seinfeld snaps and fights back against Elaine's taunts:
"You want a piece o' me? You…want a piece…o' me?! You GOT IT!" (audio)