Down is not up.
It seems obvious, doesn't it? But to many traders it isn't.
One of the most common mistakes made in trading is to think that it's better to buy a stock that is falling (or has fallen significantly) than to buy a stock that is rising (or has risen significantly).
Yet from our 15 years' experience of trading the markets we have learned (the hard way) that you have a higher probability of making money by buying stocks that are going up rather than buying stocks that are going down.
Why is it easier (and more common) to buy a stock that is trading at a 52-week low than to buy a stock that is trading at a 52-week high?
The thought process that tricks us into believing that "down is up" goes as follows: "If ABC was trading at $50 one month ago and now is trading at $30, which is a 52-week low, surely it should bounce from here, so buying it at $30 is a good trade - I'm buying it cheap."
But this thought process is fallacious. A stock that has dropped from $50 to $30 in one month is more likely to drop to $15 before it climbs back to $50.
There are a myriad of factors that could cause a stock price to drop: market psychology, company fundamentals, sector specific factors, economic data etc.
But the cause of the drop is not as important as the falling price itself. We don't need to know why a stock is falling but need only to recognize that it is falling, and stay away. In our opinion price action is all we need to follow: the price is the truth. It encompasses and reflects all the various factors that effect a company and the capital markets.
But it's difficult, very difficult, to buy a stock that has climbed dramatically over a short period of time and looks technically overbought on the charts. Apple (AAPL), for example, has 'looked' overbought on the daily charts (RSI over 70) since the beginning of February when it was trading at $450 - it is now trading at $600.
There is something inside of us, a voice of disbelief, that whispers: "This stock has had a great run but buying it now would be foolish - it's too late - it can't go higher- it's just too expensive."
But 'expensive' and 'cheap' are relative terms when it comes to trading.
Unless you learn to understand the relativistic nature of the equity markets you will continue to think that 'down is up.'
Let's take a look at two examples: one of a falling stock that became ever cheaper, and one of a rising stock that appeared always too expensive.
Research in Motion (RIMM)
Perhaps no headline stock has experienced such a dramatic fall from grace over the last year as this one.
RIMM hit a closing high of $69.86 on February 18, 2011.
It closed at $14.70 on March 30, 2012.
A collapse of 78.9% in just over one year.
There were many times over the last 12 months when this stock looked cheap - take a look at the chart below.
(Click charts to enlarge)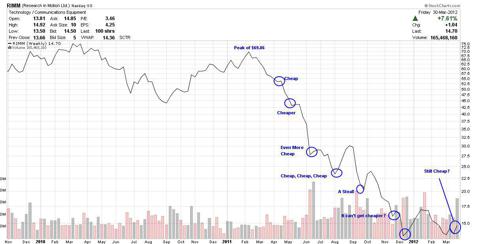 After looking at this chart of RIMM you realize the relative meaning of the word 'cheap' when referenced to equity markets.
Let's take a look at a stock that has repeatedly looked too expensive over the last two years.
YUM Brands (YUM)
The opposite of RIMM is YUM.
There were many times over the last two years when this stock looked too expensive but it continued to climb higher and higher.
Since "peaking" at $42.00 in April 2010, the stock is now trading at $70.00 - up 66.7% over that time period.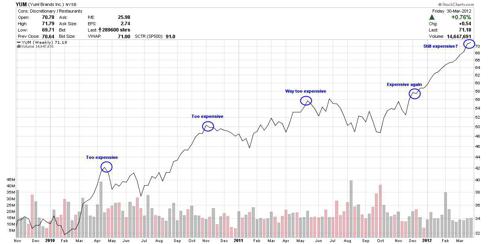 The voice within would have repeatedly whispered: "This stock is too expensive; it can't go higher." But higher it went.
Now, for a soul-searching question: if you had to choose RIMM or YUM, which stock would you buy today?
I venture to guess that most of us would feel more comfortable buying RIMM, after all, it's down 78.9% over the last year! Surely it has to bounce from here.
Disclosure: I have no positions in any stocks mentioned, and no plans to initiate any positions within the next 72 hours.