Thank you SA Editors and fellow Alpha seekers! I am grateful to have one of my articles recognized in SA's recent Greatest Hits, Editorial Edition! It certainly has been a great ride writing articles with the intention to help others.
As per my original article here and the subsequent follow up here, I wrote:
The Plan
$25,000 starting equity; split into 5 "streams" of approximately $5,000 each.
Will use mostly leveraged ETFs, midcaps, and a few well-known large caps.
Goal is to take 10% to 15% per trade and let the money "compound" by repeating the same process with another stock.
The original goal was to beat the market (SPY) and Apple (AAPL). SPY started the year at $127.50, Apple was at $411.23 and our portfolio was worth $25,000. At the time of writing (March 30th), Apple traded at $599.55 (up 45.7% YTD), SPY was at $140.81 (10.4% YTD) and our portfolio was at $33,522 (34.09% YTD). While we did better than the market during the 1st quarter; Apple still smoked us (while requiring less attention)! Only time will tell if our approach does provide better returns and consistency over the long haul or will Apple hit bubble proportions and make me cry?
We are sitting with $27,124 in cash and holding only two minor positions that we intend to scale in/out depending on the action in the upcoming week.


What can I say? Even I was caught off guard by Apple's torrid run since the year started. I knew it had legs; but getting a return of at least 45% in three months is just unheard of given its market capitalization. This is why it will almost always be confused with "bubble" stocks.
What could I do better next time? It is a loaded question; I'll name a couple!
I should not let expectations lead to beliefs. I expected Velocity Daily Inverse VXX (XIV) to run at least to $14; my stops allowed me to keep most of the gains but I left money on the table. Hindsight is 20/20 but if the intent is to take "small gains" and compound them, I should do a better job realizing gains (Melco (MPEL), Rackspace (RAX), Direxion Emerging Markets Bull (EDC), Direxion Developed Markets Bull (DZK), Direxion Technology Bull (TYH), just to name a few).
I should consider taking profits weekly. This was a suggestion from a reader who also implied that I should publish updates weekly to go along with it. Weekly profit taking instead of letting a winning position run? If the baby doesn't cry; how would you know it needs something?
Given my natural tendencies (that has been ingrained in me over the years of riding just a few stocks that I know well e.g. Apple and our Research in Motion (RIMM) short last year), I found the above two "mentalities" challenging to change. I have had no hesitation to sell losers within a 3% parameter; why not sell winners with more than a 5% run? What I took away from "Moneyball" (the movie) is you have to have the conviction to think beyond your experience, to be able to approach something you like doing in ways that are unconventional (for me anyways). I know, I need to make these adjustments if this experiment is to have any fighting chance.
Some frequently asked questions:
Do I use Margin? No. If I decide to use any leverage; it will be in form of LEAPs.
What charting software do I use? I primarily use Stockcharts (it is free and pretty good). For scanning and simulations, I use Wealth-lab. Unfortunately, the latter (on a stand alone basis) is no longer available.
Will you go short? Yes, it will be in form of LEAPs and I will restrict it mainly toward large caps.
We've only added one new name in the portfolio: Direxion Latin America Bear 3x (LHB). We will scale in at $11.75; mental stop at $10.80. Didn't commit full $5K on the trade as I don't have any confirmed "sell" on the major indexes.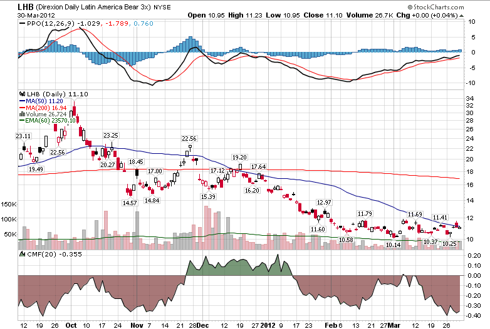 Will a portfolio of stocks outperform a buy and hold strategy using one single great stock? The journey continues!
As always...your mileage may vary.
Update: Stopped out of Direxion Latin America Bear April 2; scaled in Velocity Dalil Inverse VXX . May short Research in Motion on stop at $14.
Disclosure: I am long AAPL.