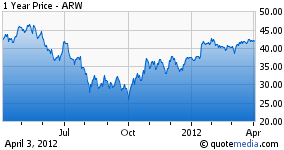 Arrow Electronics (ARW) is a distributor of electronic components and computing products. The company has used a mix of acquisitions and internal development to grow revenue and EBITDA at compounded rates of 9.5% and 10.1%, respectively since 2006. Along with its peers, Arrow's stock appears undervalued, trading at a discount to fair value based on current and cycle-adjusted earnings. Near-term risks have increased though as evidenced by weak performance in one competitor's stock and the slowdown of industrial production around the world. A wait and see approach may be best, but over the long-term, the shares look attractive.
BUSINESS
Arrow separates its business into two segments: Global Components and Global ECS (Enterprise Computing Solutions). The Global Components business primarily distributes semiconductors which represent 67% of segment sales. Other products in the segment include such items and capacitors, resistors and relays at 19% of segment sales, computing components at 11% and other products and services at 3%.
The Global ECS segment distributes computing products such as servers, software and storage, representing 29%, 26% and 38% of segment revenue, respectively. The company also provides certain supply chain management services for resellers such as lead generation, training and education, and engineering support, all representing 7% of revenue.
The company has one supplier that represents 9% of total sales which likely resides in the Global ECS business and constitutes a much larger portion of that business. IBM (NYSE:IBM), HP (NYSE:HPQ), NetApp (NASDAQ:NTAP) and Oracle (NYSE:ORCL) are the company's largest suppliers in the segment; therefore, the large is likely one of these companies.
FINANCIALS
Revenue and cash flow have grown strongly at Arrow since 2006 with operating cash flow minus the impact of working capital up 85% over the period. The components business has accounted for a large portion of the growth. Arrow has spent about $2.4 billion on acquisitions since 2006, meaningfully impacting overall growth.
The company has shown some volatility in its results as evidenced by an over 40% reduction in EBITDA excluding restructuring charges from the peak in 2007 to the trough in 2009. The company's cash flow was however buffered by working capital releases during this period.
VALUATION
Arrow is earning strong returns on capital of 14.4% on internal investments based on current earnings although on a longer-term basis, returns could be somewhat lower because earnings are strong presently. There is some question whether some portion of the large amount of goodwill maintained on the balance sheet represents assets that must be reinvested in (or put differently, represent some unidentified intangible asset) and whether the company is making good on those reinvestments. In any event, returns are high enough above cost to feel comfortable that the company is creating value, at least on internal investments. The modified IRR of 12% takes account of the fact that the company is not able to reinvest all its cash internally.
A small upward adjustment to the cost of capital has been made to account for what amounts to what in my view is hidden potential leverage in the business due to high accounts receivable relative to the value of the company. In downturns, the creditworthiness of customers will come into question and this will act as additional leverage. Given a real cost of capital of 5.9%, the company generates a relative return of a little over two times. On economic capital of $4.5 billion, this yields a no growth firm value of $9.2 billion or an equity value of $60.74 for a PE of 12.2x.
Running the process in reverse, we can start with the current share price and see what level of earnings the market is discounting. In my view, the market is implying about $633 million of gross income or a diluted EPS of $3.29, over a cycle. Since Arrow's business is cyclical, there could be some merit to the market's view. Taking $4.98 of current EPS as a baseline and assuming four of six years produce this level of profit and the balance produce half that level, then cycle-adjusted earnings would be about $3.75 per share, still over what is discounted in the market, but below what could be today's peak earnings.
In reality the level of cycle-adjusted earnings is unknowable and the answer could be anywhere between these figures, if not higher or lower, but it does seem the current valuation of the business is too high. In addition, the company can generate extra value through growth to which no value has been ascribed, although this would only amount to a few dollars per share given the low organic growth rates.
Having considered valuation, it is useful to note that one major competitor, Synnex (SNX) recently reported disappointing guidance and the stock fell about 15% on a single day. Synnex's shares were more fully valued before the drop than Arrow's are now which implies a greater risk, but there is certainly now a sign of demand weakness in the space. In my view, Arrow's shares are worth keeping on the watch list and could be a good buy if economic indicators outside the U.S. begin to improve.
Disclosure: I have no positions in any stocks mentioned, and no plans to initiate any positions within the next 72 hours.