Part 1 of my Granite Construction Inc. (NYSE:GVA) analysis covered my concerns with the company's dependence on government spending for future earnings. In the second part of my analysis of Granite Construction, I assess the more quantitative and technical aspects related to the company's outlook. The company is fairly valued, but is not pricing in future slowdon in earnings growth, while technicals are weakening.
Financial Highlights and Valuation:
Current financials and valuation prices hint that the company is currently fairly valued, but is pricing higher growth than warranted. The forward P/E ratio of 14.37 is around the market average, but its 2.6 PEG ratio indicates that investors are overestimating its growth. Analysts expect an 8.5% growth rate over the next five years, but I expect earnings growth to fall to around zero by 2016.
Although the need for updated infrastructure will still be present, solvency concerns of the federal government will limit any expansion of government discretionary spending. Based on a zero growth rate continuing value and a 11% discount rate, my DCF estimate resulted in a price target of $23.89. Its low return on investment capital of 6.2% concerns me about the lack of efficiency from management.
Discount Rate

CV Growth Rate

10%

11%

12%

0%

$26.36

$23.89

$21.80

2%

$31.50

$27.92

$25.07

4%

$40.40

$34.27

$29.94
Technicals
Technical patterns are indicating that Granite Construction is likely to be facing a near term pullback or breakdown. The MAC-D crossed bearish recently along with further a breakdown of stochastic indicators below 80. The company's relative strength is neutral at 51, and has no predictive pattern currently. However, the S&P 500 as a whole is overbought. Selling pressure from a technical breakdown of the S&P 500 can hurt GVA as well.
The stock is at the support level of an ascending wedge pattern dating back to October. Breaking through the wedge's support at $28 will likely lead to at least a test of the pre-February 23rd gap up price of $27.02. The next support levels for GVA at $26 and $24 respectively. Momentum as indicated by the MAC-D and stochastics is fading for both the market and GVA. As a result, I expect to a significant pull back in GVA in the short to medium term, but the $24 support level to hold.
Click to enlarge.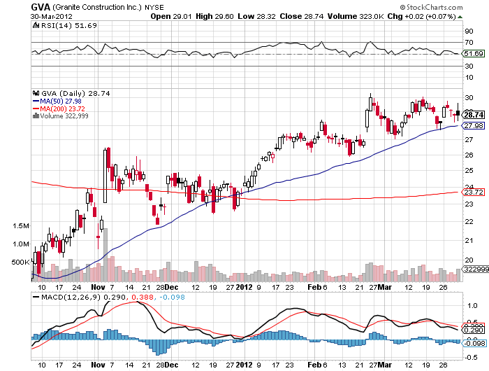 Source: Stockcharts.com
Entry and Exit Points:
Due to my short to medium term negative outlook for equity markets as a whole, I expect GVA to pull back as well with the market. My target entry price is to buy/or to cover a short $22.75 per share with a small chance of an overshoot down to $21. My entry price for short selling is a break below the 50 day moving average of $27.98. For bulls, the long-term exit price is $34 per share, which is technical resistance dating back to January of 2010, and near the discounted cash flow value of the company with very optimistic growth projections. However, with a one-year price target of $24, I do not expect Granite Construction to reach that resistance any time soon.
If you decide to keep your shares or buy GVA stock, make sure to use a trailing stop of $0.83 or 2.85% trailing stop to protect yourself from downside volatility. Based on the company's fundamentals and fragile technicals, downside is higher than upside for GVA stock at current price levels.
Conclusion and Recommendation:
Overall, my outlook on Granite Construction Incorporated is neutral to bearish. GVA is too reliant on government infrastructure spending in order to maintain current growth rates that are propped up by stimulus spending. With the increasing level of national debt (and the likely increase of interest rates of Treasuries), the US government will have to make some hard spending cut choices. Discretionary spending such as infrastructure (despite its need), will be cut first over more politically difficult commitments such entitlements and defense spending. State and local governments are also feeling the pinch from lower tax receipts and the inability to print their way out of deficits. As a result, I expect earnings growth to slow significantly as stimulus spending wanes. Demand created by the economic need to upgrade outdated urban infrastructure will provide a support on revenues to prevent earnings from contracting, but I think earnings growth will flat line neat zero within four years.
Due to my subdued earnings projections, I expect GVA to slightly underperform the S&P 500 over the next year. Investors who already own this stock should take some profits on half of their position and put a tight trailing stop (less than 3%). I would not recommend investors to enter into any new positions unless if the stock falls below $23 per share. Since privately held Betchel, the best of breed company in the industry, a better way to capitalize off infrastructure and economic growth would be to buy oil services companies such Halliburton (HAL) or Schlumberger (SLB) who provide a similar to private industry and international state owned firms.
Notes: DCF model used assumptions of a 8% annual growth rate for the first four years and continuing value growth rate of 0% and a discount rate of 11%. Data sourced from 2010 10-K and 2011 10-Qs.
Disclosure: I have no positions in any stocks mentioned, and no plans to initiate any positions within the next 72 hours.