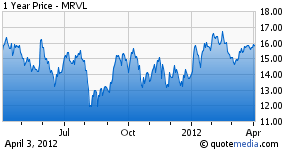 For as much excitement that I have recently developed over chip stocks, I was reminded recently that there is yet one other name that I continue to neglect within the discussions. It is that of semiconductor darling Marvell Technology (MRVL). But this is not because the company draws a low profile. The truth is, although it has recently gone unnoticed in my mention of some of the best chip names on the market today, the company draws a considerable amount of attention from investors as well as potential suitors. But for Marvell, this has become an issue that it prefers (at times) to not have to deal with.
The marvelous side of Marvell
According to the company's website, it has recently received notification of an unsolicited mini-tender offer by TRC Capital Corporation to purchase up to 6 million shares of Marvell's common stock, or approximately 1 percent of the company's outstanding shares, at a price of $15 per share. The offer price was 4.94 percent below the closing price on March 22, 2012, the approximate date of commencement of the offer. The company has advised that its shareholders refuse the offer as it said to be considerably below the company's fair market value as well as long term potential.
And I have to agree with the company on this position. With the stock trading at $15.73 as of Friday's close and with a modest P/E of 15 there is a sense that as chip stocks continue their uptrend Marvell may indeed be worth at the very least $18 to $20 by year's end. This is even though the company recently announced lower profits in its fourth quarter and offered less than favorable sales outlook. The company expects hard disk memory sales to bounce back as much as 20 percent, but anticipates wireless segment sales to decline sequentially in the current quarter due to seasonal factors. It also expects networking sales to be flat.
In a space dominated by names such as Texas Instruments (TXN), Qualcomm (QCOM) and Intel (INTC), Marvell has become somewhat of a forgotten name. But I continue to think that now that the hard drive issues and the Thailand flood related disruptions are a thing of the past, Marvell should start to produce better quarterly and year-over-year numbers going forward. From that standpoint, the stock looks somewhat undervalued when taking into account the company's growth prospects over the course of the next 12-24 months. The stock compares favorably to Texas Instruments that trades at a P/E of 17 and even better than Qualcomm which is moving at a multiple of 26.
For Marvell and the question is does it inspire the same level of confidence as the rest of its peers especially when one can make the case that the stock is expensive on the basis that it trades at a much higher multiple than Intel - which comes in at a P/E of 11? This is the challenge that management has to overcome. Looking at its Q4 earnings, one can see that its full year-on-year comparisons were in fact pretty impressive. But unfortunately for the company, investors will tend to look at the fact that the company's fourth quarter revenue growth declined by 5 percent sequentially while missing analysts' estimates. So from that standpoint, it is hard to make the case that the company is not somewhat fairly valued at current levels, but then again, how often will natural disasters occur?
Astute investors appreciate that even Microsoft (MSFT) and PC makers such as Dell (DELL) and Hewlett-Packard (HPQ) all suffered similar setbacks from the flood of Thailand, but I don't think many doubt their long term potential. On the bright side of the report was that the company did pretty well from the standpoint of margins - which were flat for the most part. This was indeed a moral victory with all things considered.
Summary
There is no question that the more prominent names within the sector such as Nvidia (NVDA) and ARM Holdings (ARMH) will continue to get the more than their lion's share of the discussions. But it will not be because lesser known names such as Marvell don't deserve an equal amount of notoriety. The company does have some challenges ahead but it seems that management is in tune with what these challenges and is prepared to address them and get the company back on track. As noted, at current levels the stock is somewhat intriguing a 20 percent jump to the upside should not be out of the question.