When investigating potential long-term holdings for my portfolio, like Harley-Davidson (HOG), I plug not only numerical values (i.e. P/E EPS Beta) into my own type of algorithmic calculation but also a list of intangible factors that could turn out to be a major determinant of future value and staying power of that particular brand. Being able to spot or predict future trends and act on them accordingly before the masses is where real alpha resides. An example of a possible future trend in regards to HOG would be the introduction of a quality electric motorcycle. I do this just to play devil's advocate because, full disclosure, I am long HOG and will continue to be until the trend is broken.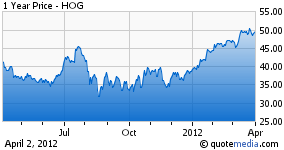 As there begins to be a stronger push, explicitly by the government, toward more fuel efficient modes of transportation how will this affect a company like Harley-Davidson?
Well, let's start with rising gas prices. On the surface it would seem motorcycles actually fare very well on the MPG scale and they superficially do averaging around 50mpg in some cases. However, they also lack emission controlling components, which causes them to produce more pollution than larger automobiles by an astonishing 95%. So, in actuality, a gas powered motorcycle's effect on the environment is much worse than the fiercest of gas guzzling SUV's.
These types of electric powered motorcycles have become a practical reality today mainly because of advancements in battery technology. The problems with traditional Lead-acid batteries include weight, do not provide adequate range, and tend to last for only a couple of years.
Only several companies are currently in existence offering these electric powered motorcycles, one of which is Vectrix of Newport, Rhode Island. Top speeds on their creation can reach an estimated 65mph. This can be improved by reducing gear-ratios which has been the topic of discussion with Vectrix. Its cost is not astronomical by any standards costing only $11,000 and NO annual fuel purchases.
An additional avenue of interest for these types of electric motorcycles has been originating with the sport-bike world. In Scotts Valley, CA, a company known as Zero Motorcycles offers an off-road motorcycle capable of a jump in excess of 20 meters. They also now offer street versions and their 2012 Zero S gets 115 miles on a single charge. They have five distinct model lines starting in 2011. Electric power has also made its debut in drag racing. A123 Systems, of Watertown, MA currently holds the record for the fastest electric drag-racing motorcycle finishing the quarter mile in 8.17 seconds and reaching 156 miles per hour.
In my opinion this is where the real electric push should be. It offers all of the exhilarating benefits of a motorcycle experience but with none of the adverse affects on the environment. Harley-Davidson would be smart to develop an attractive and powerful electric motorcycle to introduce itself to a whole new demographic of customers or swoop in to buy one of these existing ones. Switching to an electric powered motorcycle would not only reduce greenhouse gas emissions, it would also cut into the demand for oil in the US. I really think they should focus on acquiring these companies. Will there always be the die-hard gasoline enthusiasts, absolutely. I would not want it any other way.
In early January Harley-Davidson offered conservative guidance for 2012, but quoted a 3-5% increase in volume from 2011. In the more near term look for Harley to outperform Q1 expectations. It will be interesting to see what happens to momentum after the $50 mark is breached.
Disclosure: I am long HOG.