There has been absolute silence for the Abitibi-Consolidated Inc. (ABY-OLD) - Bowater Inc. (BOW) deal with respect to the ongoing FTC review. The silence, and continued delay, are believed to be directly related to a divestiture process which must now be assumed is part of the review. It was originally suggested that divestitures -- or at least one divestiture -- might be necessary in the newsprint segment in order to appease the FTC. As the deal proceeded however, most indications pointed to the companies being able to avoid selling off any operations. Thus, the FTC timing was moved forward.
It is now apparent that the companies and the FTC are going to need to reach a consent agreement on at least one paper mill and the original assessment now seems to be more on the mark:
It would be a major accomplishment if the companies could complete the deal before the end of this summer, but that would involve a situation where no conditions were applied by the FTC. It is more likely that the second request process will carry the transaction well into the early fall of this year -- roughly a September / October time frame.
Of course, this assumes that any potential divestiture situation has proceeded to the point where a buyer has been found (Catalyst Paper was rumored as a buyer in late June) and that the FTC staff is already assessing the buyer. Usually this sort of development is leaked, or announced, when the process moves to that stage. Again, there has been nothing but silence for more than two months.
This is a situation where precedent and available data often come in very handy in getting a timing picture. Paper industry merger, as noted back in January, can be lengthy when divestitures are required, but they can also be somewhat predictable, much like Grocery industry mergers. Below is a timeline chart of recent major deals in this sector. This was the original basis for suggesting a 200+ day transaction in this case. This deal is now in its 227th day.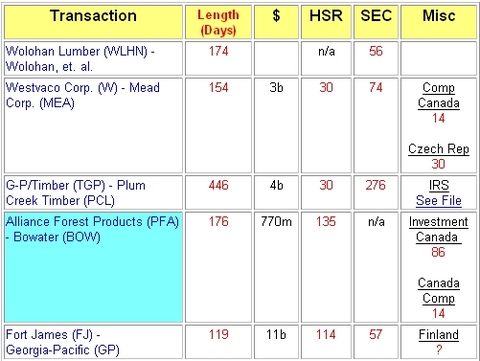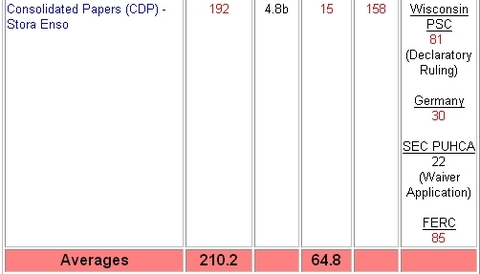 The current expectation is for some sort of positive development within the next four weeks. Presumably, this will materialize in the form of a consent agreement with the FTC, followed very soon after by a closing date. This transaction should close before the end of October.