We are initiating coverage on Varian Semiconductor (NASDAQ:VSEA) with an outperform rating and a $70 price target, reflecting ~22% upside from current levels. We believe Varian is benefitting immensely from Applied Material's recent exit from the ion implantation business, a critical and expensive component of the chip manufacturing cycle. Secular market share gains have propelled the stock to fresh 52 week highs, even as the rest of the industry seems to be slumping due to investor worries related to memory price erosion, the cap ex cycle, and a weak economic backdrop. Currently trading at ~15.5x our 2008 EPS estimate of $3.50 (well above consensus estimates of $2.80), Varian shares are more attractively priced than the Street is willing to concede. On any low volume pullbacks, Varian would be a compelling stock to own and a solid bet on a market leader that is executing even as its competitors stumble.
Business Description
Varian designs, manufactures, and services ion implantation equipment that is used in the chip production process. Spun off of Varian Associates in 1999 (Varian was divided into three companies), the Mass-based firm now sells into each of the top 20 chipmakers worldwide, including logic bellwether Intel (NASDAQ:INTC) and memory titan Samsung. With 43% of the implanter markets (as of Dec 31, 2006), Varian has become a formidable, mid size player in the semi cap equipment space. It has over 3,330 tools installed worldwide and is responsible for implanting 5 million wafers daily.

Other Investment Strengths
Accelerating sales last 3 quarters

Widening profits margins with AMATs exit from ion implanter business
Diversified semi equipment companies are exiting non-core businesses, making room for mid-size players like Varian.

Closest competitor Axcelis (NASDAQ:ACLS) is seeing poor traction with its new implanter tool
Varian has ~$3 share in cash and is debt-free; it has been using its cash to repurchase stock in the open market; we believe Varian's market position and capital structure makes it a strong buyout candidate.
Boston-based Wellington Management LP holds over 11% of the company, although it shaved off ~437K shares in the last quarter
Risks
Investing in semiconductor equipment stocks is not without its risks. The group is notoriously cyclical being that companies are removed from the end user by a factor of three and visibility down the value chain can be remarkably poor. The long lead times and sensitivity to business cycles creates "whipsaw effects" among stocks. VSEA-specific risks include: insider selling (CEO Gary Dickerson unloaded $7M worth of stock in early August) and a rich valuation (40% P/E premium to peer group).
Valuation
To arrive at our $70 price target, we blended a free EBITDA and multiples-based approach. Our free EBITDA model, in which EBITDA after cap ex was discounted at a 12.3% cost of capital, yielded a $73 price target. Our multiples based approach, in which we applied a 19x (mid range of the peer groups 15-22x forward PE range) to our 2008 diluted EPS est. of $3.50, generated a $67 price target. Averaging the two approaches, we got a $70 target. Even after jacking up the discount rate and pulling management's market share expectations in a bit, we landed at a $60 stock price, which is over $5 dollars from where the stock currently trades at. This stock is attractively priced and a dip in the stock would be a blessing in hiding.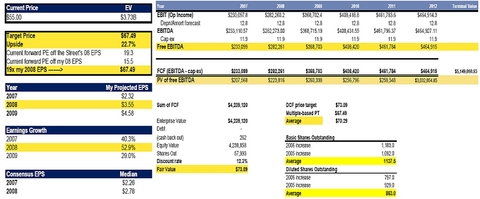 Appendix A: Earnings Model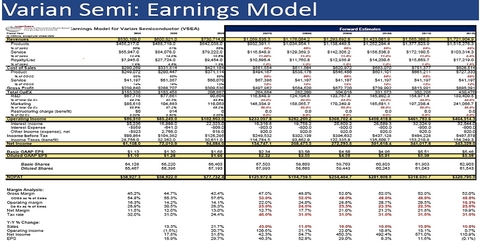 Appendix B: What is Ion Implantation?

Dan Jacome is an MBA candidate at the Kelley School of Business at Indiana University, where he is majoring in finance and running Ceviche Fund Partners LP. Funds managed by Kelley students were long VSEA at the time this article was written.