Below we highlight a historical chart of the Federal Funds Rate since 1987 (the Discount Rate was used prior to 1987). The blue line represents the S&P 500 while the red line represents the Federal Funds Rate (%).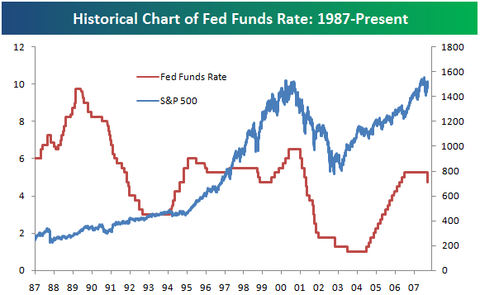 Yesterday's breadth on the S&P 500 showed that net advancers numbered 481 (490 stocks up, 9 down, and 1 unchanged). This ties the best reading since 1996. Below we highlight the ten days with the strongest breadth over the same time frame.
While yesterday's breadth was tied for the strongest of the ten, the actual percent change today was below the overall average.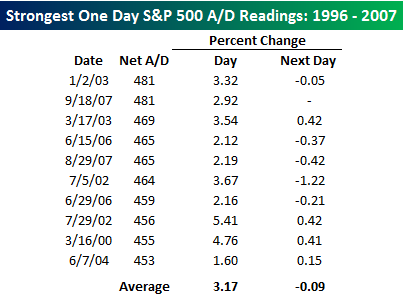 After posting on the market's neutrality leading up to yesterday afternoon's rate decision, the S&P 500 closed the day in overbought territory for the first time since July 24th. The S&P 500 is now just 2.14% below its closing high of 1553.08 on July 19th.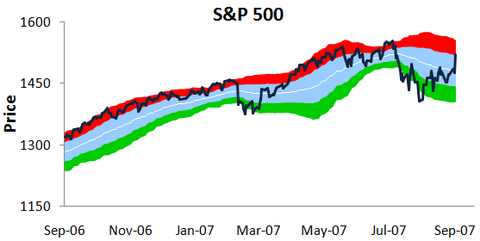 Following yesterday's 50 bps cut in the Fed Funds and the Discount Rate, many are calling for even further weakness in the US dollar. However, it was interesting to see that Boeing (NYSE:BA) was the only stock in the Dow which was down, even though it is the country's largest exporter, and therefore the company that should theoretically benefit the most from a weak dollar and strong global economy.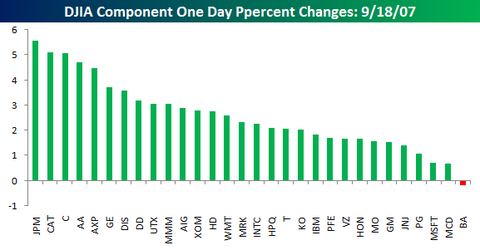 One of the reasons for yesterday's cuts in the Fed Funds and Discount Rate was to help grease the wheels of the credit markets. Based on this premise, one would think that the cuts would have a positive impact on the companies involved in private equity buyouts.
However, one of our Bespoke Indices, the Bespoke Discount to Takeout Price Index, which measures the average discount between where companies involved in private equity buyouts are currently trading versus their announced buyout prices, has not rallied today by nearly as much as the S&P 500. Based on this first impression, investors are either behind the curve or are not expecting today's cuts to have much of an impact on buyouts.