The decision on how much cash (that used to earn five percent) to convert to the streetTRACKS Gold Shares ETF (AMEX:GLD) was not an easy one - it turned out to be about ten percent, which should help in a very small way to make the blue bars in this chart keep going skyward along with the gold price.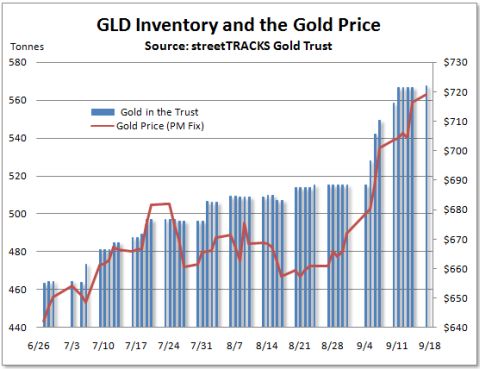 Many others will likely come to the same conclusion to broaden their definition of savings in a similar manner, albeit much later and at much higher prices for the yellow metal.
Ben Bernanke may have seen what's in store for the inflation statistics in the months ahead (as documented here last month) and figured he'd better get on with it - it's a lot easier to cut rates when the government statistics show inflation is under control. Look for that condition to change rather dramatically before the end of the year.
Here are the last two policy statements side-by-side:
[]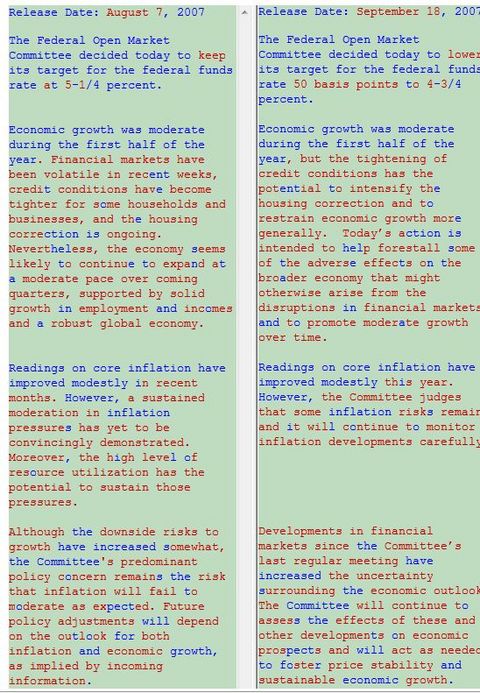 Count me as one of those who have just lost a great deal of respect for the new Fed chairman. To date, nary a bad word has been offered up here regarding the job that Ben Bernanke has been doing - that may soon change.
Full disclosure: Long GLD at time of writing.