The risk premium for corporate bonds (the difference in rates between treasuries and Baa-rated corporates) has been rising in recent weeks, though not as much as I would have expected given the mortgage meltdown.
A lower spread is positive for the economy and for corporate earnings, as it means companies don't have to pay as much (relative to riskless treasuries) to borrow money that can then be invested in profitable opportunities. In effect, it lowers the bar as to what makes for a worthwhile investment. A low spread has a mixed message for stock market investing - good for earnings/economy per above, but means investors are being paid less to take risks.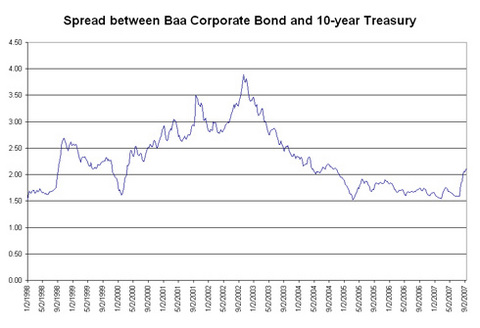 It will be interesting to see whether the Fed's rate cuts affect long-term rates. The economy could actually do worse following the cuts if the spread widens further.