It's that magical time of year for golf fans, when azaleas and dogwoods and magnolias fill our television screens and lexicon once more. It's a harbinger of spring and legend, a stroll through a gaming garden of effervescent green and sun-stained stages. It's Masters week at Augusta National Golf Club, where every hole reframes a picture of enchantment.
While 97 golfers compete this week for the coveted green jacket, we at The Hedge Zone like to think we compete in similarly graceful fashion for another kind of green - money. And despite the decidedly non-commercial pretenses of Augusta National, the fact is that golf is a multi-billion dollar global industry, and at its grandest spectacle, green is truly everywhere.
So when you're witnessing Tiger charge through Amen Corner on Sunday like the bull that surged through the market the first quarter of 2012, let the roars of the crowd be your market research. You might just learn something about the companies profiled below.
Adams Golf Inc. (ADGF): $10.72 ; 52wk Range: 4.79-10.80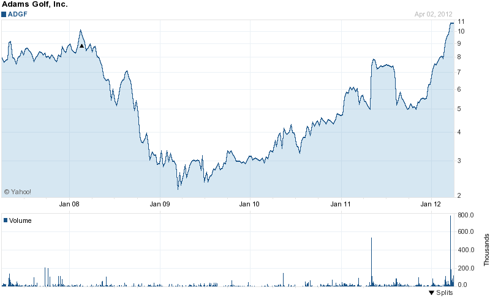 (Chart courtesy of Yahoo! Finance)
Recently acquired by Adidas (who owns and operates TaylorMade Golf) at $10.80 a share, Adams Golf is essentially a non-factor for investors. Shareholders of Adams Golf will receive the equivalent ($10.80/share) in cash sometime in mid 2012 upon completion of the merger. On the other hand, its buyer, Adidas (OTCQX:ADDYY), is the second largest sporting goods manufacturer in the world (behind Nike) and boasts an impressive number of PGA professionals who use its TaylorMade branded clubs. In fact, TaylorMade has a commanding lead by our tally over either Callaway or Nike in terms of the number of players in the Masters field using their clubs this week. Adams Golf should complement TaylorMade's brand and competitive advantage, as TaylorMade is renowned for its woods and drivers, and Adams Golf's most popular clubs are its hybrids and woods.
Notable Masters players using Adams clubs: Aaron Baddeley, Robert Karlsson
Notable Masters players using TaylorMade clubs: Camillo Villegas, Dustin Johnson, Edoardo Molinari, Jason Day, Justin Rose, Martin Kaymer, Martin Laird, Mike Weir, Robert Garrigus, Rory Sabbatini, Ryan Palmer, Scott Verplank, Sean O'Hair, Sergio Garcia, Y.E. Yang
Callaway Golf (ELY): 7.13$; 52wk Range: 4.70-7.29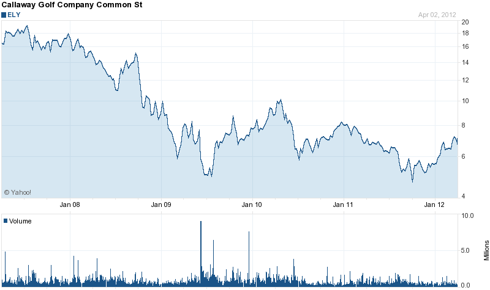 (Chart courtesy of Yahoo! Finance)
Callaway has been a staple brand of the PGA Tour for some time, but its list of star players seems to be shrinking a bit, as evidenced by its limited line-up for the Masters in comparison to TaylorMade. Nontheless, there is little doubt that Callaway is a reputable golfing brand, pervasive in both the professional and weekend hacker's bag alike.
But we have real issues with Callaway stock, particularly following a three-month rally that has seen the price gain 26%. ELY is selling at a steep 34 times 2013 earnings, is battling negative growth and negative profit margins, and has missed analyst expectations three of the last four quarters. There's reason to be concerned that, given heightened equipment competition from Nike and TaylorMade and new heights of golf apparel competition from an array of companies, Callaway could simply not make a full recovery back to its 'better days' of '07. On the plus side, Callaway trades at a discount to book value, and its share price has maintained a strong $5 floor since collapsing in 2008, implying limited downside (no more than -20%). Look for Callaway to get a boost from a Mickelson victory this week, but don't count on it. This stock may be past its prime.
Notable Masters players using Callaway clubs: Alvaro Quiros, Fredrik Jacobson, Phil Mickelson, Sang-Moon Bae, Thomas Bjorn, Trevor Immelman
Nike, Inc (NKE): $109.02; 52wk Range: 76.35-112.97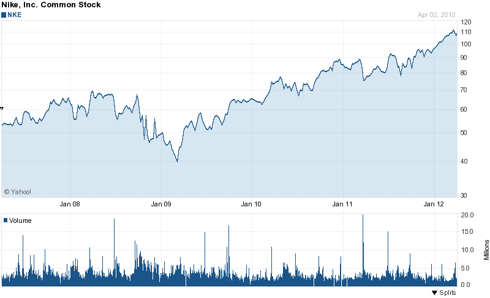 (Chart courtesy of Yahoo! Finance)
The ultimate lifestyle brand, Nike has so much more to offer than its newly revamped golf business, but we happen to think Nike Golf is a fantastic business in itself. Although Nike has been in the golf industry since the 1980s, it only began producing clubs and balls since the turn of the millenium - after gaining a surge of momentum in the sport from Tiger Woods' wildly successful partnership. In large part thanks to this partnership with Tiger Woods, Nike golf has exploded - with revenue totaling $623 million in 2011 - and has gained serious tour credentials in a relatively short span.
With a healthy return on equity of 22.59% (according to Macroaxis), a profit margin of almost 10%, a price per book ratio just under five, healthy revenue growth, and eight and a half times more cash on hand than debt, we are comfortable with Nike's valuation. A forward (December 2013) P/E ratio of 18.8 is not cheap, but it is far from unreasonable considering competitor Under Armour, Inc (UA) is trading at 32 times 2013 earnings. As a sidenote, however, Under Armour is an intriguing growth story and golf industry growth story, with Masters contender Hunter Mahan under its sponsorship.
Nike also has a projected dividend yield of 1.3%, which is nice to see. But, most importantly, Nike still has ultimate brand power. In golf, it built its brand so successfully by partnering with Tiger Woods, much as it did in basketball with Michael Jordan. Tiger's reputation may be quite different than it was when he first signed with Nike, but he's still the biggest draw in golf - by a long shot - and arguably still the biggest draw in all of sport. In the 2005 Masters, chipping from off the 16th green, Tiger delivered Nike Golf the perfect moment on the grandest stage. This week, a victory would cement Tiger's place atop the golfing world once more, and that is always a great thing for the business of Nike.
Notable Masters players using Nike clubs: Kevin Chappell, Lucas Glover, Paul Casey, Stewart Cink, Tiger Woods
Golfsmith International (GOLF-OLD): $4.35; 52wk Range: 2.44-5.75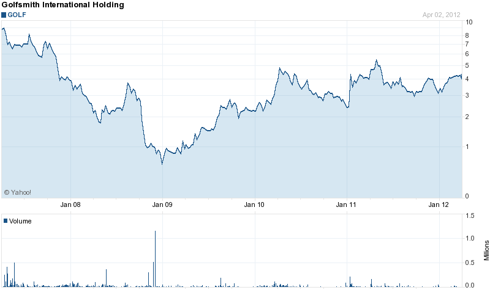 (Chart courtesy of Yahoo! Finance)
Golfsmith is purely a golf retailer, which is a departure from the previous companies profiled. With Golfsmith, we are apprehensive on account of our broad skepticism of niche online retailers, which, in our view, have been increasingly marginalized by the dominant online mega-retailers like Amazon (AMZN) and Ebay (EBAY) that are effectively breaking into niche markets. Even more diversified online retailers like Dick's Sporting Goods (DKS) are imperiled in our view, but we believe they are advantaged relative to a niche company like Golfsmith because their diverse offerings allow greater flexibility to capitalize on industry growth areas that emerge.
There certainly appears to be a place in the retail sphere for Golfsmith, but whether investors can expect the kind of growth that will warrant meaningful share price appreciation going forward is very much uncertain in our view. This view runs counter, however, to what has been a demonstratively steady and significant climb in Golfsmith's share price from the lows of '09. From a fundamental perspective, Golfsmith is trading at a low forward multiple and nearly at book value, but it also carries substantial debt and has shown unenviable growth of late.
Dick's Sporting Goods (NYSE:DKS): $47.94; 52wk Range: 29.10-49.97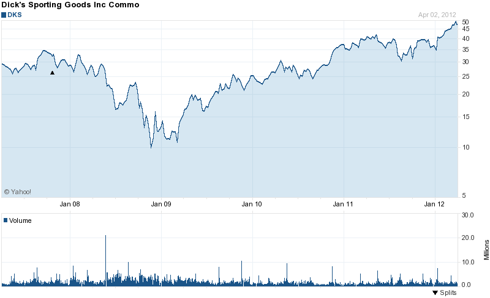 (Chart courtesy of Yahoo! Finance)
Dick's Sporting Goods sells golf equipment in its multi-purpose stores, but also owns Golf Galaxy, through which it runs a more niche golf retail business. Dick's stock has maintained a steady rally since its lows of '09 and, since this outperformance is backed by sound fundamentals, DKS in our view is an appealing play on the retail sports space, though the price is a bit frothy near $50. Profit margin is high, growth is happening, and the balance sheet holds four and a half times more cash than debt. We are apprehensive of niche retailers that are susceptible to competitor price cuts and we are especially apprehensive of brick and mortar retail stores - and Dick's fits both bills, competing with Amazon and Ebay online while operating 480 multi-purpose stores and 81 Golf Galaxy stores in the U.S. - but Dick's has a particularly strong e-commerce presence that holds its own against its mega-store competitors. We think its growth will continue, especially if Dick's can penetrate the international market as effectively as it has in the U.S.
Another golf retailer that we like is Walmart (WMT). We recently profiled Walmart as one of several low beta stocks to weather the coming correction.
Masters Corporate Relationships to Watch this Week
Tiger Woods Notable Sponsors: EA Sports (EA), Fuse Science (OTCPK:DROP), Kowa, Net Jets, Rolex, TLC Laser Eye Centers (TLCV.PK), Upper Deck
Phil Mickelson Notable Sponsors: Barclays (BCS), Exxon Mobil (XOM), Amgen (AMGN), Pfizer (PFE), Golf Digest, Grayhawk, Golf Digest, Rolex
Rory Mcilroy Notable Sponsors: Jumeirah Group, Titleist, Oakley, Footjoy
Notable Masters Corporate Partnerships:
IBM (IBM): An official sponsor of the Masters
AT&T (T): Official sponsor of the Masters; its cable network U-Verse will be carrying live feeds of tournament coverage on several dedicated channels
Exxon Mobil: An official sponsor of the Masters
CBS Corporation (CBS): CBS provides the live weekend television coverage of the tournament
ESPN (DIS): ESPN provides coverage of the par 3 tournament on Wednesday, as well as the first two rounds of the tournament on Thursday and Friday. It will be offering 3D coverage.
Disclosure: I have no positions in any stocks mentioned, and no plans to initiate any positions within the next 72 hours.