The ongoing turf battle in steaming video has pitted Netflix (NFLX), Coinstar (CSTR) and Amazon (AMZN) against traditional on demand offerings from cable companies like Comcast (CMCSA) and Time Warner (TWX). As the contestants battle over viewer share, the emerging winners appear to be content providers such as Discovery Communications (DISCA), which are enjoying unprecedented popularity.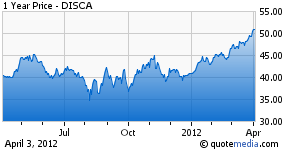 Discovery's properties include its well known name brand network, with hit shows Deadliest Catch and Gold Rush; Animal Planet, with River Monsters and Finding Bigfoot; and TLC, with Cake Boss and Say Yes to the Dress. Additionally, the company has dozens of other networks catering to specific interests, including the Military Channel and Discovery Kids. These networks span 210 countries, 40 languages and more than a billion television subscribers worldwide.
A global footprint means more eyeballs demanding Discovery's in-house content.
Distribution remains the key to growth and Discovery stands to benefit as pay-for-television, which accounts for less than 40% of viewers in emerging markets like Latin and Central America and Eastern Europe, expands. An expanding middle class is boosting demand for entertainment worldwide, which pushed international revenue up 16% in 2011 to 34% of Discovery's revenue.
The company makes its money through both distribution deals, which account for 49% of revenue and advertising, which accounts for 44% of sales. Last year, combined revenue grew 12% to $4.23 billion, thanks to 9% growth in advertising and 12% growth in distribution.
Here in the U.S., a recovering economy has reduced ad cancellations and steadied rates. In Q4, 13% growth in Discovery's U.S. ad sales helped total revenue climb 11%. Overseas ad demand was even stronger, increasing 18% from the prior year.
Worldwide, more people are joining the middle class and demanding on demand entertainment.
Entertainment remains a growing business overseas thanks to an expanding middle class, and this is good news for distribution deals. Last September, Discovery announced a content licensing deal with Netflix to bring full episodes to the service for two years. In March, they inked a deal to provide content through Amazon's Prime. And this month they reached a deal with Comcast to expand the Oprah Winfrey Network ("OWN"), in which it owns a 50% stake, to 17 million subscribers from 14 million.
All these content wins, plus a strengthening ad market, drove free cash flow up 68% to $1.04 billion. This helped Discovery buy back 27.2 million shares for $997 million in 2011. The extra cash also fuels further content creation, providing a pipeline to sell down the road.
Emerging networks and a pipeline of new content offer future distribution revenue.
In addition to the fast growth at OWN, which saw viewership increase 21% in Q1 following the launch of Oprah's new show, Discovery's Investigation Discovery network grew 40% among 25-54 year olds last year, making it a key driver of domestic ad growth. New shows like Finding Bigfoot have helped strengthen the networks bargaining position, pushing Animal Planet's Q1 prime ratings to their highest in nine years. Discovery hopes to keep up the momentum with the airing of Frozen Planet last month and season premiers of River Monster's and Whale Wars.
As new shows and emerging networks pile up loyal followings, look for Discovery to capture rate increases from cable and digital service providers. In particular, its strategy of discount pricing OWN to build viewership quickly should pay off next year as rate hikes kick in.
At current prices, shares in Discovery are trading just about 15 times rising next year analyst earnings forecasts, which is the low end of its 5 year PE range. As more smart phones and mobile devices begin streaming video to consumers worldwide, it's likely Discovery investors will profit. With 6.8 days to cover short, if investors are willing to continue paying 19x earnings - as they are now - a target of $63 would yield a 25% return, suggesting shorts will be forced to cover.
Disclosure: I have no positions in any stocks mentioned, but may initiate a long position in DISCA over the next 72 hours.