The share prices of Japan's three mega banks are beaten down. Some are making the argument that the shares are cheap and bound to recover. Longer-term shareholders will likely be rewarded for their patience, but it looks like it will be a long time before shares climb back to the levels of spring 2006.
The three mega banks are:
• Mitsubishi UFJ FG (NYSE:MTU) (JP: 8306)
• Mizuho FG (NYSE:MFG) (JP: 8411)
• Mitsui Sumitomo FG (OTC:SMFJY) (JP: 8316)
See the chart at the bottom, which compares their returns over the past two years; notice the drops of more than 50% from spring '06 peak levels.
Shares of the mega banks have been as volatile as ever recently. For instance, shares jumped on Friday, but dropped on Tuesday after a national holiday Monday and ahead of the surprising Fed rate cuts Tuesday, then shares surged right back on Wednesday following the rally in the U.S.
The Bank of Japan voted 8-1 to hold the benchmark lending rate at 0.5% (full story). Japanese banks are hurt by this extraordinarily low rate, in addition to the fact that Japanese firms don't have to rely much on debt financing due to ample cash holdings.
Banks are looking for growth in other areas such as trading and asset management, but so too are the brokerages and foreign banks. Competition is already high and intensifying.
The mega banks have showed a desire to expand overseas, but this is seemingly a slowgoing effort, in some cases inhibited by inherent problems like weak internal controls, such as the case of Mitsubishi UFJ and subsidiary Union Bank (UB).
I just can't find any reason to be bullish on the mega banks, even on valuation (see below), despite considering their shares have fallen as much as they have. Their dividend yields leave much to be desired. Also, it's extremely unlikely they'll ever be a takeover target given their size.
• Mitsubishi UFJ FG: ttm p/e 12.1, f/p/e 13.5, p/b 1.3, ttm yield 1.05%
• Mizuho FG: ttm p/e 12.3, f/p/e 10.0, p/b 1.9, ttm yield 1.1%
• Mitsui Sumitomo: ttm p/e 14.4, f/p/e 11.8, p/b 1.7, ttm yield 0.85%
I would argue the market has valued their shares rather fairly. It's a stretch to say they are undervalued, given their earnings prospects. I would expect any gains of say up to 10% will be met with swift profit-taking.
Mega Banks' 2-year Ordinary Share Performance as of 9/18/07: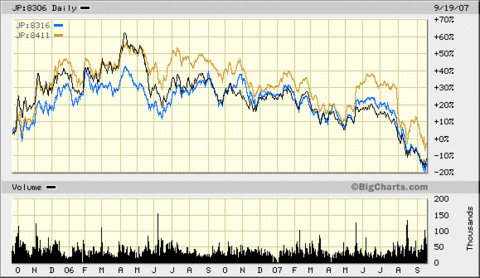 Disclosure: The author does not own shares of any companies mentioned in this article.
Japan's Mega Banks Beaten Down, But It's Not Time to Buy