Below we highlight the performance of the S&P 500's ten sectors since the index peaked on a closing basis on July 19th.
As shown, the S&P is just 1.35% below its all-time highs, and three sectors are now higher than they were on 7/19. Energy is up 1.45%, Telecom is up 1.12% and Consumer Staples is up 0.95%. Consumer Discretionary has suffered by far the most at -5.03%.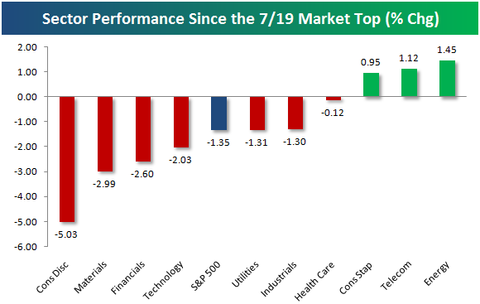 Globally, Japan has performed the worst since 7/19 at -9.6%. The UK and the US, two areas that have taken the blame for global market declines, have actually fared better than most other parts of the world. Brazil, Australia, India, Hong Kong and China (of course) are the only areas that have done better.