What's not to like in a portfolio that has current income (Dividend), capital gains (Growth) and future income stream (Dividend Growth)? Part one of this series discussed Apple (AAPL), Philip Morris (PM), and McDonald's (MCD). So that gives us a technology stock, a tobacco stock, and a restaurant stock so far. For those who did not read the first part, the intention of this series is to arrive at a well diversified portfolio of stocks that satisfy all the above mentioned characteristics: dividend, capital growth, and dividend growth.
Part 2 looks at Terra Nitrogen Company (TNH) and AmBev (ABV). TNH is a limited partnership producer of Nitrogen products. Founded in 1991, TNH has the capacity to produce 1.8 million tons of ammonium nitrate solutions and 1.1 million tons of ammonia.
ABV operates in 14 Latin American countries and is involved in the production and distribution of beer and soft drinks. It is the biggest brewery in Latin America and the 5th biggest in the world.
Terra Nitrogen:
Current Yield: At the current price of $250/share, TNH's yield works out to a majestic 7.2%. What is remarkable is the fact that the yield is still so high in spite of the stock rocketing 50% since the beginning of 2012.
Growth Catalysts:
Global Population: More people in the world translates to more food needed, which is good news for the fertilizer firms. Fertilizer prices have been rising steadily and by the looks of it, the trend will continue.
USDA Report: US Department of Agriculture recently suggested corn demand is set to go up. Any run up in corn is a bonanza for TNH as corn needs nitrogen.
Dividend Growth Prospects:
Dividend History: TNH has been paying out dividends/distributions since 1992, though not an increasing one each time. It is important to remember that TNH is a Limited Partnership and the usual method of looking at payout ratio does not apply here. More details of TNH's distribution can be found in this link as well as in the chart shown below. Since 2004, TNH's distribution has gone up from 25 cents in 2004 to its most recent payment of $4.53 in 2012. History is firmly on its side.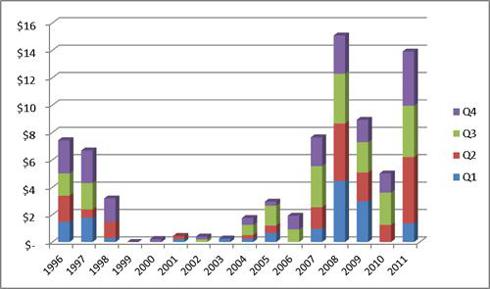 (Source: CF Industries website)
Financial Metrics: TNH has a rock solid balance sheet. It has zero debt and an unreal ROA and ROE of 100% and 200% respectively. What is critical for a Limited Partnership to maintain and improve its payout is the free cash flow. TNH has a healthy trailing twelve month free cash flow of $311 million.
AMBEV:
Current Yield: At the current price of $42/share, AMBEV's yield works out to 3.7%. That is much higher than the market average and other foreign stocks like Petrbras (PBR).
Growth Catalysts:
Brazilian Middle Class: The brazilian middle class now represents 54% of the total population, and that means more disposable income, even though the article linked above says people are spending less of their disposable income. We acknowledge that Brazil has been the "next big thing" for a long time, the rise of middle class is certainly a good news for the economy.
Sports Events: Beer and sports go hand in hand. Brazil will host the 2014 soccer world cup and the 2016 olympics. While one might argue that growth rate of the past 5 years is hard to match, those are two extremely popular events that will add to AMBEV's profits.
Dividend Growth Prospects:
Dividend History: Like TNH, AMBEV has been paying out irregular dividends for the past 15 years. While the current yield and growth catalysts are well in its favor, the company must be more regular in its dividend payments to be considered a good dividend growth stocks. However, it does look like a promising bet.
Balance Sheet: AMBV's cash exceeds its debt handsomely. With a free cash flow of $5B, the dividend appears safe. And if the earnings catalysts mentioned above hold true, the chances of dividend increases look good as well.
Conclusion: So, at the end of part 2, we have 5 companies in 5 different industries - Apple (Technology), Philip Morris (Tobacco), McDonald's (Restaurant), Terra Nitrogen (Agricultural Chemical), and ABV (Beverage). In addition to companies that serve international markets, we are also starting to branch out into companies operating outside the United States.
ABV does appear pricey at its current level. The PE exceeds the expected growth rate. So investors might do well to wait for a stock or market pullback before getting in. TNH is a whole different story. While the stock has risen a lot lately, the current 7% yield makes it attractive. Buying on dips and averaging down on good stocks is a strategy we follow and recommend.
Disclosure: I am long AAPL, PM.
Additional disclosure: Plan to enter ABV below $40. We have been trading in and out of TNH for quick profits.