War is hell, but for defense suppliers like AeroVironment Inc. (Nasdaq: AVAV), it provides a hellaciously good revenue stream. And if you're a company like AeroVironment, whose business primarily develops and makes a unique product, 2007 was a good time to become a publicly traded company.
Monrovia, Calif.-based AeroVironment sells "unmanned aircraft systems," or UAS, to both the United States military as well as U.S. allies. These remote-controlled drones, which AeroVironment has marketed since 1986, bear such names as Pointer, Raven Dragon Eye, Swift, Puma and Wasp. The company says the high-tech aircraft are small enough that they'll fit in a rucksack. The size allows troops on a battlefield to launch drones like the 4-pound, 5-foot wingspan Raven by hand to monitor what's over a hilltop or around a bend.
The aircraft not only provide the military with reconnaissance data from the battlegrounds of Afghanistan or Iraq, but also see duty in monitoring forest fires and volcanic eruptions, patrolling along porous U.S. borders for illegal smuggling activities and making sure pipelines aren't leaking.

Aside from manufacturing the aircraft, the company also develops quick-charge systems for batteries, which are finding use primarily in the automotive and aviation industries.

For investors, AeroVironment carries with it a payload of questions, including whether its innovation can bring big returns. While the company's stock did not crash and burn following its initial public offering [IPO] in an admittedly shaky stock market this year, AeroVironment hasn't soared like an eagle to the stratospheric price heights that its investors had hoped for.

When the company went public in January, analysts and investors appeared to quickly embrace the stock. AeroVironment climbed more than 40% above its January 23 offering price of $17, which in turn opened at $25. The exuberance quickly cooled, however, and the shares fell back to trading mostly around $20 since then.

Analysts are supportive, but not overly so, of AeroVironment's chances for what it can offer to investors. Of six analysts who cover AeroVironment, four have the equivalent of a hold rating on the stock, one calls it a buy and another calls it a strong buy.

The year 2007 has been a pivotal one for AeroVironment. In addition to the transition into a public company in January, it also has had a change in leadership. The company's founder and driving force for three decades, 81-year-old Dr. Paul MacCready, surrendered his position as chairman unexpectedly in August and died suddenly a few days later.
MacCready was a pioneering physicist who guided AeroVironment's development of unique technologies for military and civilian uses. In the 1970s, he became well known for developing the Gossamer Condor, the first craft to fly under controlled human power. In the 1980s, the Solar Challenger set records for solar-powered manned flight, the Sunraycer was the first solar race winner on the ground and the General Motors Impact that used MacCready's technology took to the roads as the first modern electric vehicle.

For the period ended July 28, AeroVironment's first quarter of fiscal 2008, revenue grew to $49.2 million from $31.6 million in the same period last year. Net income more than doubled to $3.8 million, or $0.18 per share, from $1.4 million, or $0.09 per share, in the year-ago period.

The company also reaffirmed its guidance issued at the end of fiscal 2007, which calls for 20% to 25% revenue growth, to a range of $208.5 million to $217.2 million, in the year that began May 1. It's also expecting an operating income margin of 12% to 14%.

"We experienced continued strong sales of our small UAS, particularly Raven, which now has been adopted by the U.S. Army, Special Operations Command, Marine Corps and Air Force," said Tim Conover, the AeroVironment chief executive and president, who added the chairman's title in August. "Our contract logistics support for these systems also increased in the quarter," said Conover, in a press release.
Analyst Patrick McCarthy of Friedman, Billings, Ramsey & Co., who initiated coverage on AeroVironment at "outperform" in March, reaffirmed his $25 share price target on Sept. 6. When he started to cover the company, McCarthy wrote to clients that AeroVironment was well-positioned as the military ramps up its use of unmanned aircraft systems.
Back in March, other analysts also initiated coverage on AeroVironment: Goldman Sachs, at "neutral," with a $21 price target; Jefferies & Co., at "hold," with a $24 target; Stifel Nicolaus at "hold;" and Thomas Weisel Partners at "market weight."

The company has indicated that it has a healthy stream of contracts in place and new orders are arriving. On Sept. 12, AeroVironment said the Danish Army Operational Command ordered 12 of its Raven B systems for $2.4 million. The U.S. Air Force took delivery of its first batch of BATMAV (Battlefield Air Tactical Micro Air Vehicle) aircraft in August and AeroVironment has a contract worth up to $45 million to provide at least 221 of the systems.
That came on the heels of a new U.S. Army contract worth $16.4 million to provide support services for its Raven systems in use in Operation Enduring Freedom and Operation Iraqi Freedom.

"Each of our businesses started with an innovative new solution that started a new market niche that's grown into a large market opportunity for us," CEO Conover told analysts on a Sept. 5 conference call. "Each of the developments we have in the pipeline has a similar market potential.
"What we have found the most difficult thing to predict in that kind of a new technology launch is the rate of adoption," he added. "We think that the market opportunities for both the small UAS and the PosiCharge segments are very large, and that the adoption rate could increase at any time."
Next up for AeroVironment? It is hoping to soon put its Global Observer into customers' hands. It's the world's first liquid-hydrogen-powered (fuel cell) unmanned aircraft that's been tweaked to stay airborne for seven hours.

Coming up for the quarter ending in October, analysts in a survey by Thomson Financial are looking for AeroVironment to report earnings of $0.19 per share and revenue of $48 million.
"We think that there's a real opportunity to take a load off the war fighter—literally—and that it presents us with some tremendous business opportunities," Conover told analysts.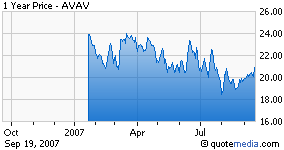 Disclosure: none