With the first quarter officially in the books, I thought we'd take the time to review the performance across multiple asset classes.
But why even bother? After all, stocks are off to a rip-roaring start in the New Year. And we're all enjoying the profitability. So we should just let the good times roll until they end, right?
Wrong!
The reason we need to regularly evaluate performance is simple: Bull markets have a tendency to make everyone look smart. And we don't want to fall into that complacency trap. It's a surefire way to end up losing more money than we make.
Instead, we want to constantly be on the lookout for emerging opportunities and warning signs. And after I show you this quarter's results, you'll see just why it pays to stay on your toes.
So let's get to it…
From Worst to First in 2012!
Surprise, surprise. Even though U.S. stocks, represented by the S&P 500 Index, put up the best first quarter since 1999, they weren't the top performer in the first quarter of 2012. Instead, emerging markets stocks, represented by the MSCI Emerging Market Index, earned the top spot.
Take a look:
(Click to enlarge)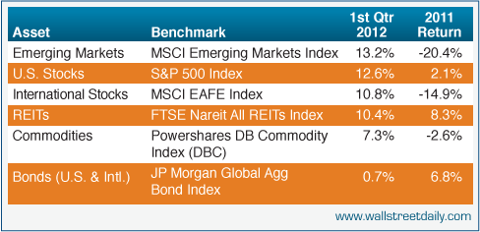 You'll recall, emerging markets stocks got slaughtered last year, dropping 20%. That compares to a 2% gain for U.S. stocks. Perhaps emerging markets stocks were beaten down too much?
But before digging into the results further to see if that's really the case, let's check out the performance of real estate investment trusts.
In short, despite the general consensus that the real estate market is still doomed, REITs continue to put up solid numbers. The discrepancy between sentiment and performance definitely calls for further examination, which I'll be bringing you tomorrow. For now, let it serve as even more proof that the real estate market is indeed bottoming.
Lastly, given historically low interest rates and improving economic conditions, is it any surprise that bonds are pulling up the rear? Hardly. And that's a trend we should expect to continue, especially as the Fed starts to raise interest rates.
China: The Weakest-Performing BRIC
If we break down the performance of emerging markets stocks, we find out that China is (gasp!) performing the worst of all the BRIC countries.
(Click to enlarge)

As I warned you (again) last week, a hard landing in China appears imminent. And the latest tale of the tape only strengthens my argument. So please heed the warning.
In terms of opportunities, it appears that last year's worst-performing emerging markets (India and Russia) are turning out to be this year's best performers. Clearly, those markets sold off too much. And if we use the 2010 closing values, there's still plenty of upside potential left.
To get back to "even," India's stock market would have to rally another 37.6% and Russia's would need to rally another 22.7%.
Bottom line: I agree with my colleague, Karim Rahemtulla, when he said yesterday that "there's an astounding amount of opportunity in the rest of the world, beyond our borders." But if you're looking to add some emerging markets diversification to your portfolio, steer clear of China and look to India, Russia and Brazil, instead.
U.S. Stocks: Decile and Market Cap Analysis
If we break down the performance of U.S. stocks some interesting trends emerge, too. Again, we're witnessing the "Worst to First" phenomenon.
Bespoke Investment Group's decile analysis, which breaks the stocks in the S&P 500 Index into 10 groups of 50 stocks, reveals last year's worst-performing stocks are up 23.7%. That compares to a 10.5% increase for last year's best-performing stocks.
The same analysis also shows that income investors who are chasing yield – an activity I've warned against repeatedly – are being punished.
Case in point: The highest-yielding stocks are up an average of 3.2% in 2012, compared to a 17.8% increase for the lowest-yielding stocks. So let me say it again, don't chase yield! It doesn't pay in the long run.
If we evaluate the performance of U.S. stocks based on market cap, the smallest stocks – micro caps – are performing the best. A fact subscribers to my MicroCap Tech Trader advisory know all too well. Year-to-date, our average recommendation is up a market-beating 23.3%.
(Click to enlarge)

Don't let the rally fool you, though. We should expect the outperformance of the smallest stocks to continue for one simple reason: They're still cheap! Much cheaper than large-cap stocks.
That's something I also pointed out last week, when I wrote, "Since July 2011, small-cap stocks have gotten 20% cheaper, based on the average price-to-earnings ratio. In comparison, large-cap stocks have only gotten about 5% cheaper."
So again, when the mainstream financial press says to take profits in small-cap stocks off the table, don't listen. We should actually be doing the opposite and increasing our exposure to this area of the market.