One of my favorite stocks- it currently constitutes my second largest holding in my personal funds- just went on sale today. I'm referring to Uranium Energy Corporation (UEC), which closed the day Tuesday at $3.38, down over 12%. A little over a month ago I wrote an article noting how UEC was a buy at $3.50. Well folks, that day has clearly come! So I added to my position here.
The reason for the precipitous decline in UEC's share price seems to be in my opinion due to the announcement of an additional offering of shares. The new offering will involve bringing 5.56 million shares to the market at a price of $3.60, which will have the effect of giving the company an additional $20 million. There are also 834,000 shares in options, also with a strike price of $3.60, being issued that will expire within 30 days of the offering. I would imagine this announcement provided a good opportunity for those who had acquired shares at a much lower price to sell while the market had been rallying around $4 for much of the past month.
The chart below illustrates the price action. Technically, we see a support zone, an unfilled gap, and the 200 EMA all around the $3.50 area. These signs were in place in my previous writeup and are still here now, so I think the buying opportunity from a technical perspective remains valid.
Click to enlarge: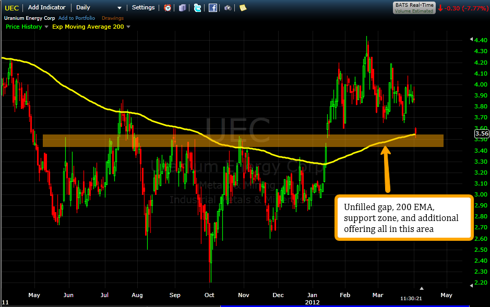 Fundamentally, the story behind UEC remains outstanding. Here's a recap of the reasons to invest:
There is still a major supply/demand imbalance in the uranium market, as both existing nuclear power plants and new ones in production will continue to increase demand for nuclear power-- at the same time that supply will be contracted as the Megatons to Megawatts program comes to an end. I elaborated on these factors previously in my article on why uranium could go to $200. If uranium prices are going higher, uranium miners should enjoy higher profit margins.

UEC also focuses on in-situ recovery (ISR) mining, a methodology better suited for profitable uranium mining at uranium's current prices, just above $51 per pound. As uranium gets back to $80 and upwards, open pit mining will become more economically viable. With a focus on ISR mining, though, UEC is in a great position to build a profitable enterprise at a time when it is not profitable for many other firms to do so. UEC has been aggressively acquiring other ISR projects (like Cue Resources), and thus is well-positioned to have a portfolio of uranium mines in production as prices are rising. For this reason, I think the firm could really grow to being one of the top uranium producers in the world.

Last but certainly not least is the management team at UEC, led by Amir Adnani. Casey Research hails Adnani as one of the top executives in the resource sector, and UEC's COO, Harry Anthony, is an industry veteran who has helped to pioneer ISR mining. Adnani is the founder of UEC, and I always like to see a management team that is still being led by a passionate founder; a founder's vision can be a priceless asset. Just ask Apple (AAPL) shareholders.
I'm in UEC for the long run, though will likely take some profits when the share price re-tests its previous all-time high of $7.48 reached in December of 2010.
Disclosure: I am long UEC.