Tuesday was a down day for the markets. The Dow Jones Industrial Average dove 64.94 points, or 0.49 percent, to close at 13,199.55. The S&P 500 wiped away 5.66 points, or 0.40 percent, to end at 1413.38. The Nasdaq slid 6.13 points, or 0.20 percent, to finish at 3,113.57. The Fed released minutes of its most recent policy meeting, which suggested that officials of the U.S. central bank were not ready to start a third round of quantitative easing, underpinning what Bernanke had said in previously. This sent the markets reeling although they ending the session off the lows for the day.
The four stocks in this article garnering my attention by displaying strong relative performance on Tuesday. All these stocks managed to post gains in an otherwise down market. This can often be a sign these specific stocks are poised to move higher. On down days, I identify the stocks in the green and take a closer look to see if there is good reason for the strength in the stock. The following are four stocks that posted gains for the day that I believe have promising future growth prospects. They appear to have upside potential based on sector, industry or company specific catalyst. Nonetheless, these are speculative plays. Stocks trading for under $10 tend to have high betas and are subject to increased volatility. However, as we all know, the higher the risk the higher the reward. The following table depicts summary statistics and Tuesday's performance for the stocks.
SandRidge Energy, Inc. (SD)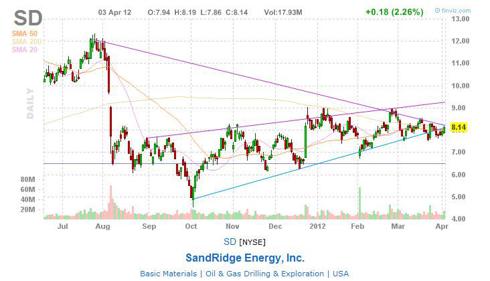 This year Sandridge will drill 1139 wells for oil and none for natural gas. They are the leader in the Mississippian Unconventional Shale Play with over 250 horizontal wells. Sandridge acquired 2 million acres of land in 2009 for $400 million dollars. They subsequently sold 550,000 acres for $2.3 billion. This play is the highest rate of return play in U.S. The project will be Sandridge's current area of growth until 2019 along with its Gulf of Mexico assets, stated Sandridge's CEO Tom L. Ward.
Furthermore, Sandridge had a recent large insider buy. Insider buys are a great indicator that a stock is undervalued as far as I'm concerned. My thoughts are twofold. Who would know better that the stock is presenting value? Additionally, there is nothing I like better than a leader who puts their money where their mouth is. On Friday, a Sandridge Energy Director, Daniel Jordan, made a $386,488 purchase of SD, buying 50,000 shares at a cost of $7.73 per share. This is a significant purchase. Please review the following analysis regarding the name.
On a bright note, Standard & Poor's Ratings Services recently revised its recovery rating on SandRidge's senior unsecured notes to '4' from '5', indicating our expectation of average (30% to 50%) recovery in the event of a default. At the same time, we raised our ratings on these notes to 'B' (the same as the corporate credit rating) from 'B-'.
Finally, Sandridge's trailing 5 year valuation metrics are all below their 5 year averages. Sandridge Energy's current P/B ratio is currently 2.07, more than half its five year average of 5. The company's current P/S ratio is 2.39, more than half its five year average of 5.1. The consensus price target for Sandridge Energy is $11. That is upside of 37.5% from today's stock price of $8.14. I am long Sandridge.
Tenet Healthcare (THC)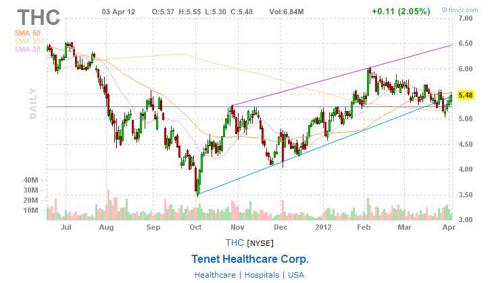 A lawsuit by Tenet Healthcare against Community Health Systems has been dropped. Tenet Healthcare was fending off a hostile bid from Community Health. Tenet operates acute care hospitals and related health care facilities and stands to gain significant growth if Obama's healthcare bill survives the Supreme Court's ruling. Tenet has a market cap of $2.20B. . This is a speculative stock much more volatile than the overall market with a betra of 2.26. The stock is up 17.09% for the month.
Jefferies analyst Arthur Henderson said hospital stocks have gotten more attractive lately. He has a buy rating on Tenet Healthcare with a $6.50 price target. UBS had a Buy rating on the stock. Goldman Sachs suggests Tenet is a buy with significant upside based on the company's high "idiosyncratic risk." Idosyncratic risk, or IR, is defined as the estimated standard deviation of stock returns not explained by a three-factor Fama and French model. That model uses three variables to explain stock returns: the return of the entire market, the performance of smallcaps minus that of largecaps and valuation based on book value.
Tenet Healthcare is undervalued compared to its peers. Tenet's shares trade at an estimated price-to-earnings ratio for next year of 8.52 times while the average for health care providers is 18.8 times earnings. Furthermore, Tenet is trading up for nearly six months and is currently resting at the bottom of its trend channel. Tenet's next year's EPS is expected to rise 30%. THC has a RSI of 50 and is 29% below its 52 week high. The top of the current rend channel puts the first upward price target at $6.50, providing 20% upside potential. One caveat, wait to see how the Supreme Court rules prior to starting a position in this stock.
Sprint Nextel Corp. (S)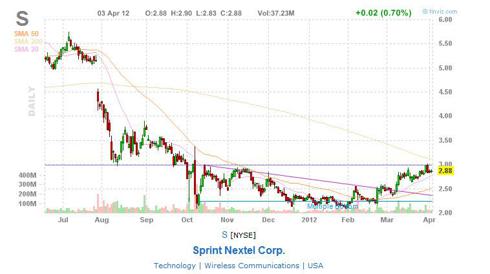 I always tell others to invest in what you know. Look around you for investing ideas. I am a Sprint subscriber. I was surprised to see Sprint outperforming the market today and decided to take a closer look. I chose Sprint because they offered the best value.
They appear to be ready to launch a 4G LTE network by the end of the year. Sprint VP Bob Azzi says the company's 4G LTE network will be up and running in six markets by mid-year. He referred to rivals AT&T (T) and Verizon (VZ) as "duopolists." Sprint will offer its first LTE devices in the second half of 2012. The company will use Clearwire's (CLWR) spectrum to provide LTE capacity in high-traffic areas, according to Azzi.
This development sounds like an ideal growth catalyst for the stock. I see this as a turnaround play. Thursday, Deutsche Bank added the company to its Short-Term Buy List with a price target of $3. Analysts came back from a meeting with Sprint management with a clear vision of the company's priorities and growth targets. I like Sprint at this level.
Regions Financial (RF)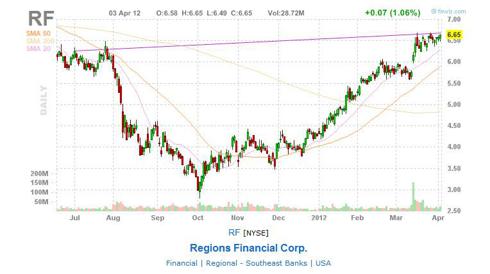 Regions was up 1% on the day. Financials powered the market's recent advance with a majority passing the Feds recent stress tests. Financials are up more than 20% year to date and the top performing sector for 2012. Conversely, the financial were the most beaten down sector in 2011. So even though you may feel they have run up too far too fast, in reality they have a long way to go.
Regions is currently trading at slightly over half its tangible book value, has a PEG ratio of 1.37, total cash per share of $9 and a fortress balance sheet with $11.3 billion in cash. Book value per share is $10.39. These are astonishing statistics. I like Regions here. I was an auditor with the Ernst & Young Atlanta office in the late 90s and Regions was one of our clients. I was impressed with the organization.
Conclusion
Down days are good for identifying prospective investing opportunities. It makes it slightly easier to find the needles in the haystack as it were. These four stocks appear to be up for good reason and merit further due diligence. I like all four stocks here, but would wait for a conclusion to the Supreme Court's review of Obama care prior to opening a position in Tenet.
Use this information as a starting point for your own due diligence and research methods before determining whether or not to buy or sell a security. If you choose to start a position in any stock, I suggest layering in a quarter at a time on a weekly basis to reduce risk and setting a 5% trailing stop loss order to minimize losses.
Disclosure: I am long SD.
Additional disclosure: I may initiate a long position in RF, S, THC or CLWR over the next 72 hours.