In the wake of the shocking event caught on camera at the University of Florida last week, in which a student disrupting a John Kerry stump speech got "tasered", we've been hearing, reading, and viewing quite a bit about excessive police force and the use of the Taser gun — developed and marketed by the Taser International (TASR).
I'll leave the analysis of the particular event to the New York Times , to Wired, and to The Washington Post, but I thought it would be interesting to drill down on Taser's stock after the company has received so much attention.
I remember trading (or trying to trade) the stock back when I was a hedge fund analyst in 2003. There was all sorts of positive news on the stock and what we felt to be the short squeeze to end all short squeezes. The stock rocketed up over 2000% in that year and was up another 300% in 2004. Needless to say, the small cap TASR found its way onto many institutional and retail radar screens.
TASER International develops "electronic control devices" designed for use in law enforcement, corrections and personal defense. Taser makes both a product designed for law enforcement market as well as a consumer version. The Taser products are capable of subduing an opponent by skin conduction (you actually touch it to the skin/clothing and zap) or by shooting connected probes out onto a suspect and shocking him remotely. Cool stuff - and in the wake of a lot of police fatalities, local law enforcement agencies flocked to it.
TASR has seen a steep growth curve in its revenues, growing 180% from 2003 to 2004. Revs have been erratic since, and 2006 saw the same levels as 2004 but with a serious decline in profitability. TASR reported strong 2Q07 earnings of $.06 — in-line with consensus and off of revenues of $26 million. The company saw $5M in international sales which appear to have accelerated.
Jeffries and Co. expects a long-term growth rate of 40%, citing Taser's new C2 product as expanding both domestic and international volume. There are numerous large law enforcement and consumer market opportunities out there for Taser. Jeffries thinks that TASR should be able to expand operating margins to the mid 30% range and ROIC to 50% — both pretty juicy.
For TASR to reach these goals, a lot is built-in to the Taser story. Namely:
25% of gun owners buy a Taser over the next 10 years
about 20% of global law enforcement carries a Taser within 10 years
Military opportunities and new product sales are not included in Jeffries' growth assumptions.
On an valuation basis, this thing is really rich when you look at its P/E — trading at 82X this year's estimated earnings and 43x Jeffries' estimated earnings in 2008. Too rich for me, but if the revenue/earnings growth numbers are right or there's upside with military sales, this thing gets more interesting.
Stories like "Don't Tase Me Bro" are a double-edged sword for the company. While police will continue to use excessive force, the idea is that Taser cuts down the ultimate number of "death-by-cop"s globally. That may be the ultimate payoff for Taser.
Disclosure: Author's fund does not have a position in TASR, although I'm contemplating buying one for all the cops in my life.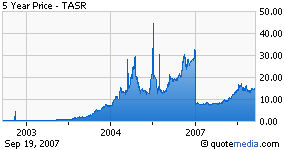 >