Too much attention has been focused on a flurry of $1000 Apple (AAPL) price targets and not enough on earnings for my taste. A $1000? Too far down the road for me. I'm more interested in whether Apple reaches $700 and, more importantly, when. But first, we've got to get to $700. That's the first and only order of business.
As for the $1000, I'll go on record: I'll hand over my shares to anyone willing to buy them for $1000. In fact, I'll borrow and beg to get more Apple just so long as I have that firm $1000 offer.
High price targets are nice. But really, earnings, or more precisely, the belief earnings will climb, that's what can drive Apple to $700. That's where analysts come in handy.
Analyst consensus expects Apple to earn $41 billion this year. Now I personally believe Apple will make a lot more than $41 billion. My belief isn't going to sway the market. However, analyst earnings forecasts can. The analysts have the public's ear.
So I'm pleased by skyrockecting analyst estimates. During the past 90 days, analyst consensus for 2012 earnings increased $9.34 a share. In other words, the pros expect Apple to earn $8.7 billion more this fiscal year than they thought three months ago.
Click to enlarge

That's a profound boost to earnings expectations; $8.7 billion in additional profits for Apple, recently discovered in the last 90 days.
That $8.7 billion is more than most large-cap companies earn in a whole year.
To put that in perspective, $8.7 billion is greater than the yearly profits of Coca Cola (KO), Philip Morris (PM), Oracle (ORCL), Cisco (CSCO), Qualcom (QCOM), Dell (DELL), and Kraft (KFT). And these guys make lots of money.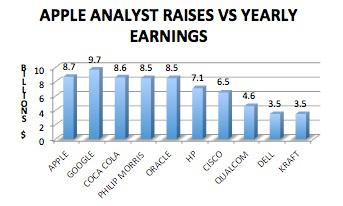 Analysts aren't infallible. There's always a chance Apple will miss the numbers. Still, if history is any guide, forecasts will likely be too low. After all, Apple has beaten consensus estimates 24 out of the last 25 quarters.
I don't think the analyst community is done increasing estimates. I wouldn't be surprised to see analysts bump forecasts a good deal higher.
Apple's fiscal year doesn't end for another six months. Perhaps, analysts will raise Apple earnings estimates further by a DELL or a KRAFT or maybe even an ORACLE. Now wouldn't that be something?
The belief Apple's earnings are getting stronger is taking hold. That's what will move Apple to $700.
Disclosure: I am long AAPL.
Additional disclosure: The opinions in this document are for informational and educational purposes only and should not be construed as a recommendation to buy or sell the stocks mentioned. Past performance of the companies discussed may not continue and the companies may not achieve the earnings growth as predicted. The information in this document is believed to be accurate, but under no circumstances should a person act upon the information contained within. We do not recommend that anyone act upon any investment information without first consulting an investment advisor as to the suitability of such investments for his specific situation.