As a fundamental investor, I often pay attention to the metrics that are ubiquitous on financial and brokerage websites. Additionally, financial statements, industry components, and current events that might be relevant are often important considerations. It is important to keep an eye out for potential red flags that might bear credence on the direction of a company in the long or short terms. Over the past year I have traded (long and short) and written about Research In Motion (RIMM) probably more than any other company. In my first SA article I wrote (probably a little too elaborately for the purposes of SA readers) about some of my observations regarding the accounting practices of RIM. Some of them finally came to light last week when RIM released earnings. But one of the other less common things I pay attention to, is sadly also well illustrated by RIM; corporate structure.
Reading about management and corporate structure is one of the most boring things business students have to do, and there are a lot of boring things to study. It seems like a futile exercise when you consider that every company is different. But the truth is that every once in a while, it can be a very telling indicator when analyzing companies for investment purposes or maybe even if you are considering working for an organization. And because it is often overlooked, it can give investors small and large an edge on where a company is headed. Like any kind of organization, there are setups that breed long-term success, and setups that do the opposite. RIM unfortunately is an example of a company that had the latter.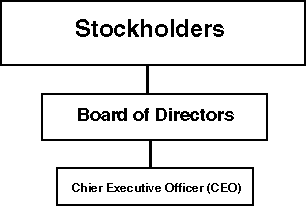 When I first started really taking a hard look at RIM last summer, I was of course first eyeing their sliding stock price, which at the time was in the $40 range. And then when I took a deeper look and found out that RIM's Jim Balsillie and Mike Lazaridis were sharing the CEO position, the board chairmanship position, and were the two largest shareholders of the company, it explained a lot. Having the CEO and the Chairmen of the Board being the same person (or two persons in this case) is basically the corporate version of inbreeding. When they are also the two largest shareholders, it compounds the problem. It in many ways defeats the purpose of having a board in the first place. The board is there to ensure that no employee has too much control of the company and provide guidance for said employees. So when they are one in the same, it creates big opportunities for an unhealthy balance of power, even when the leaders in question still have the best interests of the company at heart.
It is not extremely uncommon to have a case like RIM. Often times corporate structure is "inbred" for a short time while replacements are found and a person serves as somewhat of a steward. And in fact, sometimes a structure like RIM's can even be healthy for a long time. Many successful family businesses start out that way and go on for many generations. However it usually only works in private companies, Koch Industries comes to mind, which would be something like the 15th largest traded company if it were public. But for public companies, having structures that make having a board redundant, are usually ticking time bombs. It causes inefficiency at best, and at worst disastrous strategic decision-making and ethics problems. As with RIM, it can often work spectacularly for a time, but then implode and can cause companies to perform much worse through rough periods than they might otherwise experience, leading to an untimely demise.
The bottom line is that it is kind of like the difference between a dictatorship and a democracy. There is a reason why democracies work better; the balance of power can be an important piece of the puzzle for both companies and nations. And when the checks and balances are out of tune, it can be an uncommon but powerful tool of analysis for investors and traders to keep in their quiver. If RIM had been able to adopt a healthier corporate structure a year or two ago, it might have been RIM climbing to new heights in the tech industry rather than Apple (AAPL).