Canada-based Neptune Technologies (NASDAQ: NEPT) is shaping up as an interesting play over the next few quarters due to its enhanced revenue visibility - backed by its widening market reach and a product portfolio that is geared to address the needs of both the nutraceutical and pharmaceutical market domains. The company's key product offerings are based on oil extracted from krill - a shrimp-like sea-dwelling organism.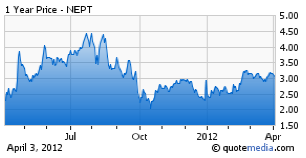 For near-term investors, Neptune is a clear bet on the growing trend amongst health-conscious people to prevent chronic lifestyle-related ailments. Ingestion of omega-3 fatty acids - contained in oils derived from marine organisms - can enable people to steer clear of these ailments. Frost and Sullivan estimates that the market for omega-3 in the US should rise to $3.5 billion in 2015 from $1.7 billion in 2010.
Given the superior overall profile of krill oils compared to the widely used fish oils, krill oil-based products should capture a huge chunk of the market share in the coming years. The higher efficacy of omega-3 based on krill oil is attributable to their higher bioavailability compared to omega-3 based on fish oil. Accordingly, in spite of their higher prices, quality conscious consumers will opt for the more potent krill oil-based products.
Neptune's flagship product - Neptune Krill Oil (NKO) - should leapfrog ahead of the competition in this growing market for krill oils since it is an approved product. Health Canada recently granted its stamp of approval on the product's health benefit claims. The health benefits claimed include NKO's ability to maintain cardiovascular health, reduce triglycerides, lower LDL (bad cholesterol), raise HDL (good cholesterol), reduce osteoarthritis-related pain, alleviate inflammation and relieve symptoms of premenstrual syndrome. Neptune's continued research efforts in areas such as attention-deficit hyperactivity disorder (NASDAQ:ADHD), Alzheimer's and skin cancer will more firmly establish the health benefits of NKO.
Although it seemed to go mostly un-noticed by the markets, a move made by the company should provide a nice bump to the firm's revenue trajectory. In February 2012, Neptune inked a country-wide distribution agreement with Jamieson Laboratories - Canada's largest manufacturer and distributor of dietary supplements - for the mass market commercialization of NKO. The recent introduction of ECO Krill Oil (EKO) - a product with slightly lower specifications compared to NKO but lower price compared to all competing krill oils - promises to enhance Neptune's mass market coverage by offering products at two distinct price points.
Since omega-3 cannot be produced by the body, efforts to harness it from external sources are expected to gain momentum. The Commission for the Conservation of Antarctic Marine Living Resources (CCAMLR), which governs krill harvesting in the Antarctic, set a catch limit of 5.61 million tons for 2011-2012, which is over 40 times the current harvest. The abundance of krill provides enough headroom for Neptune to harvest this valuable resource and grow its operations manifold. Last week, the company announced a C$20 million investment in Sherbrooke to expand its production capacity to 430,000 kg by 2014 from 130,000 kg currently.
With the first phase of capacity expansion expected to be completed by November this year and the fact that large product distribution agreements are already in place for Neptune, the year 2013 is poised to be a bumper year in terms of revenues. Given the fact that both NKO and EKO are highly profitable products - with gross margins ranging from 40% to 50% - upward trending revenues should have a magnified trickle-down impact on the bottom line.
When it comes to the real game changer, Acasti Pharma (TSX-V:APO.V) - 60%-owned by Neptune - holds what could be the hidden gem in the portfolio. Clinical data thus far on CaPre - the pharmaceutical-grade krill oil awaiting green light from the Canadian authorities to undergo Phase II clinical trials for use in patients with a high level of triglycerides - suggests that it has a far superior safety-efficacy profile than fish oil-based omega-3 drugs such as GlaxoSmithKline's (NYSE:GSK) marketed drug, Lovaza (2011 sales: GBP530 million) and Amarin Corporation's (NASDAQ:AMRN) drug candidate, AMR101 (2021e sales: $3.2 billion, Leerink Swann estimates).
CaPre has comprehensively trounced Lovaza in clinical trials thus far, and its four-pronged advantage - the ability to lower triglycerides, lower LDL, raise HDL and provide anti-oxidant benefits of astaxanthin - gives it a significant competitive edge over its peers. Although CaPre may be several years away from commercialization, investors who are eager to hop on for the long haul should be able to enjoy the joyride from positive news flow on the pipeline candidate.
Acasti Pharma is also on the cusp of marketing Onemia as a medical food and is engaged in negotiations with potential partners for its over-the-counter product, Vectos. With Nestle and Yoplait scheduled to complete their clinical trials for functional/medical foods containing krill oil by end-2012, Neptune may have an additional revenue stream next year.
Neptune's aggressive business initiatives to capitalize on the budding krill oils market underline its confident march to glory over the next few quarters.
Unlike other firms that spend too much time pumping and not enough time on fundamentals, this one is finally getting around to putting forces at work to help them on the market side. The Canada based Neptune just hired a U.S. based IR firm to help the markets understand their true value and last week they signed John Elway, NFL Hall-of-Famer, as their Official Brand Ambassador.
Both of those moves should help with not only visibility but also with name recognizability going forward. That shoud pay big price appreciation benefits as brokers and funds on Wall Street start to hear their name during earnings season.
Disclosure: I have no positions in any stocks mentioned, and no plans to initiate any positions within the next 72 hours.