This is an after action report of my latest active trading experimental account. What follows are my observations of the winners and losers of the account.
Below are the results of 130 active days of trading. Started with a 41k account and traded 28 different stocks during the period. In my stock dairy I recorded the reason for making each move. I wanted to share with the Seeking Alpha community the after-action report on the account.
Symbol

Name

Gain/

(Loss)

Days Held

Reason for Addition

NAUTILUS MINERALS (CDN)

3,627

125

News

CAL DIVE INTL INC DEL COM

2,458

92

Low

SWHC

SMITH & WESSON HLDG CORP

1,054

3

News

RENREN INC SPONS ADR (CAYMAN ISLE)

576

11

Dip

SENOMYX

522

1

Low

EVOLUTION PETRO

434

15

Insider Actions

GILEAD SCIENCES INC.

339

1

News

DOLLAR TREE INC COM

308

9

News

BOEING CO

257

11

News

ALLEGHENY CORP

129

-

News

BAIDU INC ADR (CAYMN ISL)

108

4

Dip

PEABODY ENERGY CORP

100

8

Sector Drop

SPDR GOLD TRUST GOLD SHS

83

3

News

CHICOS FAS INC

32

10

Low

NETFLIX COM INC

12

3

Low

FTTN.OB

FIRST TITAN CORP

4

4

Low

PHARMASSET INC COM

(22)

-

News

TRANSATLANTIC HLDGS INC

(29)

1

Low

TRANSOCEAN LTD ZUG NAMEN AKT

(48)

23

News

TELLABS INC

(49)

6

Low

ANGIES LIST INC

(67)

1

News

FRONTLINE LTD (BERMUDA)

(81)

6

Low

MC DERMOTT INTERNATIONAL INC

(120)

2

Low

SYSCO CORPORATION

(135)

16

Dip

ACI

ARCH COAL INC

(160)

4

Sector Drop

UROPLASTY INC NEW

(270)

11

News

COPA HLDGS (PANAMA)

(295)

10

Dip

ENCANA CORP (CANADA)

(515)

28

Dip

Grand Total

8,252

125
The account was set up to test strategies and theories and is presented below including transaction costs at Scottrade. Stocks were purchased on gut feeling about news, new lows, short term dips, insider action, and sector drops.
The Winners
Nautilus Minerals (NUMSF.PK)
96% annualized return - Good Stock
The only stock I held for the majority of the trading period was Nautilus Minerals . I bought this stock when I learned the company was using deep water oil and gas technology to exploit deep mineral plays around extinct volcanos. Having worked in the deep water sector I knew the technology would be a great fit. This company has ranged between 1-3 dollars over the last year or so. My average basis is $2.02 a share. Most of the seed capital for this company was put in at a $2.50 a share basis. My rule on this stock was to buy on lows and trade when the stock exceeded $2.50 a share. Long term this stock is a keeper as my target for the stock is $6 by the end of 2013.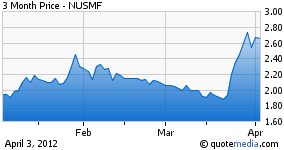 Cal Dive (DVR)
52% annualized return - Good trade
I have written on this stock twice during the trading period. The first time to call a bottom back in November when the stock was $2.50 and then again to document their success on December 23. Cal Dive is now trading in the $3.30 range and has served my small account well with an average basis price of $2.30 a share.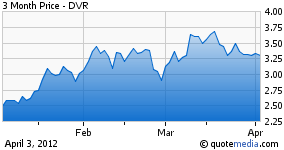 Smith and Wesson (SWHC)
Up 20% during the three days I owned the stock - Sold too early
Smith and Wesson was a pure news play. I read that guns was the single largest type of gift during the 2011 holiday season. So I began to search for companies which could benefit from strong holiday gun sales. The two companies investigated were Sturm, Ruger & Company (RGR) and Smith and Wesson . Ruger was near a 52 week high while Smith and Wesson was had finally divested its perimeter security unit and was a beaten down stock. As it turns out either would have been a good trade. My biggest mistake on this trade is jumping out too early. I bought at $3.02 on 12/6/11 and sold at 3.62 on 12/9/2011 making 20% in three days. If I would have held on I would have made 164% on my trade over the next few months.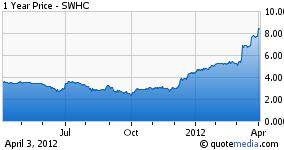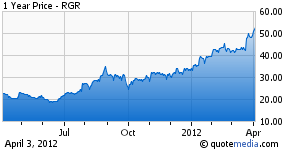 Renren (RENN)
Up 9% in 11 days - Textbook dip trade
I bought Renren on February 6th on a 9% dip over a two day period on a dip in the Chinese technology market. I knew the fundamentals of Renren had not changed they were just being punished for a drop in Changyou.com (CYOU). Picked the stock up held for 11 days until it regained the dip and left with a 9% profit.
The Losers
With active trading I of course had my bad trades as well. Two of my worst calls were buying on dips which were I either exited too early or they were trends not dips.
Encana Corp (ECA)
Down 5% in 28 days - Dip trade which did not turn out
I so wanted this stock to be a powerhouse in my small account. I know how well the natural gas sector should be doing and I have dealt with Encana in the past and found them a shrewd operator with great prospects. I ended up losing 5% over 28 days trying to buy on dips in the market value. I bought the stock early December at 20.14 and am glad I sold out when I did as the stock is still in the 20 dollar range.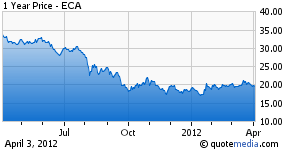 Copa Holdings (CPA)
Down 4.7% in 10 days - Dip trade should have been long term investment
I bought this stock on a 5% dip hoping for a quick bounce which would allow me a quick exit. I ended up getting restless and dumping the stock for a 4.7% loss in just a few days. What a mistake! The stock rose 33% after I dumped the stock. This trade mirrored the Smith and Wesson trade without the short term gain. I knew the stock was undervalued I just did not wait for the bounce.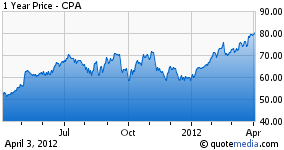 Review of the 130 day Trading Period
It would be hard to call a 19% gain in 130 day trading period a bad result. Even after fees the original 40k was able to bring home 8k in a little over four months. The truth is I left money on the table. The main gain generators in the account were Nautilus and Cal Dive both which I kept for the majority of the trading period. The two bad trades were selling Smith and Wesson and COPA Airlines both selling too early. If I would have just believed in my gut about those two stocks my returns would have been over double the 54% annualized return I did achieve.
I hope you enjoyed the trip into my trading diary. I believe every investor should keep a trading diary to tell them why they bought and sold when they did. The most important reason to keep a diary is to review and see the good trades and the bad trades so you can make better decisions in the future.
Disclosure: I am long OTCPK:NUSMF.
Additional disclosure: This article if not to be considered investing or accounting advice.