AMDL Inc. (ADL) announced its wholly-owned China subsidiary, Jade Pharmaceutical, will increase its product pipeline by increasing in-house research and in-licensing products from other companies. Currently, Jade has two products under consideration by the SFDA, AMDL's DR-70(NYSE:R) cancer diagnostic test kit and docetaxel injectables.
AMDL expects that both products will be approved by the SFDA and launched by mid-2008. AMDL anticipates that the docetaxel product will become its best selling product, eventually attaining revenues of $10 million per year.
AMDL has made several attempts to win approval in the US for its DR-70(R) cancer diagnostic test kit, using the equivalency criterion as a means to attain the FDA's blessing. But each time, the FDA has ruled that the test does not meet the equivalency criterion. AMDL claims that the DR-70® kit, a blood test, has been shown to detect up to 13 different common cancers, including lung (small and non-small cell), stomach, breast, rectal, colon and liver cancer. AMDL has been selling the kit in Asia.
Jade has four other products in development: EO-H, an herbal treatment to improve bone density; TouJin NiangShi, an herbal liver cancer treatment; and Drotaverrine Hydrochloric and Diammonium Glycyrrhizinate, both of which are chemotherapy therapeutic products. These four products are scheduled to complete the SFDA review process in the next two to three years.
Jade Pharmaceuticals already manufactures large volume injectable fluids, tablets and other products, holding licenses for 133 products. It also manufactures 107 generic, over-the-counter and supplemental pharmaceutical products under certified Chinese Good Manufacturing Practice [CGMP] standards.
AMDL completed its acquisition of Jade in September 2006. It paid 2.743 million shares of AMDL stock for the assets of Jade Pharmaceutical, which included Jade's two operating subsidiaries.
In August, AMDL announced Q2 revenues of $2.264 million, a 69% jump over the first quarter numbers. Gross profits were $1.15 million, but a non-cash charge of $2.264 million took the company into a substantial loss. AMDL said the charge was for depreciation, common stock, warrants and options that were issued.
AMDL is headquartered in Tustin, CA. Jade Pharma has operations in Shenzhen, Jiangxi and Jilin. In the last 12 months, AMDL has traded between $2.20 and $5.58. In mid-session, it was priced at $3.31, down 5 cents.

ADL 1-yr chart: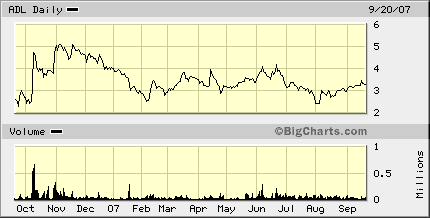 Disclosure: none.