Recently, I participated in an interview with Clarence P. Cazalot Jr., CEO of Marathon Oil Corp. (MRO). The purpose was to garner information about Marathon Oil, particularly in its Eagle Ford and Bakken shale plays, and get Mr. Cazalot's macro view of current oil and gas industry trends.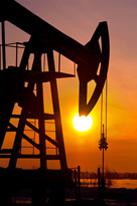 There has been a lot of anticipation regarding Marathon over the past year, after the spin off of its refining, marketing and pipeline business into Marathon Petroleum Corporation (MPC) last July. Now that Marathon is a stand-alone oil and gas exploration and production company, it should trade at a higher multiple. This also enables Mr. Cazalot to be more aggressive with respect to adding liquids rich acreage. It also helps sidestep some of the problems of the refining business. The refinery operations of Marathon Petroleum Corp (MPC) had a post-spinoff loss in 4Q2011 of $75 million or $.21 loss per share.
Marathon Oil has been focusing on liquids for years. In February of 2011, I wrote Marathon Capitalizes On Domestic Oil Volumes And Higher Prices. Its early move into liquids-rich U.S. land plays has provided years of production growth. Mr. Cazalot admitted that Marathon missed much of the natural gas boom in this country, but even when oil was at $75 and natural gas at $6, there was still a significant premium for oil. Another factor in focusing on liquids was the inability to transport natural gas. Liquids seemed to be a better play based on world pricing, and Marathon was right.
In 2011, Marathon production came from four areas:
United States 32%
Africa 30%
Europe 29%
Canada 9%
Marathon's African and European production are considered base assets,that provide very good and steady production with little to no growth. It is expected United States acreage will provide the majority of growth going forward. Marathon recently announced it would ramp its spending in the Eagle Ford by $1.4 billion. Mr. Cazalot stated Marathon chose the Eagle Ford over the Bakken, Niobrara and Anadarko Woodford because it is the best unconventional resource play in the United States and maybe the world. A very important point he made was about traditional views of Eagle Ford resource windows. To date, most companies labelled the different Eagle Ford windows as oil, condensate and gas. Although some thought was placed into this assessment, it did not do the play justice. Marathon has classified this shale into four types, based on each type's gas-to-oil, or GOR, ratios, using standard cubic feet of gas, or scf, per barrel of oil.
.G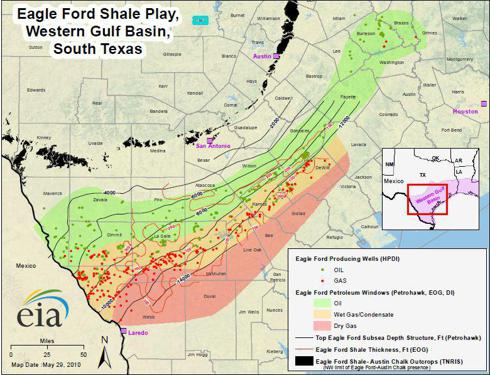 The illustration above shows the traditional view of three resource windows. The illustration below shows Marathon's view: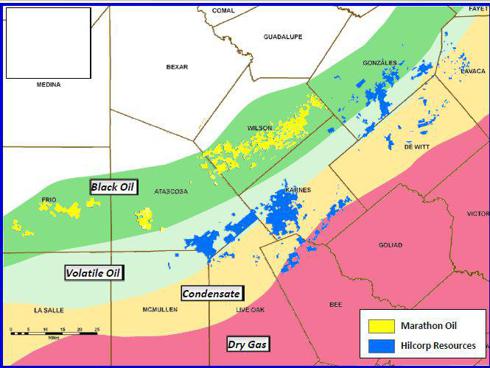 The Black Oil window has a low gas-to-oil ratio, or GOR, which registers as lower than 500 scf/bbl. The Volatile Oil window is high GOR oil which is 500 to 3000 scf/bbl. The Condensate window has a GOR from 3000 to 100000 scf/bbl. The Dry Gas window is not economic at this time.
When Mr. Cazalot spoke of the Eagle Ford possibly being the best new resource area in the world, he may have been specifically speaking about the Condensate window. As with any play, there are sweet spots. Three counties continue to outperform including Gonzales, Lavaca, and Karnes. EOG Resources (EOG) has had the best results in the play. The average Marathon well in this area has:
5,000 foot lateral
40-to 80-acre spacing
$7.9 million in well costs
Estimated Ultimate Recovery (EUR) 965MBoe
Some of the best middle Bakken wells have been drilled in Kodiak's (KOG) Koala prospect:
9,452 foot lateral
160-acre spacing
$10.5 million in well costs
Estimated Ultimate Recovery 1,100MBoe
To show the true value of these Eagle Ford wells look at the lateral length. When compared to what may be the best middle Bakken well to date, it will have an EUR almost as good at 5,000 feet versus a lateral almost twice as long. It is very possible these Eagle Ford wells could have 8 to 16 wells per spacing unit, while the middle Bakken is at four, looking to increase to six in some areas.
When all variables are figured the same amount of acreage will produce 3.5 times more resource. If it is down-spaced to 40 acres, seven times more resource is produced. Keep in mind this does not consider the possibility of further Bakken down-spacing, or additional resource from the upper Three Forks, so the comparison may be a bit apples-to-oranges.
Inadequate take-away capacity has caused some downward pressure on the price of Bakken crude. In June, the Seaway pipeline that had transported crude from the Gulf to Cushing will be reversed sending 150,000 barrels per day out of Cushing to the Gulf. This will grow to 450,000 barrels per day by 2014. Given the high sophistication of Gulf refineries there have been questions as to what type of crude will flow to the Gulf. Gulf refineries are perfect for handling heavy Canadian crude. Due to this, some believe the Seaway pipeline reversal will only improve heavy Canadian crude pricing, which has been depressed due to lack of adequate transport and refining capacity.
Mr. Cazalot believes Marathon will see improved pricing in its Bakken and Canadian crude production. He also sees ample total take away capacity by late 2013 or early 2014, even if by that time the Williston Basin production grows to over a million barrels of oil per day. Even so, he expects Bakken crude to continue to sell at a discount to West Texas Intermediate, or WTI, due to high transport costs, even though Bakken crude is lighter and sweeter than WTI, which is lighter and sweeter than Brent. Marathon is at an advantage as 55% of its crude goes directly to the Mandan, North Dakota, refinery. 28% of this crude is placed on pipeline and 14% on rail. Crude by rail offers flexibility to capture optimal pricing as the oil can be sold at Light Louisiana Sweet Crude, or LLS pricing which sells for much closer to Brent pricing.
Marathon has accumulated over 1 million acres in United States unconventional plays. The Eagle Ford, Bakken, Anadarko Woodford and Niobrara are some of the best liquids plays in the U.S. This acreage is going to drive the 5% to 7% forcasted growth from 2010 to 2016 by Marathon.
Add the 2% dividend and I see value in this stock. The Street is currently undervaluing these plays due to a misunderstanding of total recoverable resource. Marathon's big purchase into the Eagle Ford was a good one based on total resource and number of locations. In some areas, down-spacing to 40 acres is likely. Further down-spacing is also possible. There are also other possible pay zones below the Eagle Ford. Marathon's estimates on its Bakken acreage is very conservative given its 420 acre spacing. QEP Resources (NYSE:QEP) recently completed a 10-well pad or 128 acre spacing. Hess (NYSE:HES) is in process of completing its 12 well pad, or 107 acre spacing. There are also possibilities of down-spacing in the upper Three Forks. Also, EOG Resources will be attempting secondary recovery in its Bakken acres. It will take time to know the ultimate recoveries in all four of its plays. It's no secret that Marathon sets very conservative estimates, but it has also set EURs 30% lower than what I would model.
In summary, Marathon has value. Its accumulation of liquids-rich acreage in the United States provides good growth going forward. Company estimates are conservative as Marathon has made significant improvements to completions increasing IP rates and more importantly EURs. Its purchases in the Eagle Ford and Niobrara were thought by some as too high a price. I believe Marathon has done an excellent job of buying into the best areas of each play. Eagle Ford Condensate window wells are some of the best in the United States and Niobrara wells completed by EOG Resources near Marathon's acreage have IP rates between 700 and 1,100 Boe/d. Look for another large purchase for Marathon this year, either adding to current acreage or adding a new play to its inventory of work. Clayton Williams (CWEI) and Sandridge (SD) could be good acquisitions. Marathon is a buy here, as I believe 5% to 7% growth is awfully conservative and 10% might be closer to the truth.
Disclosure: I am long KOG.