Whether or not the planned buyout of PHH Corp. proceeds, Barron's says the end result could be positive for investors. Shares of PHH slid $4 to $24.50 last week on concerns the deal might fall through after the company disclosed a $750M funding shortfall given a "revised interpretation" of their financing agreement by JPMorgan and Lehman Brothers. As proposed, PHH Corp.'s vehicle-leasing business would be sold to General Electric Capital Corp. and Blackstone Group would buy the company's mortgage business, with PHH shareholders receiving a total of $31.50/share. GE has said it wouldn't proceed unless Blackstone buys the mortgage business and Blackstone said it wasn't confident its efforts to find alternative financing would be successful. Nevertheless, according to Barron's some investors are speculating that GE may buy all of PHH and then sell off the mortgage business. If the deal dies, however, Barron's says the stock could fall to $22. Even so, many believe a rebound is likely given the company's business mix and a tangible book value of $28/share. If the company remains independent, one investor thinks PHH could be worth $60/share two years out.
Sources: Barron's
Commentary: Financing Pulled in PHH Buyout • PHH Corporation: Pennant Capital Opposes Sale, Outlines Omissions from Preliminary Proxy
Stocks/ETFs to watch: PHH, GE, BX. Competitors: CFC. ETFs: IYJ,XLI, VIS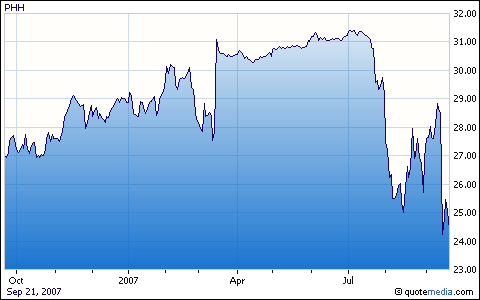 Seeking Alpha's news briefs are combined into a pre-market summary called Wall Street Breakfast. Get Wall Street Breakfast by email -- it's free and takes only seconds to sign up.