The subprime crisis is making its way to the on-line advertising market; the question is just how hard will it be hit. According to Barron's, Google's advertising revenues are likely to be impacted next quarter. Yahoo! and AOL, which rely more heavily on banner ads, are likely to take even harder hits than Google. In comments Barron's says are similar to those heard before the dot-com bubble burst, Google executives last week admitted mortgage-related advertisers were cutting their budgets, but argued that Web search ads was the last area to be cut rather than the first. One analyst, who believes the stock, which is around $560, could climb to $625, says in a "worst case" scenario Google's cash flows would only drop 10%. Another analyst notes that mortgage business accounts for about 3.3% of Google's on-line revenue. However, one money manager says, "It is inconceivable that mortgage-related advertising revenue isn't shrinking." He contends that "Google is far more exposed than the Street is letting on."
Sources: Barron's
Commentary: Is There an Online Financial Services Ad Slowdown? • US Ad Sending Slips as Online Companies Fight for their Futures
Stocks/ETFs to watch: GOOG, YHOO, TWX. ETFs: HHH, FDN
Earnings call transcript: Google Q2 2007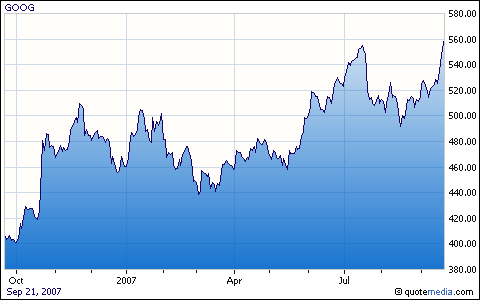 Seeking Alpha's news briefs are combined into a pre-market summary called Wall Street Breakfast. Get Wall Street Breakfast by email -- it's free and takes only seconds to sign up.