Pittsburgh Plate Glass has moved out of its old glass markets to the more lucrative paints, coatings, specialty glass and chemical businesses through acquisitions. PPG has $12B in sales, and its estimated P/E ratio of 14 times 2007 earnings of $5.26/share and 13 times 2008's $5.63 is cheap compared to rival Cytec Industries, which trades at 16 times 2008 estimated earnings. PPG has raised its dividend annually for the last 35 years, and last year's buyback program was for $200 million. But PPG is cutting back to fund acquisitions, and shedding cyclical and shrinking businesses like its automotive glass (for $500M) and fine chemicals businesses (for $65M). The debt incurred for current acquisitions, almost 2x earnings before Ebidta, has prompted ratings agencies to downgrade or watchlist some PPG debt. Debt will be harder to pare in slumping housing and automotive markets, but PPG's Lucite and Olympic brands are top sellers: two-thirds of all airplanes use PPG coatings. European and Chinese markets offer enormous potential, and PPG's 'Transitions' eyeglass lenses have double-digit growth prospects. Bulls see a $90 stock from Friday's $75.
Sources: Barron's
Commentary: Painted Into a Corner? Akzo Nobel, PPG Industries and Sherwin-Williams Face Weakening PPI Data • Upside Surprise: Despite Low Estimates, PPG Industries Shares Are Soaring
Stocks/ETFs to watch: PPG, CYT
PPG 1-yr. chart: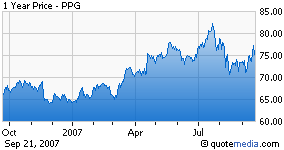 Seeking Alpha's news briefs are combined into a pre-market summary called Wall Street Breakfast. Get Wall Street Breakfast by email -- it's free and takes only seconds to sign up.