Brokerage stocks have had an amazing run over the past month or so, rising anywhere from 10% to 25%, but Barron's warns that the going may be tough down the road. Some of the gains, according to Barron's, were well earned last week after good earnings provided confidence they would weather the current financial crisis, but future targets may prove elusive. "The pace of downward earnings cuts is still accelerating," says one strategist who notes that the stocks' risk/rewards are still not favorable. While third-quarter earnings-growth expectations for diversified financials in the S&P 500 have dropped to 1.5% from 8%, the analyst notes that fourth-quarter expectations are down just two percentage points to 4% and first-quarter 2008 numbers are have "barely budged" to 5% from 6%. He believes these numbers likely will see downward revisions, which could be followed by share-price drops. Among the factors contributing to the earnings slowdown are fewer junk-bonds and underwritings in general as well as declining M&A activity. Barron's also warns investors to keep a close eye on the brokers' balance sheets as their value at risk, or the amount they can theoretically lose in one day, is on the rise.
Sources: Barron's
Commentary: Q3 Earnings Season: Taking the Long View • Is Anyone Immune to the Ripple Effect of the Unfolding Financial Crisis?
Stocks/ETFs to watch: BSC, LEH, C, MER, MS, GS. ETFs: IAI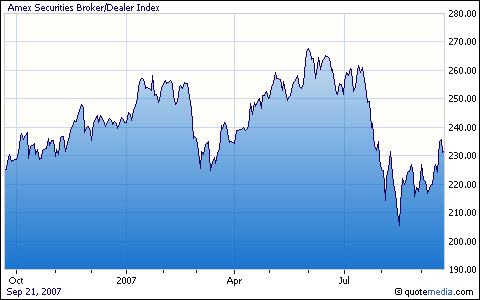 Seeking Alpha's news briefs are combined into a pre-market summary called Wall Street Breakfast. Get Wall Street Breakfast by email -- it's free and takes only seconds to sign up.