By G C Mays
After Monsanto (NYSE:MON) reported its fiscal year 2012 1st quarter earnings I wrote, "Monsanto Sprouts Strong Earnings In Q1: Should You Harvest Profits Now?". Since then the stock has lagged the overall market, rising only 5 percent since Jan 6th with the S & P 500 up by 9.2 percent over the same period. With 2nd quarter earnings of $1.2 billion or $2.24 per share on revenues of $4.75 billion, the company has had another record quarter. So what's wrong with the stock?
Seeds and Genomics
Second quarter sales of $3.9 billion easily outgrew last year's total of $3.4 billion by 15 percent. The corn business was the strongest contributor with $2.8 billion in sales. The soybean and cotton businesses are also doing well with soybean revenues growing by 12 percent and cotton revenues more than doubling. (Click charts to enlarge.)
Every business in the segment was higher except the vegetable seeds business, which was negatively affected by business conditions in Europe. Sales were down more than 70 percent compared to last year as the European continent struggles to come out of recession. In addition, gross profits in the vegetable business were also affected by an inventory write down.
The company estimates gross profits in the range of $5.85 to $5.90 billion in its seed and genomics business. Monsanto has delivered consistently higher gross profits over the last several years and if the company realizes the above estimate, it would tack on another year of growth.
The company expects the most earnings growth in 2012 to come from business in the US. The company expects earnings growth in the high teens.
Agricultural Productivity
Second quarter sales in this segment has also shown steady growth over the last three years. Revenues of $824 million are 16 percent higher than the same period a year ago.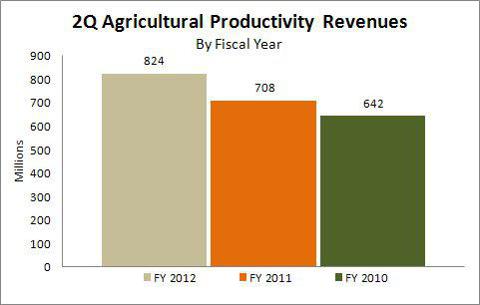 The company saw strong sales volume with a good product mix during the quarter.
One thing potentially holding the stock back is the barrage of negative news about the company's products. In February the company was found guilty of the unintentional chemical poisoning of a French farmer. A month later the French government banned growing genetically modified corn. Corn seed & traits is roughly 40 percent of seed & genomic sales and any far-reaching court ruling against the company involving this product line could have a material impact on the company's earnings. The European union recently failed to reach an agreement about whether national governments that are part of the EU-27 would have the power to restrict or ban cultivation of genetically modified crops.
Additionally, the stock may already be fairly valued or perhaps overvalued. At a recent price of $80.58, the company is trading just off its 52 week high of $83.94 and at roughly 23 times FY 2012 consensus earnings estimates of $3.51 per share, which is at the top of the company's "as-reported" or GAAP earnings estimate of $3.45 - $3.50 per share and within its so-called "ongoing" estimate of $3.49 - $3.54 per share. As someone who has spent about half his career as an accountant, believe me, GAAP or IFRS numbers are the ones that count.
On a price to sales basis, which is how the agricultural chemicals group is most closely priced, the company is trading at 3.3 times sales. Contrast that with Syngenta Ag (SYT), which is trading at 0.50 times sales and 16 times its FY 2012 EPS estimate of $4.36 per share as. While I now expect the company to have a bang-up year, the results may already be priced in.
Disclosure: I have no positions in any stocks mentioned, and no plans to initiate any positions within the next 72 hours.