We have been expounding our view that REITs are overvalued since January of this year. We continue to believe that is the case, even in the face of last week's Fed rate cut and strong rise of REITs.
REITs are well below their historic yield levels which suggest mean reversion will bring their prices down unless they can substantially increase cash flow and distributions.
REIT yields are below 10-year Treasury yields, which has occurred only 1/3 of the time over the last 30 years, and most of that was quite a while ago. Either REIT yields must rise or Treasury yields must fall to restore dominant historic relationships. Even though the Fed cut short-term rates last week, the 10-year Treasury rates increased while REIT yields fell, increasing the misalignment.
In the past, we have based our studies on REIT indices and the ETFs that represent them (principally (NYSEARCA:VNQ), (NYSEARCA:IYR) and (NYSEARCA:RWR)). To be more granular, in this study we look at the two largest market-cap REITs in each of the four major categories: Office, Retail, Industrial and Residential.
The following table identifies those key REITs. It also provides the web address of each company to assist you in your own research.

The next chart graphically shows the historical and current annualized yield of the key REITs versus the 10-yr Treasury yield: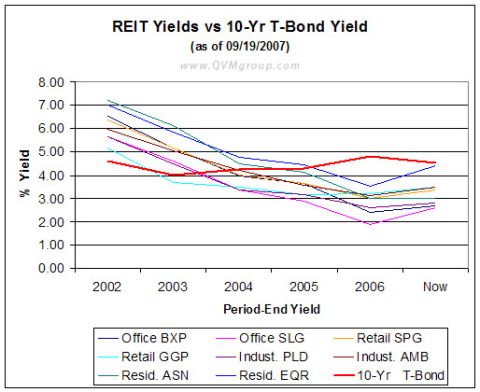 You may find prefer to see the same data in tabular form: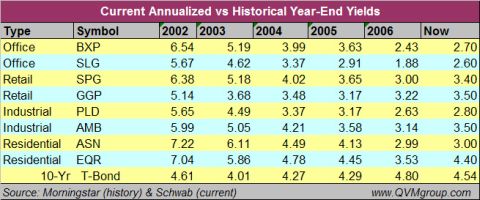 We have to admit that it was difficult to hold our view while watching REITs rise 2% to 4% last week. However, our longer-term view compels us to wait for a better buying opportunity based on yield comparisons to REIT history and current 10-year Treasuries.
Unfortunately, logic doesn't always prevail in the short-term. If the market wants to go in a particular direction, it will, at least for a while. Ultimately, though, logic does prevail — we just don't know when.