FTI Consulting, Inc. (NYSE:FCN) is one of the leading providers of forensic accounting and litigation support services in the US. Its experts offer investigative services to companies confronted with problems such as fraud in order to assist them in their legal defense or pursuit of recoveries. FTI also provides consulting services related to corporate finance and restructuring, such as advice on mergers and acquisitions and performance improvement. Other consulting service areas include economics, strategic and financial communications, and technology. FTI's main clients are large business enterprises and major law firms.

FTI has taken off in the last year, going from $19.50 a share late in 2006 to a current all time high of $53.67. In 1999, you could have bought all the shares you wanted at $1.10 (all prices split adjusted for two 3 for 2 stock splits).

The reason for the recent run up: earnings. They're starting to jump. In 2004, they were $1.10, followed by $1.40, then a step back to $1.37. This year analysts are predicting $1.90 and next, $2.40. For the next 5 years, expectations are for the earnings to grow by 21% a year, on average while revenues increase by 17% a year, on average.

There are two reasons for the resurgence in earnings. First has to do with the regulatory climate for business. With Sarbanes Oxley changing the landscape of how business is conducted, the company is seeing higher demand for consulting in this area, both domestically and abroad. Second, while mergers and acquisitions will slow because of the recent credit crunch, there's still plenty of problems to fix, especially in the mortgage lending industry, with homebuilders, and hedge funds. An increase in bankruptcies will most likely occur as well, adding more demand for FTI divisions of Corporate Finance & Restructuring, Economic Consulting, and Strategic Communications.

Some numbers to consider: A P/E of 27, relatively high. Net profit margin of 7.8% last year, projected to be 8.6% this year and 9.6% next year. Debt is 47% of the balance sheet. There is no dividend. Return on equity was 9.9% last year, expected to be 12% this year and 13% next year. Market cap is $2.1 billion on 42.95 million shares. Stock is very near its all-time high.

FTI will continue to do well. There are economic and regulatory issues in place that guarantee that. But the price of the stock reflects this good news. And remember, with a consulting firm, your assets leave the building every night. If too many quit, for whatever reason, the earnings power is diminished. One way FTI counters this concern is by offering employees long term contracts and stock based compensation. Last year about 16% of the consultants left, relatively few for this business.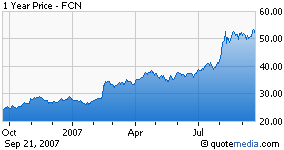 Disclosure: none