Newsletter Value Investor Insight carried an interview August 31st with Third Avenue Management's Michael Winer. Since inception, his now $3 billion fund has earned 18.6% annually, vs. 5.8% for the S&P 500. Here's an excerpt from the interview, in which Winer describes why he thinks The St. Joe Company (NYSE:JOE) and Forest City Enterprises (NYSE:FCE.A) are mispriced.
Explain your relative focus on operating companies rather than real estate investment trusts (REITs).
MW: Valuations of real estate and of the common stocks of real estate companies can be quite dynamic – we're not just crunching numbers at the beginning to arrive at a target price, and then selling as soon as the stock hits that price. We're focused on companies that are doing the best job of increasing net asset value year over year. We're generally not interested in companies that pay full market prices to acquire properties, hoping to finance them in a way that creates a spread between financing costs and the yield on the assets. What have they really done to create value? We prefer companies that are experts in complex projects and that creatively develop or redevelop projects to build long-term value. Forest, for example, goes into blighted urban areas and works with government officials and agencies to develop projects that will improve the areas in which they build. They're creating new cash flow streams that generate both an attractive return on their invested dollar and increased asset values. That's how you make real money in real estate. Development companies create recurring cash flows that are available to reinvest in new projects. The REIT structure doesn't work well for most development companies because essentially 100% of REIT taxable income has to be distributed to shareholders. REITs typically have to go back to the capital markets whenever they need additional capital, but then they're beholden to the markets in order to grow. It's often when capital is needed most to take advantage of buying opportunities that the capital markets are unavailable – which is what we're seeing lately. Some REITs, such as ProLogis [PLD], have successful long-term track records and can raise institutional capital to fund growth. ProLogis invests in warehouse and distribution facilities and is expanding aggressively – with little increase in its equity-capital base – outside the U.S. into Europe, Japan, China and elsewhere. It develops properties within the REIT and when the properties are leased, it sells them to one of its managed funds. It typically gets all its original development capital back, while keeping a 20% ownership stake in the fund. They've developed an excellent model to fund growth.
Turning to specific ideas, we assume you don't believe the shares of The St. Joe Company [JOE] deserve the beating they've gotten recently.
MW: Given the nature of real estate businesses like St. Joe's, we stay focused on the company's ability to create long-term wealth rather than what's happening to earnings in any given quarter or year. The market obviously doesn't always work that way, which is why the stock is lower than it has been in a long time. To give you some history, the origin of the company was in the 1930s when Alfred duPont started buying timberland for next to nothing in northwest Florida and accumulated about 1 million acres. His trust after his death started a paper company, St. Joe Paper, and over the years they developed other businesses in the region, including railroads and sugarcane plantations. Even with all that, the assets of the company never really generated a lot of income. In 1997, the St. Joe board decided to move in a different direction and hired Peter Rummel from Disney as CEO. He started the transformation of the company into a real estate development company, focusing on the nuts and bolts of getting land-use entitlements and then in a very organized way planning the development of infrastructure, resort residential communities near the coast, and primaryhome communities inland. Today, the company still owns around 800,000 acres of land and has spun off most of its non-core assets except some timber property. Over 40,000 residential units are entitled or in the process of getting entitled, which only represents 43,000 of the 800,000 total acres. There are literally decades of residential and commercial development still to take place on St. Joe land. The development of residential communities also creates opportunities to develop commercial property, including shopping centers, offices, hotels and industrial space. Big news recently was the announcement that final federal approval has been given for construction of the new Panama City-Bay CountyInternational Airport. That's going to have a significant impact on the development of northwest Florida, not to mention the area around the airport that is all owned by St. Joe. (The company donated 4,000 acres of land for the airport.) I should add that the company itself is largely out of the building business. It needed to build homes early on to get greenfield communities started, but it now is primarily a land development and entitlement company, focused on selling land on which others will build. St. Joe essentially owns the land at less than $100 an acre, so margins when they sell lots are 60-70%, with their only costs being infrastructure improvements such as roads, sewers, water and utilities.
You obviously have to be bullish on Florida to like St. Joe.
MW: St. Joe has always been a macro bet on the future growth of Florida. Say what you will – people have called the GulfCoast in northwest Florida things like the "Redneck Riviera" – but there are still 1,100 people a day moving to Florida. It will continue to have boom and bust cycles – the stock market today is acting like Florida will never grow again – but we see no reason why the population growthwon't continue. Northwest Florida is ideally suited to benefit from that: it's less expensive, less crowded and there's not a whole lot more to be developed in any other coastal region of Florida.
Recently just under $31, the shares trade at less than 40% of their level two years ago. What do you see as a more appropriate value?
MW: This has never been a stock on which it's easy to put a specific value. If you put a multiple on current earnings, you'd probably pay $3-4 per share. You really have to look through to the longterm value of the land. We look at it in a variety of detailed ways, but the most conservative valuation is to look at how the company's lenders value each category of land. To give an example of the conservatism, the banks today put a $40,000 per acre value on all commercial land for which entitlements are done or in process, while St. Joe has recently sold such land for more than $150,000 per acre, and there's no reason to think they won't continue to do so. If you apply the current bank valuations to St. Joe's holdings, you get a net asset value of about $3.1 billion, or $41 per share. I'd call that the base liquidation value if the company was sold off today in pieces at fire-sale prices. Compared with a stock price of $31, I'd consider that a pretty good margin of safety. If you give the company any credit for creating future value and assume the real estate market in Florida recovers from where it is today, which we do, we obviously think the current stock price is ridiculously low. We recognize that it may be a while before developers return to the market at historical levels. But it won't be forever, and St. Joe in the meantime is wellfinanced, takes a very long-term view and has plenty of staying power.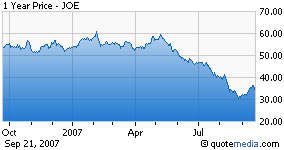 Explain why Forest City Enterprises is your largest holding, at over 12% of the portfolio.
MW: This is a very long-term holding of Third Avenue, going back to the early 1990s. The company is a developer and owner of investment properties, including office, retail, mixed-use projects, apartments and hotels. They tend to hold properties, but will selectively sell when they feel the valuation they can receive today compares favorably with the economics of holding on. Forest City's business model is built around in-fill regeneration projects in high-barrier-to-entry major metropolitan areas. They often go into blighted areas and work with local governments to develop creative mixed-use projects that not only make the company an attractive return, but also help foster better living standards and a larger tax base in areas that need it. There will always be critics who contend the cities give away too much to developers in these deals, but the bottom line is the city and its population usually do benefit. The company has a two-class share structure, with the B shares – largely owned by the founding Ratner, Miller and Shafran families – having much greater voting rights. While that could theoretically be a concern, the family has never done anything to their benefit that was to the detriment of minority shareholders. Charles Ratner, the CEO, has always been very honest and forthright about everything the company is doing, even when they make mistakes.
Give a few examples of the types of projects they build.
MW: A good example is what they did in Times Square. On the south side of 42nd Street between Broadway and 8th Avenue they developed a hotel and theater complex and a lot of street level retail, including a Madame Tussauds wax museum. What was an unsafe area ten years ago has been transformed, on both sides of the street, with a lot of it stemming from Forest City taking the development lead. In the same general area – across the street from the Port Authority bus terminal – they're just finishing the New York Times building, which should give new life to another area that sorely needs it. Since I've been following it, the company has always had a very healthy development pipeline and they now operate in more than 20 states. Given their breadth of experience and track record, they've become the go-to company for certain types of complicated projects, with little competition. For example, Denver officials essentially brought in ForestCity to redevelop its Stapleton Airport area after a new airport opened nearby. The Stapleton area is becoming a dynamic community in itself, with probably 10 years of development still to come.
What kinds of benefits do they typically get from the cities?
MW: Often cities will exercise their power of eminent domain and condemn properties prior to selling them to Forest City. There are also a variety of financing and tax incentives the cities provide as a downpayment on what they expect to be more lucrative tax receipts stemming from the redevelopment.
As high as $74 in June, the shares are now below $56. What upside do you see?
MW: The portfolio of stabilized operating properties and the land-development business (which includes the Stapletonproject) are relatively easy to value. What's trickier to value is the portfolio of projects under development and coming online in the next few years, as well as the huge pipeline of potential projects on which they haven't yet broken ground. If we ascribe no value to new projects, we come up with a range of net asset values – from conservative to aggressive – of $55 to $70 per share. So at a minimum, at today's price you're paying net asset value for in-place assets and getting the pipeline for nothing. And this is for a company that has increased net asset value at nearly 20% per year for 15 years. That's a risk/reward we're very comfortable with.