Sanofi-Aventis (NYSE:SNY) has once again taken Jiangsu Hengrui to court, this time to Beijing High People's Court, for infringing on its patent for Docetaxel, which is marketed in the U.S. as Taxotere for cancer of the breast, ovaries and lungs. Jiangsu Hengrui is one of the leading producers of cancer drugs in China. The two companies have been in various courts over Docetaxel for four years.

This time, the dispute is over the patent covering the formulation of injected Docetaxel. Sanofi-Aventis is seeking 45 million RMB ($6 million) for IP infringement, 55 million RMB ($7.3 million) as compensation for economic loss, and 200,000 RMB ($26,600) for various fees. Hengrui rejects the claim and says it will fight the charges. Docetaxel accounts for 20% of Hengrui's revenues.

In 2003, Aventis filed a suit against Jiangsu Hengrui for infringing on its manufacturing patent. In September 2006, the Shanghai No. 2 Intermediate People's Court ruled in favor of Sanofi-Aventis in that matter, and ordered Hengrui to pay RMB 230,000 ($30,000) to Sanofi-Aventis.

However, Jiangsu Hengrui appealed to the Shanghai Higher People's Court and won. In June of 2007, that court ruled in favor of Hengrui, although it did state that the company had engaged in "unfair competition" with Sanofi-Aventis. It was ordered to pay a relatively small RMB 100,000 (US$13,106) in damages.


SNY 1-yr chart: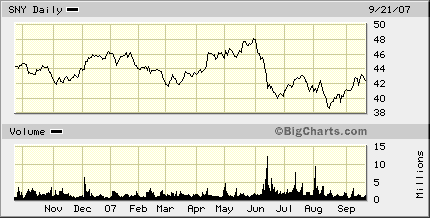 Disclosure: none.