Can the new suits at Jamba Inc. (NASDAQ:JMBA) turn a fruit-and-granola California company into an international sensation? Jamba, which operates a chain of Jamba Juice smoothie cafes, has been working on a major expansion beyond its core California market since it became a public company last November.
So far, the results have left a bad taste in investors' mouths. The stock has dropped from a high of $12.25 late last year, to about $7.50 today. Over the last 52 weeks, it has reached a low of $6.33. Still, some powerful investors, including the former CEO of Blockbuster Entertainment Group and several analysts, are betting that yogurt and fruit smoothies can become the next fast-food sensation across the United States and overseas.
Jamba is an unusual company, both culturally and financially. It was founded in 1990 by Kirk Perron, a cycling enthusiast in San Luis Obispo, Calif., who craved healthy smoothies after a hard day of cycling. They were hard to find on the road, so he started Juice Club, a franchise of juice joints that later became Jamba Juice.
Its products—blends of fruit juices, yogurt and soymilk—and its fun-loving, healthier-than-thou culture became a hit with the California crowd. It grew into a fast-smoothie chain with several hundred stores by 2006, and shifted to more company-owned stores rather than franchises to increase margins and keep tighter control on quality. Perron left the company a few years ago after turning over management to Paul Clayton, a former president of Burger King North America, in 2000.
Meanwhile, in 2005, Steve Berrard, former CEO of Blockbuster, and a few other wealthy investors created a so-called "blank check" company, Services Acquisition Corp. International, a corporate shell looking for a business to buy. It's a risky and unusual approach to taking companies public, but has started becoming more prominent in the last couple years.
Services Acquisition went public in July 2005 at $7 and sat at that price until March 2006, when it announced its plans to acquire Jamba Juice and change its name to Jamba Inc. The stock immediately shot up to about $12.
Since then, CEO Clayton has been hiring new executives from companies such as Starbucks (NASDAQ:SBUX), Wal-Mart (NYSE:WMT) and Hewlett-Packard (NYSE:HPQ). He announced plans to add up to 500 new stores over the next three years to the 633-store chain and has just hired a senior vice president of International from BlockBuster to begin an expansion overseas. Finally, it has started testing "breakfast in a cup" dishes of fruit, fruit blends and granola, and has been hitting several investment bank conferences to talk up plans to create new hot breakfasts.
But things began to slide this summer. The stock closed at $7.83 on Aug. 13, just before the company issued a preliminary report saying that second quarter revenues would be up 14% over a year ago, but comparable store sales had declined by 3.3%. The next day it closed at $6.61.
On Aug. 30, Emeryville, Calif.-based Jamba announced its final quarterly results. Revenues were up 14% to $89.6 million, while net profit was down 93% to $2.3 million or $0.04 per share. But that beat analysts' expectations of a net of $0.01 per share.
Surprisingly, sales in new markets, such as Oregon, Florida and Las Vegas, were doing well. It was the California stores, currently about half the total number, where sales were down. Jamba offers no real explanation for the softness in California, noting only in its report that same-store sales tend to be highly volatile due to unexpected factors like the weather. Summer is its strongest season, when people are looking for a cool drink rather than a mocha latte. But despite a January cold snap, California has recorded temperatures well above average and rainfall well below average this year, leaving the cause of weakness in its California stores a mystery.
Still, analysts love the strategy and see a new, healthy food-and-drink version of Starbucks in the making. Today, seven analysts rate the stock a "buy" or "strong buy," with only one hold rating, according to Thomson/First Call. An April 25 report from Capital Growth Financial says that "the public company providing the best one-on-one comparison is Starbucks." Based on Starbucks' market cap to revenue ratio of 2.4 to 4.1 this year, the firm has set a target price for Jamba of $13.68 at the end of this calendar year. Price targets from analysts range from $8.50 to $16.50, with a median of $12.
Dean Haskell at Morgan Joseph & Co. admits that the disappointing sales in California might be due to a soft economy leaving people with less disposable income. "It could preclude a change in consumer behavior as they become more conscious about spending," he says.
But he rates the company a "buy" with a $13 price target. "There's a lot of growth potential ahead for this company," he says, especially in 2008 as its expansion strategy bears sweeter fruit.
That is, of course, unless those recalcitrant California customers turn out to presage a bigger trend. Starbucks, at least, enjoys one advantage that Jamba lacks—caffeine to keep its customers coming back every day.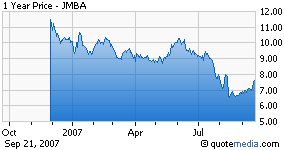 Disclosure: none