Recent headline media attention appears to be garnishing algae-specialist Solazyme (SZYM) with a larger investment base. A special segment conducted by Jim Cramer and increased media exposure over the company's finalized joint venture agreement with Bunge (BG) appear to be the catalyst for this effect.
Evidenced by growing volume in a bullish trend, this concept is also supported by the increased number of people who have been subscribing to Seeking Alpha's email alerts for SZYM. Prior to my visit to the company's headquarters last month, the alert serviced 130 people. As of April 4th, the subscription has grown to 541 interested followers. In light of more novice eyes on the company's progress, I find it ideal to clarify some key misunderstandings about the company that have become seemingly common.
Common Misconceptions:
The company is primarily a biofuel company. Despite the ever increasing media attention regarding Solazyme's fuel prospects, the company has clearly asserted that it is first and foremost a "renewable oils" company. As a producer of sustainable triglyceride oils that can be used to replace or enhance oils derived from petroleum, animal fats, and plants, Solazyme opens itself to a market that has a present value of over $3.1 trillion. While the fuels market is large, the company's ability far exceeds having to be confined to the low-margin, high-volume industry that fuels have always been. A look at the following graphic made by the company shows that fuels actually stand at the bottom of the company's target markets when considering the concept of profit margins.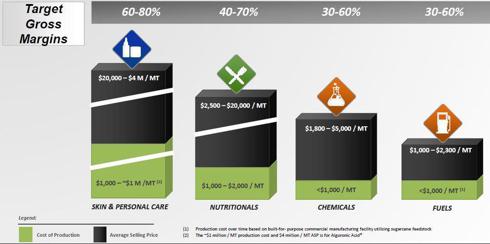 The company is dependent on high crude oil prices to be profitable. One of the unique advantages of Solazyme is the ability to create whole barrels of specific outputs at a relatively defined cost structure. Solazyme could create an entire barrel equivalent of say just high-valued lubricants with a similar cost of creating lower-margin diesel. As a result, the company isn't truly competing against the barrel of crude oil to begin with, but rather against all the individual markets that barrel supports. According to the company's S-1, which was filed prior to going public last year, the metrics already support the company's belief that it could attain a cost structure of $3.44/gallon in a built-for-purpose commercial plant. Conservatively presuming no increased cost efficiencies, this price still stands below the current gasoline price experienced around the nation.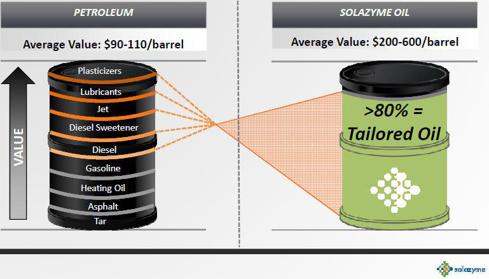 Tailored oils play an insignificant role in the company's future. One of the most taken-for-granted value propositions offered by the company is the ability to customize oil profiles that have yet to exist in order to meet the needs of a specific industry. In doing so, the company allows for that industry to expand new product offerings that create new markets altogether. Tangibly, this is already occurring as witnessed by what is happening with the 60 million gallons/year non-binding agreement with Dow Chemicals (DOW). By being able to essentially create an enhanced version of an already-enhanced sunflower oil used as an dielectric fluid, Solazyme is able to create a high demand product that is sure to yield an above average selling price. When one considers the possibility that a single tailored oil profile could become the standardized resource input of an entire industry, the value potential behind the rights to that oil product is overwhelming.
The company needs to prove its technology can run on a commercial scale. Solazyme has effectively been running its technology on a commercial level since 2007 with the use of a 75,000 liter test fermentation tank. It has effectively scaled up four times in a linear fashion to achieve the current capabilities in tanks with a capacity of 128,000-liters over in Peoria, Illinois. While there will be another round or two of additional scaling, most of the technology risks associated with scaling up often occurs in earlier stages. The company has stated in its S-1 Filing that it expects to reach the capacity level of 750,000-liter tanks. As for being able to operate on a commercial scale, the company has already shown that it is capable of doing so when it comes to cosmetics and nutritionals - its two highest margin businesses.
On Tuesday, April 3, 2012, Solazyme finalized a long awaited joint venture agreement with investing partner Bunge. The commitment will create a 100,000 metric ton facility that would be operational in 2013. The announcement symbolized a large step forward for Solazyme, who is currently worth $940 million in market value. With the new 100,000 MT plant believed to cost a rough $100 million (~$50M for SZYM's share), the company's cash reserve of $243 million (as of Dec. 31, 2011) appears somewhat finite in light of the additional 350,000 metric tons of capacity the company wants to bring online.
Nevertheless, the company's plans appear to be rolling along nicely. While solidifying its plans with Bunge, the attention now turns to the remaining three unidentified non-binding agreements for supply capacity announced by the company. Chevron (CVX), EcoPetrol (EC), and Unilever (UL) are three such companies that could serve as possible candidates given their ongoing relationships with Solazyme and the unique needs which could be met through a partnership.
Regardless of who it'll eventually turn out to be, Solazyme has continued to prove itself in the equation by exceeding all of its transparent goals and having never missed a performance benchmark. I highly encourage all new investors to pursue their own due diligence in regards to this company. In doing so, may they understand the extent of the upside potential and the possible tragic factors that can stall the company's seemingly bright future ahead.